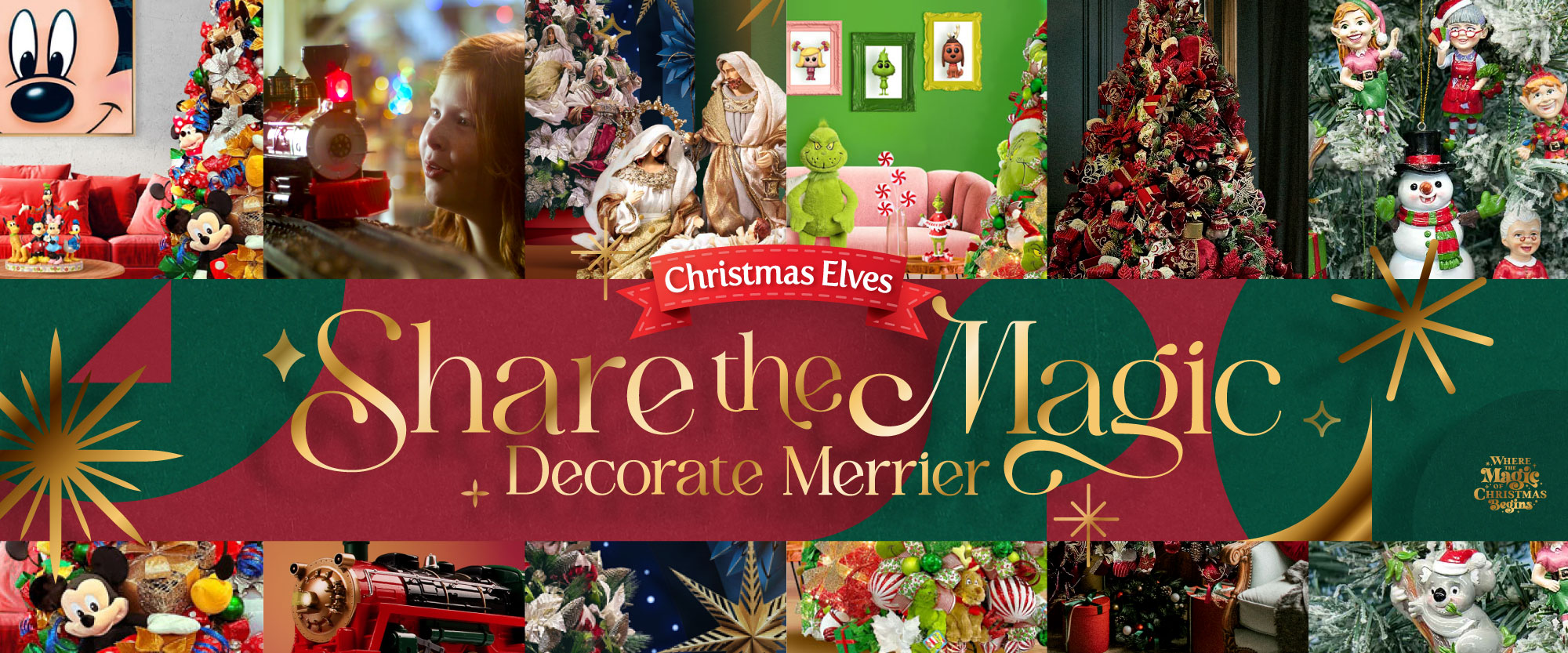 Merry Christmas, lovers of all things holiday décor! Decorator Elf here. If you've ever visited our Preston and Ferntree Gully stores, you will have seen my handiwork. I'm best known for my intricately decorated Christmas trees, like those in the collage above.
I began researching decorating trends for Christmas 2023 way back on 26 December 2022. I now present this eleven month labour of love to you, dear reader, as the second in our series of this season's Christmas blog posts.
You'll find tips on how to decorate with my favourite collections, as well as detailed instructions on how I create a spectacular Christmas tree. I also share gift giving ideas, including suggestions on choosing the best items for hampers and what to buy for the ferroequinologists – the trainspotting railway buffs – in your life.
But before I get to all of that, please allow me to introduce the latest ornaments from the Christmas Elves Elf Series...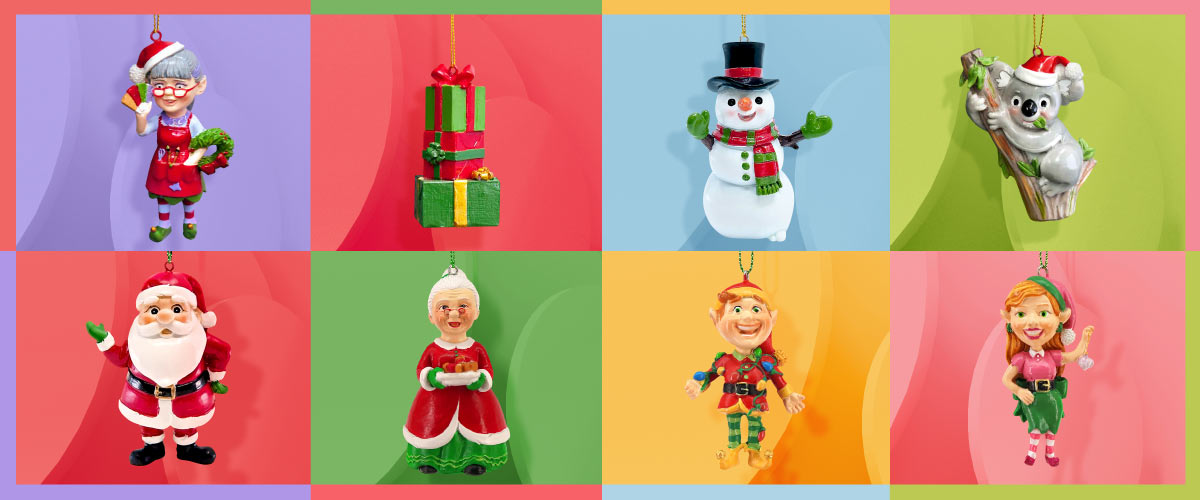 Elf Series 2
Last Christmas, the first release of enchanted Elf Series ornaments found their way into hearts and homes all over Melbourne. This year, Santa Claus, Mrs Claus, Designer Elf, and Light Up Elf welcome four new characters into the Elf Series family. Come along and get to know Koala Claus, Joyful Jolly Snowman, Tower of Treasures Giftbox, and me, Decorator Elf.
Koala Claus is the extra laid-back Aussie who loves Christmas almost as much as he loves gum leaves. When he's not dreaming of a super summer Christmas, you'll find him trying on new Santa hats – while munching on gum leaves, of course.
Joyful Jolly Snowman has a heart of pure Christmas magic. Lucky for him that very same magic keeps him from melting. Nicknamed 'JJ' by the rest of the Elf Series, he's always ready to spread Christmas cheer and give chilly hugs to his mates on hot days.
Decorator Elf is constantly searching for new ways to decorate merrier. She has a keen eye for spotting the latest trends and loves adding her own touches to create unique looks and displays. (NB Don't I look great as an ornament? This is Santa's description for me, and who am I to change it? –Decorator Elf)
Tower of Treasures Giftbox may not have much to say, but he's always there to support his friends by listening. Everyone knows that when they confide in TT, he won't accidentally blurt out their secrets like Mrs Claus or Light Up Elf might do. His favourite hobby is trying on new bows.
Along with the eight colourful character ornaments, the Elf Series includes thirteen sensational printable items, including bookmarks, a colouring in page, photobooth props, a gift list, and more. All printables can be downloaded here. We'll release new ornaments and printables every year, so keep your eyes peeled.
Merry Christmas Grinchmas
Christmas is cancelled. –At least for fans of Dr Seuss' The Grinch. Instead, they rejoice as 'Grinchmas' descends upon Whoville. If you adore the world's most infamous – and somewhat reformed – Christmas villain, we have everything you need to 'Grinch out' this holiday season.
Grinch Your Halls
Hang wreaths, signs, and decorations featuring the smirking visage of your beloved furry green humbug in every room. (There's even a 'fence sitter' for outdoors.) Place both a 'Grinchy' stocking and an even 'Grinchier' stocking next to the pickled eels you set out to welcome the Grinch. Make sure you leave a bone for Max, too!
O, Grinchmas Tree
A Grinchmas tree is green on green, with even more green on top of that. Wrap green fairy lights around your tree first. Next, layer green beaded garland. The Grinch would hang strands vertically, to clash with the placement of the lights. (Heh-heh-heh.) Scatter heaps of green baubles all over the tree. Finish your monument to holiday Grinchiness with Grinch ornaments. I love the faces in the naughty/nice pendant and the sly eyes in this wreath-shaped ornament.
Grinchtastic Gifts
Fellow 'Grinchies' want one thing for Grinchmas: more Grinch! So, buy them gifts that you would want for yourself. In a spectacularly Grinchier than Grinch move, you could buy every one of these pressies, then keep them all for yourself!
This musical snow globe plays 5 songs, none of them the one you would expect. –That's sooo Grinchy!
Give a plush Grinch to all the little 'whos' on your life. If they already have one, then upgrade them to a life-size, animated Max the Dog or trombone-playing Grinch. Max moves his mouth and head to the classic Thurl Ravenscroft tune 'You're a Mean One, Mr Grinch', and the Grinch shakes and shimmies to a trombone tune that no-one asked for.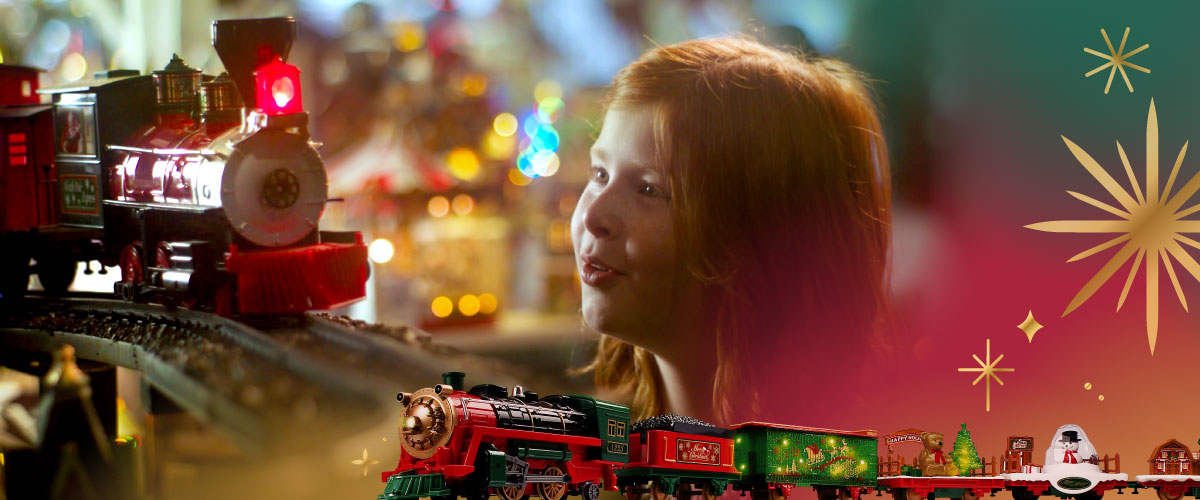 All Aboard the North Pole Express!
There's still something uniquely exciting about travelling by rail, especially in an age where air travel has become so commonplace. Glamourised in film and literature, boarding a train can feel as though we are about to embark on a marvellous journey, especially at Christmastime. In fact, people have associated toy trains with Christmas for decades because they remind us of travelling to spend the holidays with loved ones. It makes sense, then, that trains have become the mode of transport we associate with Christmas nostalgia. Here's your first-class ticket to visit the world of Christmas trains. –All aboard!
Train Sets
Toot-toot! Who doesn't like watching motorised trains going clickety-clack in their miniature worlds? All our battery-operated train sets move forward and backward on their included tracks. Plus, they light up and feature Christmas songs, special conductor announcements, chugging engine sounds, and more.
The North Pole Express always runs on time. It comes in both a three-carriage and a five-carriage set.
The Santa Express chugs along with seven carriages full of Christmas cheer, including a bear car, snowman car, and our favourite, a windmill house car.
Can't wait for Christmas? –Neither can Mickey and Minnie! This five-carriage set is the perfect size for a junior conductor's hands.
Buy additional tracks and extend your Christmas train's route:
Arrange tracks around the base of your Christmas tree to create a vintage train loop.
Line tracks along one side of the hall for an express route.
Set up a tabletop display by building a track loop and adding Lemax figurines and accessories to build your own mini world.
Decorations
You'll find all our train decorations on our specially dedicated website.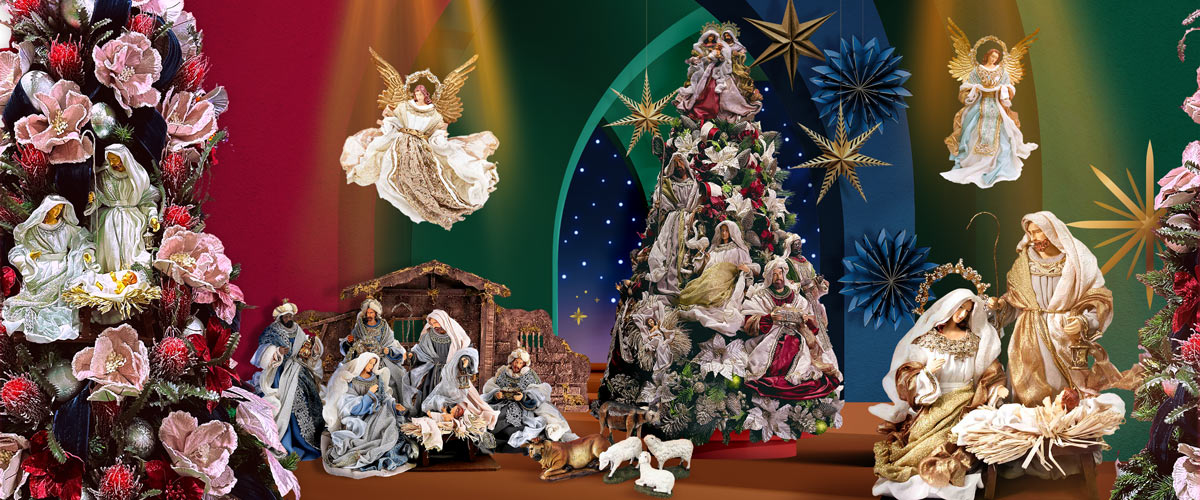 Peace On Earth
Although gift-giving and merriment have their places at Christmastime, the reason for the season lies within the Christian faith tradition. Over 2000 years ago, a special child was born in a Bethlehem stable. This was Jesus Christ, the Son of God, whose life and teachings continue to shape the world even now.
Christians commemorate Jesus' birth by observing the season of Advent in the lead-up to 25 December. Many use Advent calendars full of treats and goodies to mark the days as the excitement builds. Christians also set up scenes that depict the Nativity, featuring the Christ child, sometimes in a lowly manger, surrounded by his mother, Mary, his earthly father, Joseph, shepherds, three kings, and assorted animals. There are also sets for children and even nativity ornaments.
Nativity Sets
Honour your family's and faith community's traditions and beliefs with a nativity set that captures the humble yet magnificent arrival of the Prince of Peace. The 81cm and 106cm sets by Noelle suit church foyers and larger spaces. Sets that contain figures with a maximum height of 35cm look beautiful in lounges and living rooms. Establish a more personal connection to the history of the Nativity by assembling your own set.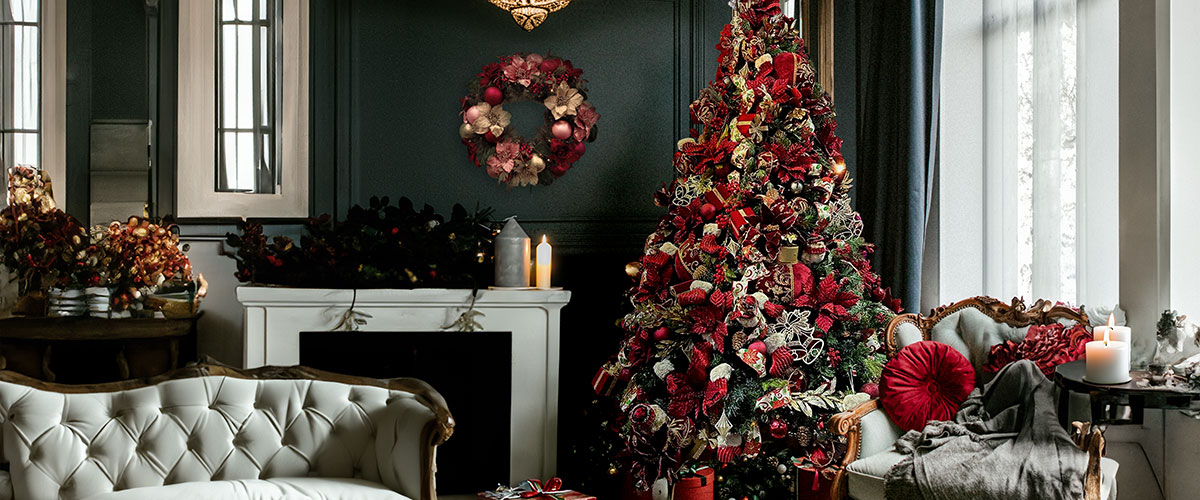 Deck The Halls
'Fa-la-la-la-la! La-la-la-lahhh!' The old-world charm of rich red and gold tones paired with classic baubles, bells, and poinsettias inspired our Deck the Halls Collection. Decorations in sumptuous colours and textures create a backdrop for holiday celebrations your family will forever cherish.
Tree of Abundance
If you have spent years admiring the trees I and the other professional stylist elves decorate, now is the time to try your hand. All you'll need are gardening gloves, floristry wire, patience, your own creative flair, and my helpful guide.
Carry the theme throughout the room. At the foot of the tree place red and gold gift boxes. On side tables, create vignettes by surrounding extra-large red gold baubles and groups of elves with more poinsettias. There's nothing stopping you from bedecking your entire home in this spectacular traditional theme.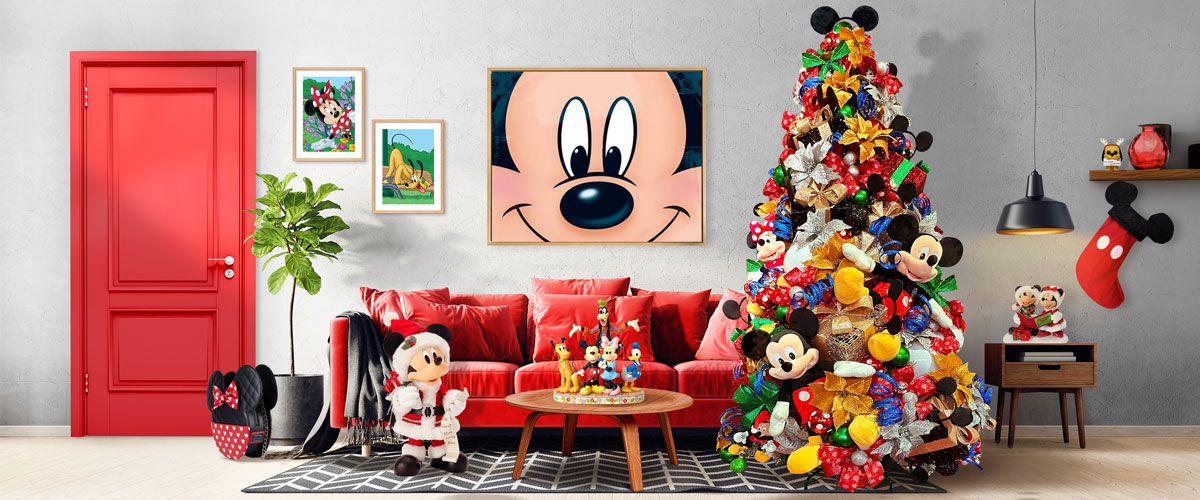 100 Years of Disney
In 2023, Mickey, Minnie, and all the citizens of Disney's Magic Kingdom are celebrating 100 years of Disney magic. If you know anyone who is devoted to Disney, you know exactly what they'll be expecting this year. Why not start the festive season off by surprising them with a tree trimmed in Disney baubles? These sets are affordable as well as beautiful:
Holiday Hamper Ideas
Treat your Disney fan to a hamper full of their favourites this Disney Centenary Christmas. Simply grab a gift box or basket and decorate it in Disney-themed wrapping paper and bows. (Or buy a Disney box.) Then, select an array of gift items. We suggest at least one figurine, one Pop! Vinyl, and a few smaller trinkets, such as ornaments. Take a look at these examples of gift hampers you can put together yourself with products from our Disney collection.
Mickey Super Deluxe Hamper
Minnie Deluxe Hamper
Donald Luxe Hamper
Pluto Budget Hamper
Baby's First Disney Christmas Mini Hamper
Well, that about wraps up my special report! If you found this post helpful, make sure you bookmark and share it. If you missed the first post in our series, you can read it here. Stay tuned for the final post in this series, which will be published on 1 December. It will discuss all things Christmas entertaining, including easy recipes for delicious holiday fare by Mrs Claus herself. You won't want to miss a morsel!
Christmas Elves are social elves.Post photos of your displays to Instagram and tag us: @christmas_elves_ or #christmas_elves_