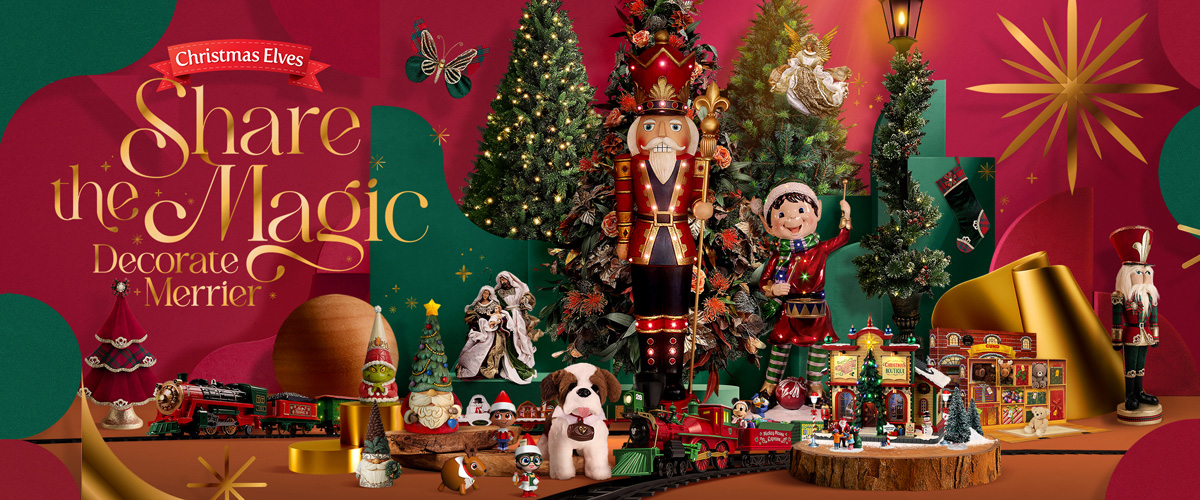 Helping you discover new and exciting ways to share the magic of Christmas is what inspired this year's collection of decorations, figurines, and décor.

In this blog post, the first in a three-part series, we explore three specially curated decorating concepts from our stylists that you'll want to sample this season. We'll also check out three updated collections of holiday essentials that no one will want to live without. As always, keep your eyes peeled for our top tips on how to decorate merrier and whip up holiday whimsy.
Christmas magic is in the air. Can you feel it?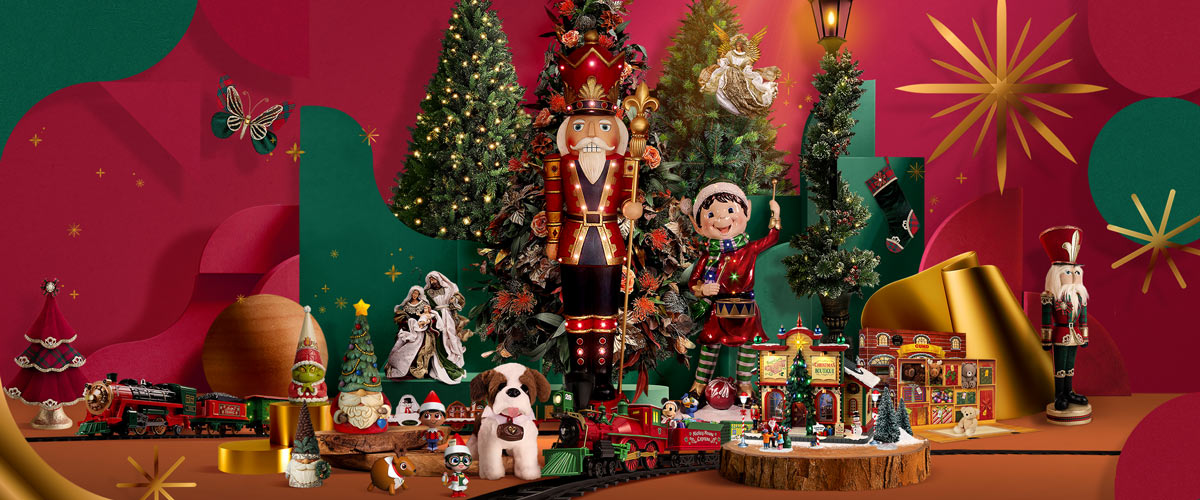 Share the Magic Collection
Decorate merrier with classic Christmas colours, textures, and symbols. Our heirloom Share the Magic Collection evokes the cosy warmth and comfort of time spent with loved ones around a tree laden with lights. For some, memories like these include gently falling snow, frosted windows, and a glowing fireside. Christian images of the Nativity and angels on high accompany advent calendars and Christmas trains. New classics, like Elf on the Shelf and Elf on the Shelf Pets, also have a home here.
Terrific Tartan
A magnificent abundance of rich red, deep green, and glittering gold heralds the arrival of the Christmas season like nothing else. Hang oversized tartan baubles and onion drops from lengths of sumptuous Washington fir garland (270cm) and affix a few tartan butterflies along its length. Build vignettes around austere and adorable tartan nutcrackers (102cm & 41cm tall). Attach red velvet poinsettia 'boutonnières' to generous 56cm tartan candy canes. Fill velvety tartan stockings with trinkets and treats. Give Santa a pair of tartan boots. Place them near the milk and cookies, and he'll be sure to find them.
Grand Stature
Need to decorate a building foyer, event venue, a shop or other large space? –Look no further than life-size figurines. Station the large light-up red and gold nutcracker (152cm) near internal doorways for fantastic photo ops. Drumming up seasonal cheer and trumpeting a Christmas reveille for all to hear, this pair of elves (93cm) want to shar their holiday spirit with the world. After you set up a large figurine, we recommend accessorising it with simple decorations such as garland, tinsel, and fairy lights to make a lasting holiday impression.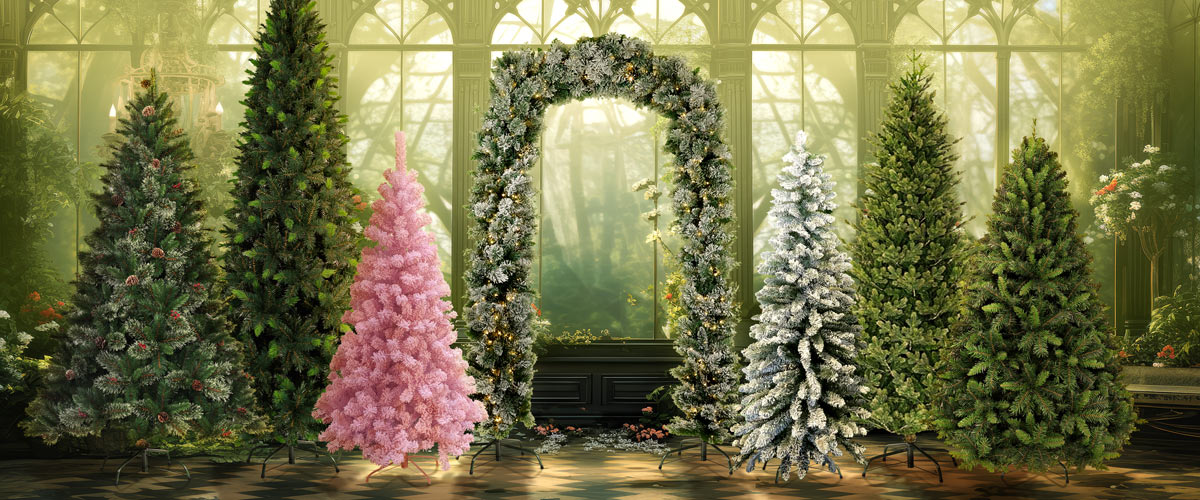 Dream Trees
Christmas just isn't Christmas without a tree. Whether you're in search of a fine fir, a perfect pine, or a splendid spruce, we can help you find your dream tree. Let's take a look at a few popular holiday themes and pair up excellent artificial evergreens with each one.
Simply Christmas
Simply put, you cannot go wrong with a Smoky Mountain Fir. With its full conical shame and abundant foliage in several shades of green, this is our favourite all-rounder because it's so versatile. Trim your Smoky Mountain Fir with traditional ornaments this year, and you can dress the same tree up in a wacky character theme next Christmas. Plus, this fantastic fir comes in sizes to fit spaces large and small: 4ft/122cm,5ft/152cm, 6ft/183cm, and 7ft/213cm.
Should you prefer the look of branches with longer needles, the Washington Fir (6ft/183cm) will suit you to a 'tree'.
White Christmas
Dreaming of a winter wonderland? The snowy boughs of the Slim Flocked Pine (6ft/183cm) will transport you to the frozen north – and you won't even need to rug up.
Woodland Whimsy
Spend a cosy holiday season in your own forest hideaway. The Regina Pine (6ft/183cm, 7.5ft/229cm, 8.5ft/259cm) sports snow dusted branches laden with pinecones and holly berries.
Quirky Christmas
Cast traditional colours aside in favour of pink perfection. Just imagine our 6ft/183cm Pink Flocked Christmas Tree covered in gold ornaments and warm white lights. We also adore this tree covered in silver and champagne ornaments and cool white lights. You could also bring on the kitsch and go with ornaments and lights in deeper pinks and minty greens.
Corporate Christmas
Deck the halls of any corporate space with tall, slimline trees and accessories suited to larger spaces. Welcome staff and clients with a single or a series of 245cm tall Thredbo Frosted Arches prelit with 600 warm white LED bulbs. Place the Slim Maclura Christmas Tree (7.5ft/229cm) in reception areas, staff lunchrooms, boardrooms, and wherever you plan on holding this year's office party. Large building foyers demand the stateliest of trees, and the towering 10ft/305cm Slim Parana Pine definitely satisfies the brief.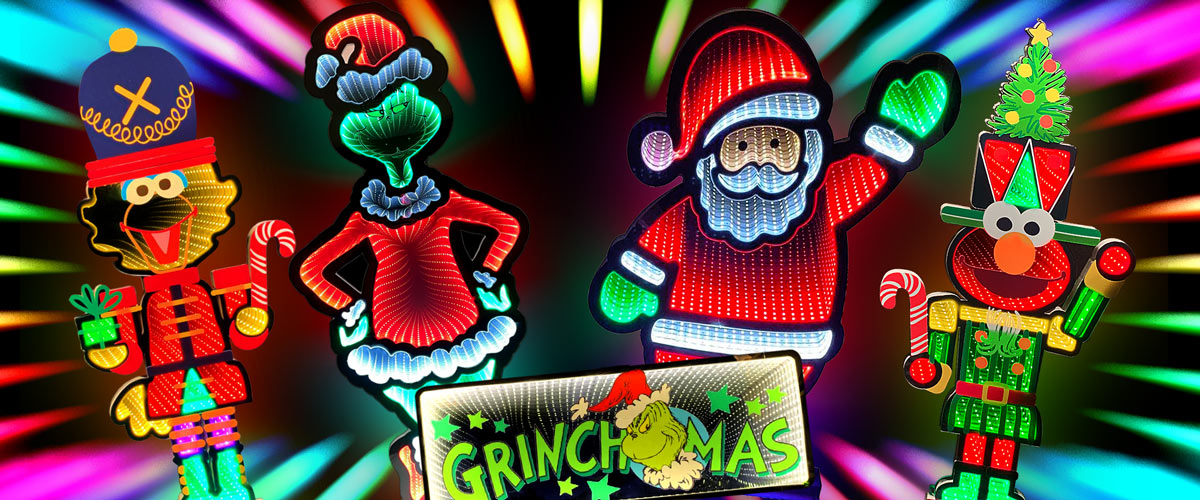 Merry & Bright
There's something about the way Christmas lights sparkle, shine, and gleam that sets hearts alight and makes spirits bright. Our mate Light Up Elf's tips on fabulous festive lighting for Christmas 2023 will illuminate and delight.
–Cheers! While we all love wrapping strands of our Connectable Ready lights around trees and stringing them along mantels and more, character-themed lighting dazzles with all its glowing possibilities.
Few can hold a candle to indoor display infinity lights this season. Their standout look comes courtesy of a relatively simple concept: LED light reflected between a mirror and a partial mirror to create a luminous display with the illusion of depth. Christmas Elves stocks classic Christmas infinity light, including Santas, Nutcrackers, Stars, and Snowflakes.
'Anywho' in Whoville will be after Grinch-themed infinity lights. Besides the humbug himself, 'Merry Grinchmas' signs and bauble-themed designs will keep fans of this brand radiating with pleasure.
The Sesame Street gang has learned how to spell 'infinity', and boy have they scored top marks for their work. Nutcracker versions of Elmo, Big Bird, Oscar the Grouch, and Grover will put a twinkle in the eyes of both the young and the young at heart.
More Lighting Tips to Spark Holiday Joy:
Acrylic lights let you create large displays with classic Chrissie characters, such as Santa Claus, snowmen, and our new holiday fave, gnomes.
Rope lights are an outdoor staple. If you decorate on a grander scale and your collection lacks a large LED 'Merry Christmas' sign and a sleigh with reindeer, give yourself the gift of these classic pieces. (Or what about a Chrissie koala rope light?)
Ever thought of having more than one Christmas tree? This16-colour rainbow spiral RGB tree (180cm) comes with a remote with seven functions: fade, jump, flash, chase flash, speed, strobe, and in waves.
–Thanks, Light-Up Elf!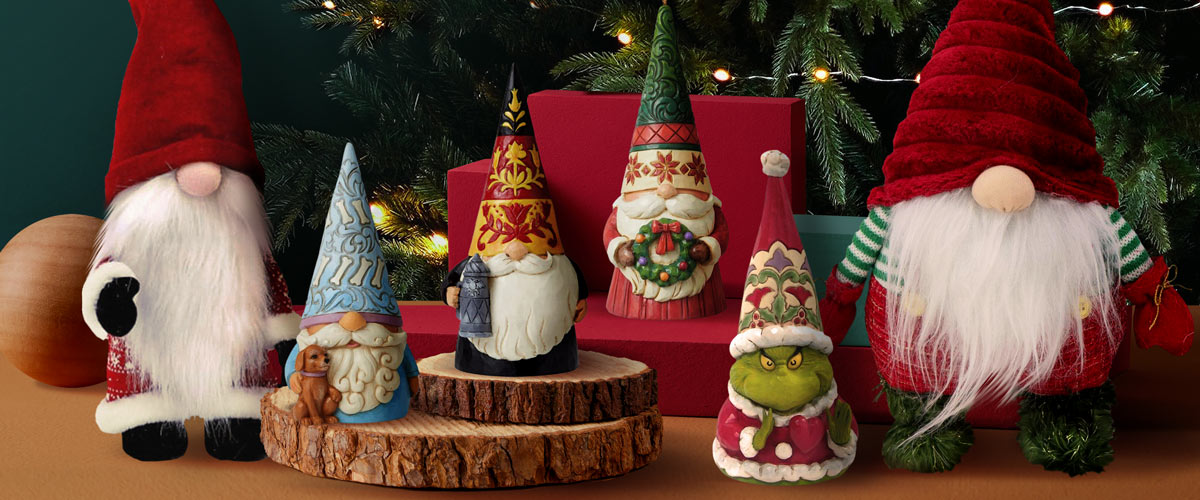 Magical Gnomes
'Gnome-body' should be without cute and charmingly hirsute gnomes at Christmas in 2023. While we confess that we do adore traditional terracotta gnomes in gardens, gnome-themed decorations have advanced well beyond the little guys you might find hidden amongst the flowers at your nan's or posed ironically in an inner-city community veggie patch. Modern gnome decorations come in a variety of looks, colours, and materials to suit the way you want to style you home for the holidays.
Jim Shore
The undisputed king of figurines has created a series of gnomes bearing his signature intricate rosemaling scrollwork and brand of whimsy.
The Grinch has had a 'gnome-over', and we love him even more.
Celebrate Christmas with gnomes from all over the world, like this fella from Germany.
This gnome has his own wreath and wants to hang out among the branches of your tree this season.
Festive Gnomes
With their fluffy beards and reclusive nature, gnomes and Santa Claus share a similar 'brand aesthetic', let's just say. However, if the question is 'who wore it first?' or 'who wore it better?', we don't think the answer matters.
Gnome Home Décor
They may not have rated a mention in 'The Twelve Days of Christmas', but gnomes certainly have their place in holiday decorating. Make Christmas a 'gnomier' affair with a 'Merry Christmas' sign. Hang gnome ornaments on your tree. String up gnome bunting on walls and along mantlepieces. Welcome guests with a cute gnome-themed wreath.
Not Just For Christmas
If you're 'beard over heels' in love with gnomes like we are, you'll want to keep a few of them around all year long. Check out this selection of characters:
Jim Shore captures the tender camaraderie between a gnome and his best friend.
These pink and white gnomes with extendable legs are positively 'quirkwhimsical'!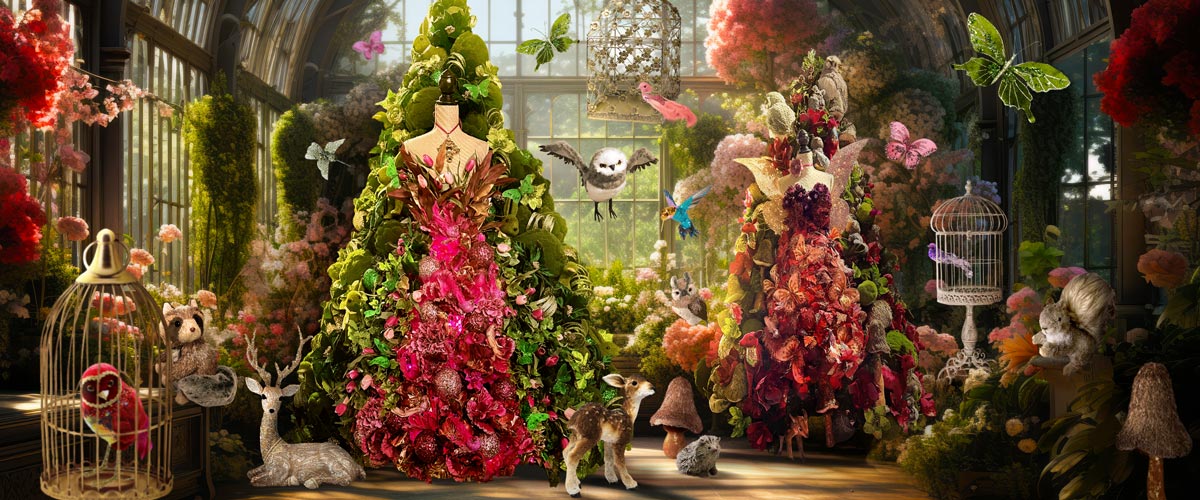 Garden Party Collection
From their home within a forest that cannot be found on any map, dryads, nymphs, and other nature spirits rejoice at the approach of the summer solstice.
The queen of the dryads holds court in a breathtaking crystal palace at the centre of the forest. Butterflies and hummingbirds flutter through its vast halls. Songbirds trill ethereal melodies that echo through air perfumed with the heady aroma of wildflowers. Perched on evergreen boughs and soaring high above, guardian owls observe all. Small woodland creatures scurry across the mossy floor past deer reclining in patches of dappled sunlight.
Upon this idyllic scene, a hush descends as the queen and her handmaid, wearing gowns of radiant blossoms, emerge from within the trees that sustain them. The assembled courtiers bow to their queen while the sun reaches its zenith, and the solstice begins.
Mere mortals such as us may never discover this mystical fantasyland. However, the Garden Party Collection holds everything you need to create your very own version.
Start with a simple green Christmas tree. Determine your dryad colour palette and select floristry that fits the brief. Choose a few butterflies (pink, green, olive), at least one hummingbird, and several other small birds, such as these feather tail birds (purple, pink, rose) and glitter clip birds. Attach decorations to your tree using clips and floristry wire, starting with the shape of the dryad's gown and working outwards. –Be sure to wear protective gloves.
Next, decorate the rest of the room, starting at the base of the tree. Scatter a few moss balls and brown mushrooms (42cm & 26cm) and nestle a hedgehog or squirrel in amongst them. Position a larger piece just off to one side, such as a standing or seated gold cream deer, a fawn, or a black bear. Finally, place owls on sideboards and tables nearby. Delve into the realm of fantasy with the red velvet sequin owl and the blue standing owl or remain rooted in reality with a brown bristle owl and grey flying owl. Place or hang delicate bird figurines in gold hurricane cages to protect them.
Australian Collection
At Christmastime, our Sunburnt Country celebrates seasonal spirit wrapped up in the splendour of summer. Decorating for a southern hemisphere yuletide calls for vibrant colours and charmingly 'dinkum Aussie' takes on traditional images and holiday essentials. Prepare of an amazing antipodean Christmas with our 2023 Australian Collection.
Gifts to Give
If you need to buy for young children, you can't go wrong with Aussie animals. Plush kangaroos and koalas make perfect gifts for all the 'little tackers' on your list. Jill-a-roo has a joey in her pouch and a koala on her back. Loveable Barney Gumnut figurines will please parents and well as kids. Every Funko Pop! collection needs an Ozzy Koala. Tweens, teens, and adults will love this cotton drawstring tote featuring gorgeous original artwork by Yorta Yorta and Arunta artist Coral Hayes Pananka.
Spaces to Decorate
Australian Aboriginal cultures, the oldest continuous living cultures on earth, produce exceptional art that shares tribal and family origin stories. Royalties from the sale of all Christmas Elves products featuring Indigenous art directly benefit the artists and their communities.
Constellation
Choose a space away from direct sunlight and arrange your own mini constellation of 20cm seven-pointed stars. They come in red, blue, purple, and orange. Hang them from the ceiling using different string lengths and make sure you leave plenty of space between them for the planets!
Intersperse honeycomb bauble 'planets' among the stars. These 7.6cm spheres come in three patterns: blue/green, orange/yellow, and purple/orange. Again, use different string lengths and avoid overcrowding. You're all done! Sit back and admire your constellation creation.
Evergreen Australiana
Transform an ordinary evergreen tree with a little Australiana and a few steps from us.
Decide on the colours you prefer and select your favourite Australian native floristry. We suggest gum leaves, bottlebrush sprays, banksia, and grevillea. Put on your protective gloves and attach the floristry to the tree's branches with wire.
Next, wrap the tree in cool LED lights or forego them in favour of letting the floristry shine on its own.
Hang a few baubles decorated with authentic Indigenous art and some lasercut bamboo animals, like kookaburras and koalas.
Lastly, add a few native birds in the upper boughs. These rosellas, magpies, and kookaburras can also be hung from the ceiling.
After you've bought gifts and decorated your home for a bonza Aussie Christmas, you just need crackers and stockings that fit the theme. Hoo-roo and happy decorating!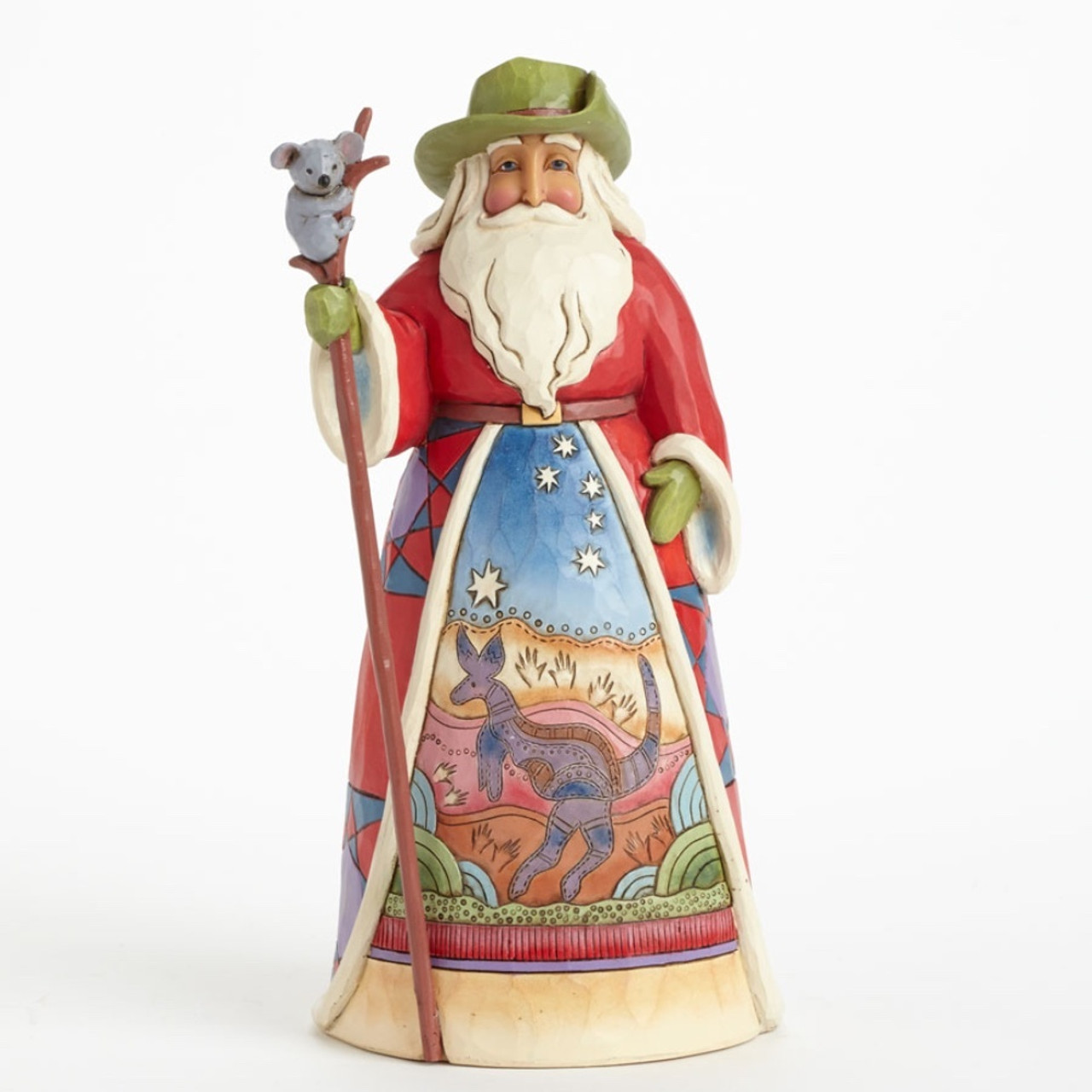 Christmas Elves are social elves. Post photos of your displays to Instagram and tag us: @christmas_elves_ or #christmas_elves_