Hungry for more Lemax? ... The world's leading brand of collectible villages has prepared a mouth-watering 19-piece Collectors Pack as an Australian exclusive just in time for our southern hemisphere winter. Featuring two luscious light-up table pieces and generous helpings of appetising accessories, this year's pack is a veritable buffet of tasty temptations.
But wait! To satisfy your sweet tooth, we're serving up a double helping of dessert: three fresh ways to garnish and elevate your mini village display and a gift card offer that gives you 10% more to spend on our scrumptious 2022 collection.
Join us as we sample the dining-themed 2022 19-piece Lemax Collectors Pack …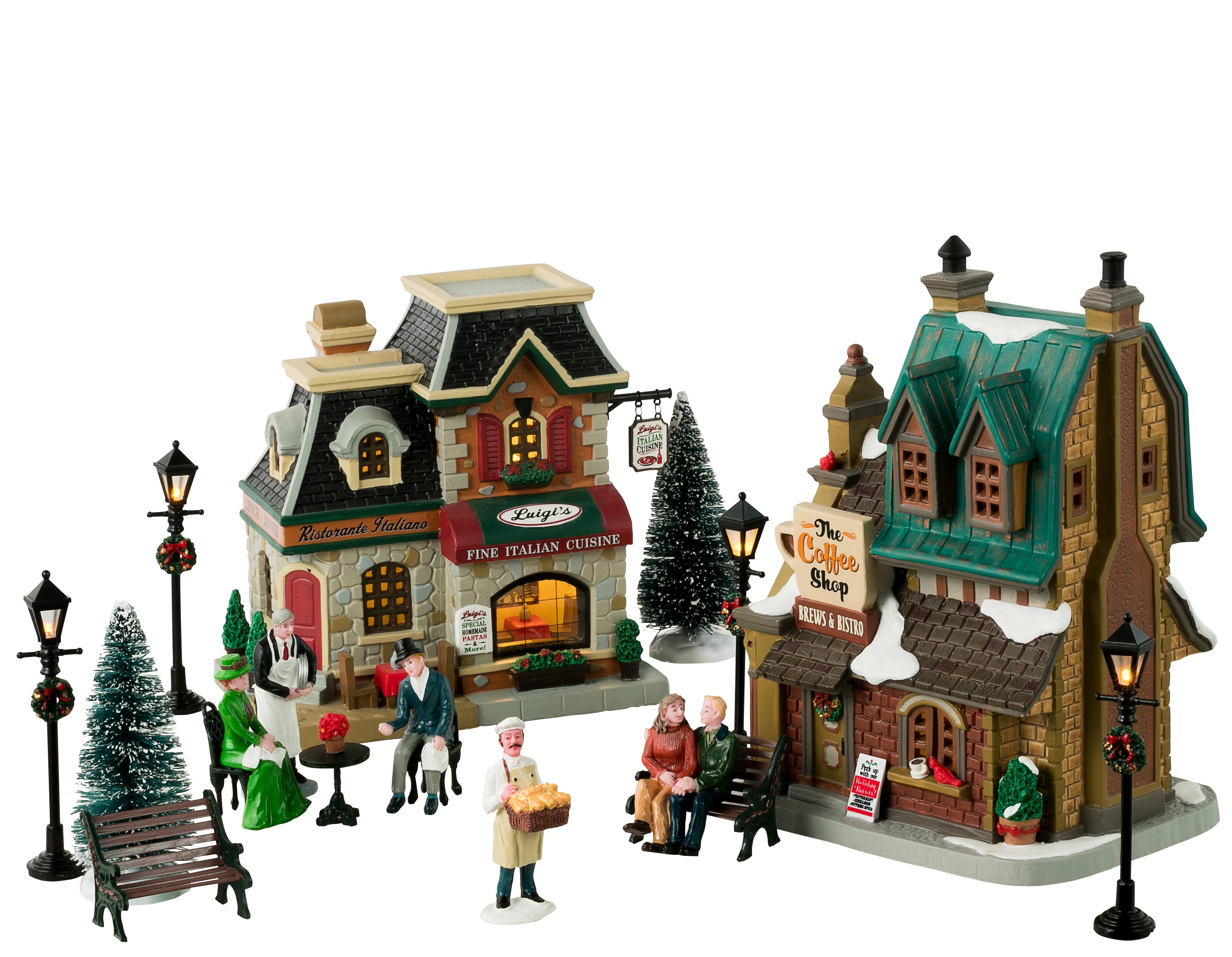 Light-Up Pieces
Lemax's famous light-up table pieces are the beating heart of its collectible villages. Each itsy-bitsy building (15–20cm tall) glows cheerfully, thanks to the included LED 'moonlander' bulbs (one per piece). Simply clip in the bulb, plug into the included adaptor (one per pack), and turn on the switch to illuminate each miniature as dusk descends upon your homely hamlet.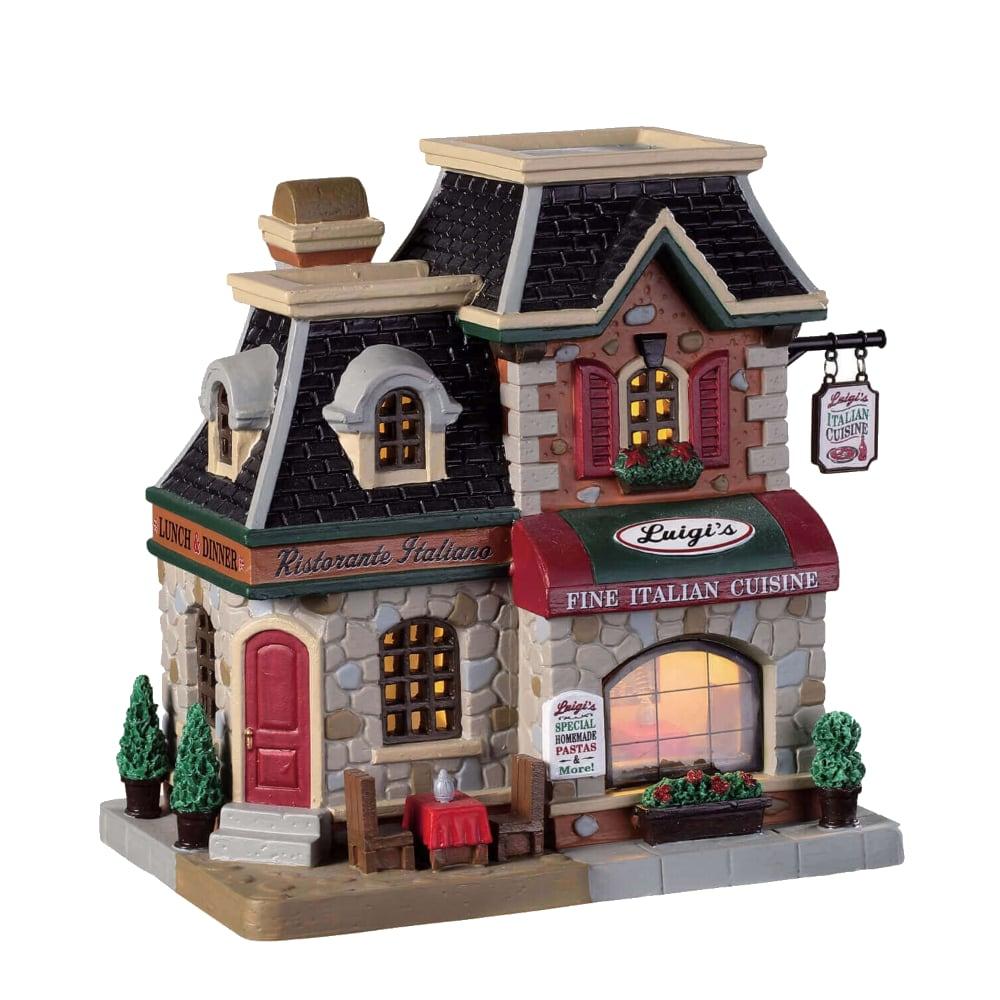 Luigi's Ristorante Italiano – That's amore!
Luigi's family has run this restaurant for generations, ever since his grandfather opened a humble 'taverna' selling the home-cooked food he yearned for. With its warm and cosy vibe, enjoying a meal at Luigi's turns every occasion into a celebration. The quaint building looks as though it were plucked from a village at the foot of the Italian Alps. From a flat mansard-style roof, shingled gables slope gracefully to reveal casement windows protected by arched dormers and charming red shutters. Below, plenty of signage encircles the building to advertise this village institution. An ample awning and rustic frontage resembling random rubble masonry tempts curious passers-by to peek inside through a generous picture window before luring them to the quirky entrance, a red door set in a corner of the building. Let's grab this alfresco table, treat ourselves to a glass of vino, and watch the world go by.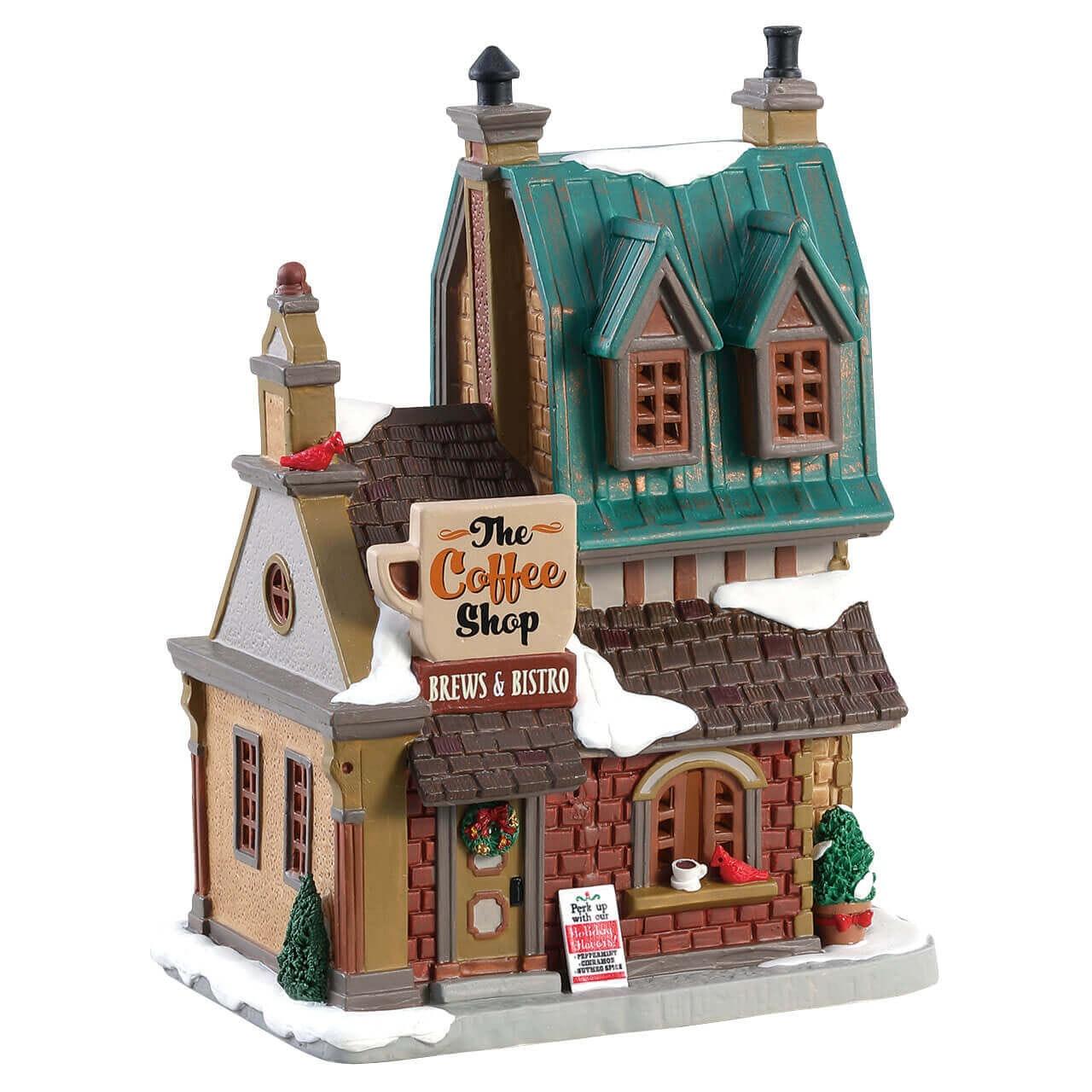 The Coffee Shop – Best Brews & Bistro
Whiling away the hours sipping a cuppa and nibbling on tasty treats sound like heaven. Luckily, our local Lemax Coffee Shop brews up the best hot bevvies in town. They even have holiday-flavoured syrups! Resembling a gothic European shopfront, a Dutch gable roof caps the upper storey and holds peaked casement windows. The ground floor, fronted with brick and stucco, has a shingled roof to handle heavy snow falls. In some ways, the Coffee Shop acts as the centre of village social life. Whenever you visit, you're bound to run into someone you know, mean quick visits turn into long catch-ups. Even these two curious cardinals look like they're scouting out the perfect location to build a nest in the eaves of this swell little shop.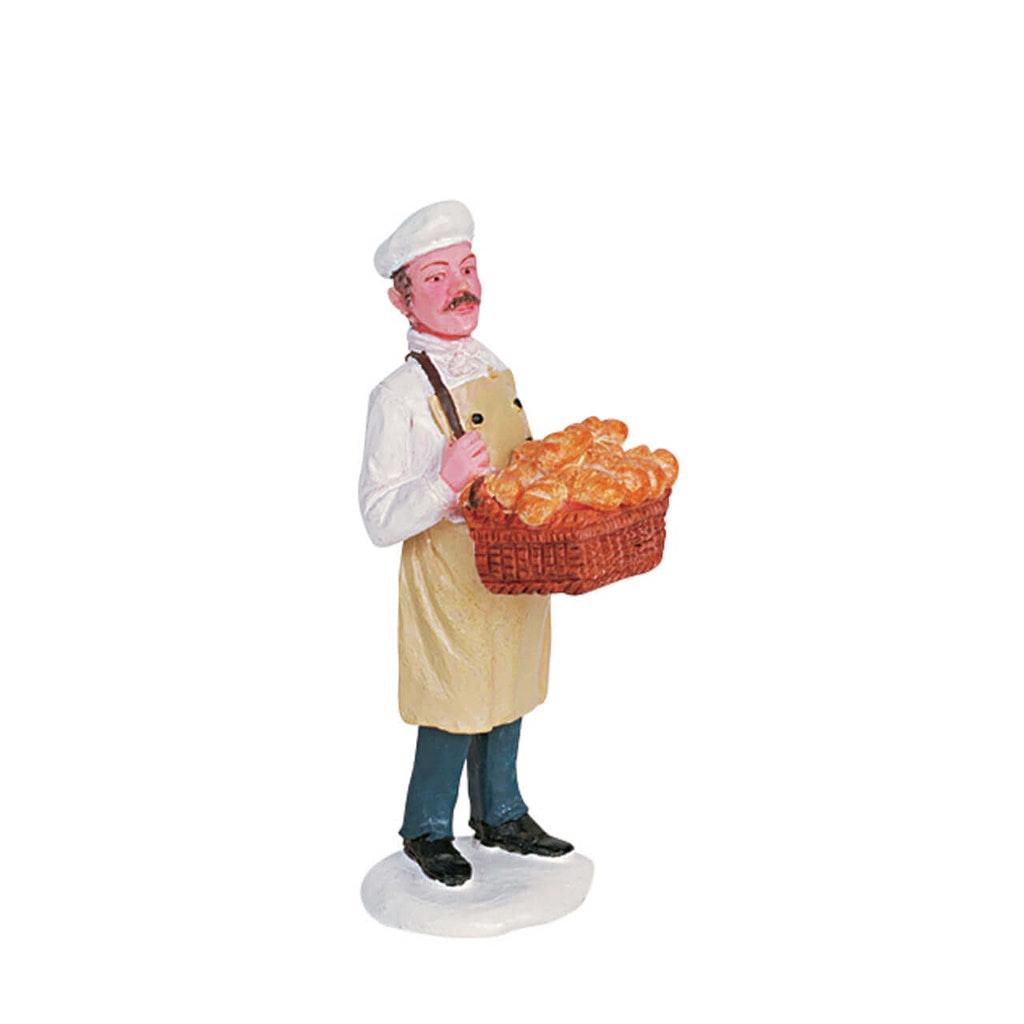 Foodie Figurines
Epicureans, amateur chefs, and 'foodies' of all kinds visit this dining district for everything from casual coffees to more formal occasions. Set the scene for stories aplenty with this colourful cast of characters.
Luigi isn't sure how to tell this genteel couple that his restaurant doesn't serve tea and scones… – Then an idea occurs to him: what about offering them tiramisu and coffee? In this four-piece set, 'Café Society', two debonair customers have brought along their own table and chairs. Standing by, our patient waiter listens attentively as the pair decide what to order.
Everyone wants to buy your bread when you're the best baker in town. After dropping off fresh ciabatta at Luigi's, this chap carries fresh bread rolls, baguettes, and pastries to The Coffee Shop. – Come to think of it, he might just grab a cinnamon latte while he's there.
These newlyweds meet for a special midweek treat lunch date every Wednesday. Since they both work from the same home office, neither of them ever has to cancel.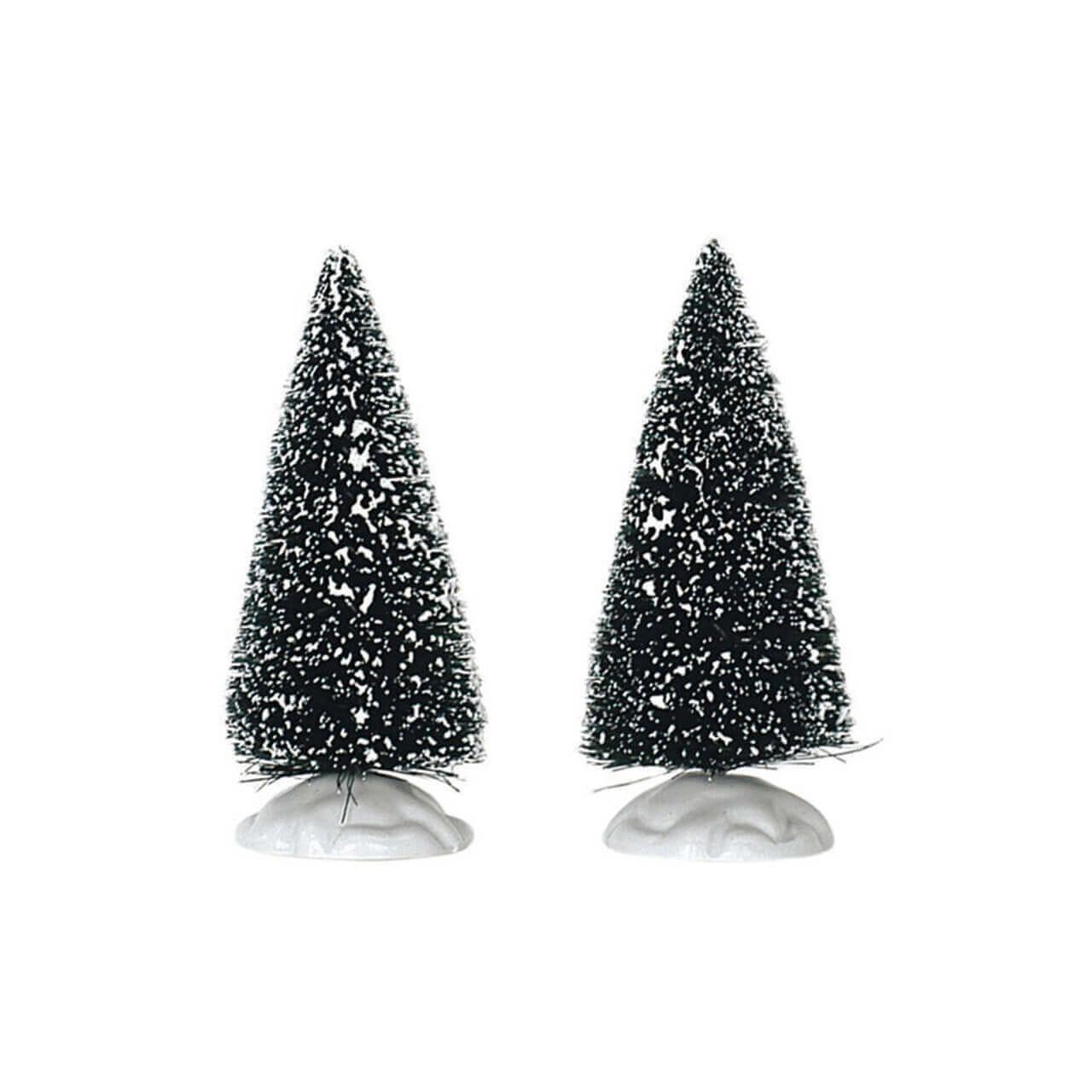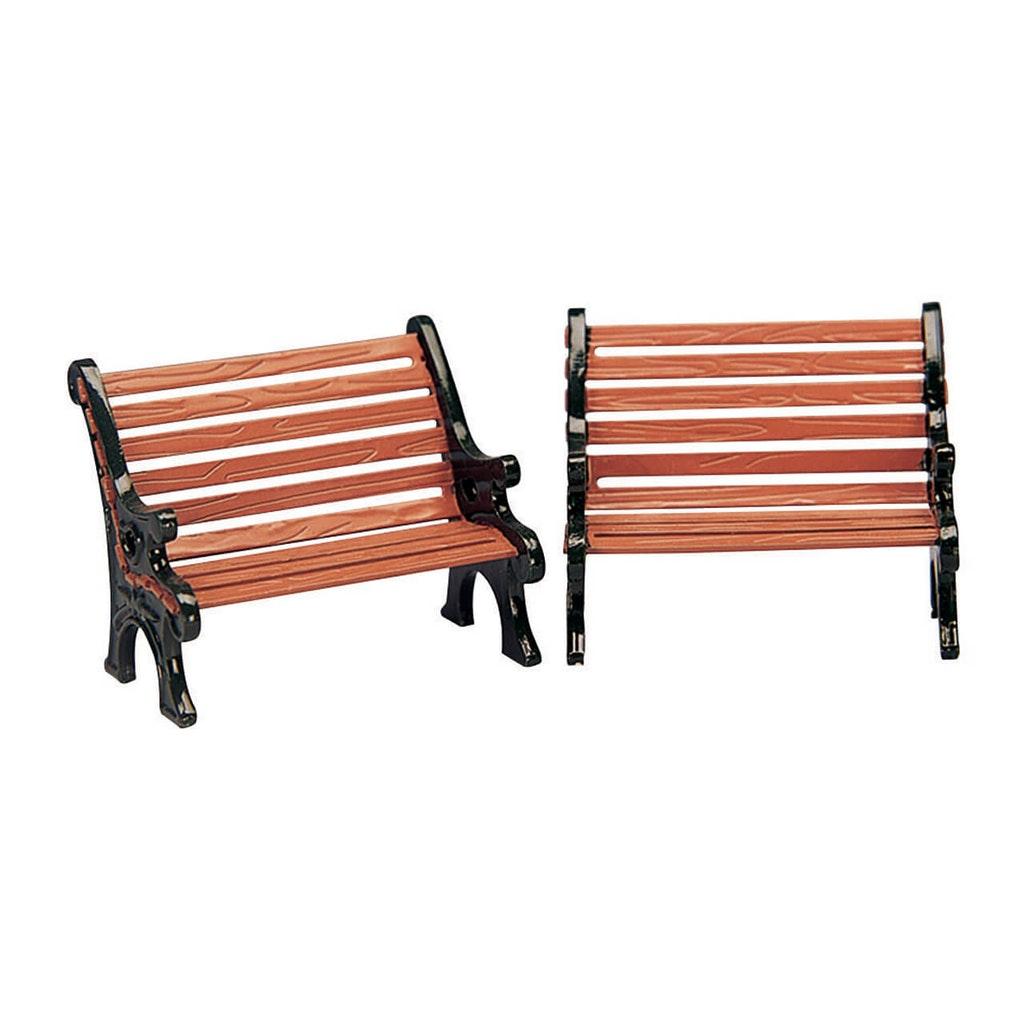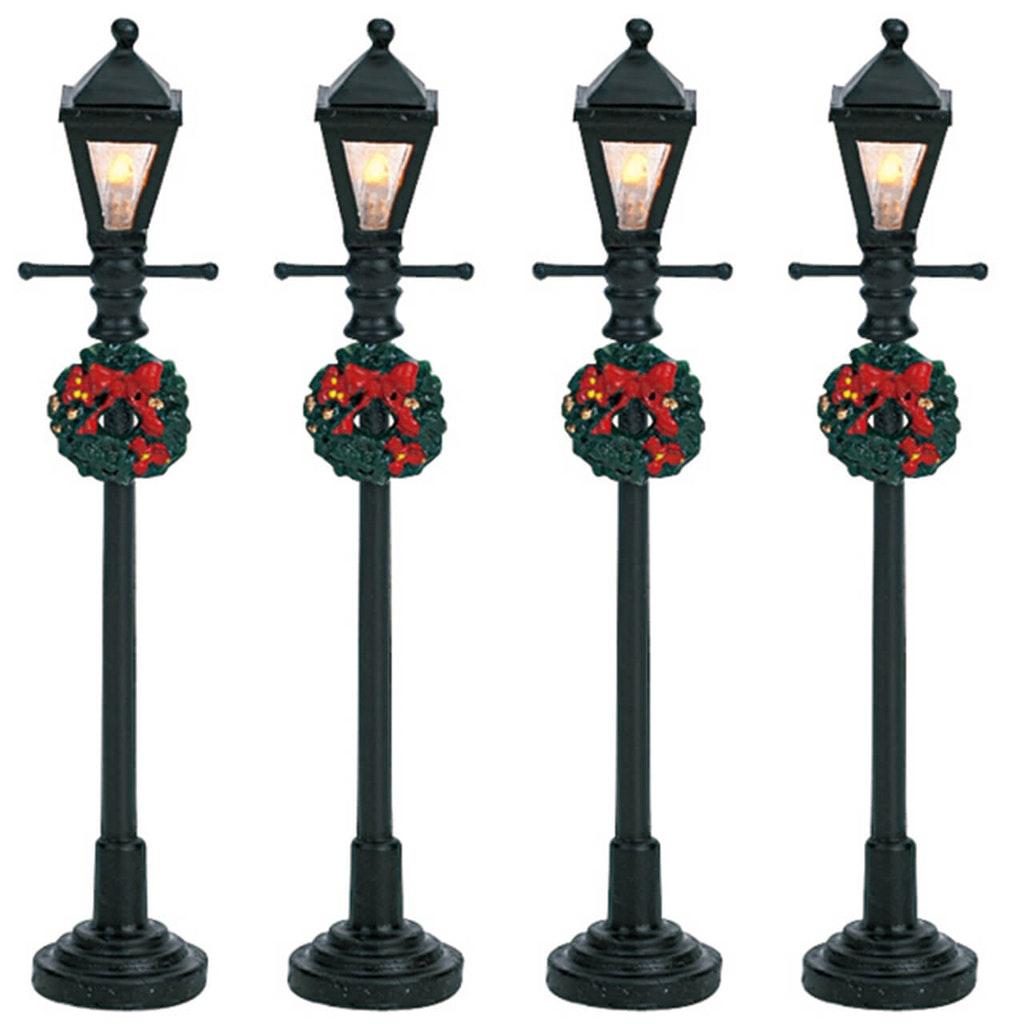 Appetising Accessories
When it comes to Lemax, it truly is the little things that matter. Every village needs the right accessories to make it come to life. This year's offerings help create a more immersive viewer experience and give you ideas for those special finishing touches that show your village is home to a community. Create a parklet or decorate a square with this pair of 10cm snowy-based bristle trees. Next, add park benches so the residents of your village have places to relax and people-watch. We suggest one bench for your parklet and one in your village square or placed elsewhere to indicate a footpath. Make your village lighter and brighter with four 10.5cm gas lantern streetlamps. Position each glimmering lantern so that every corner of your village shimmers. Either plug them into the included adaptor or insert three AAA batteries (not included) into each one to make them shine.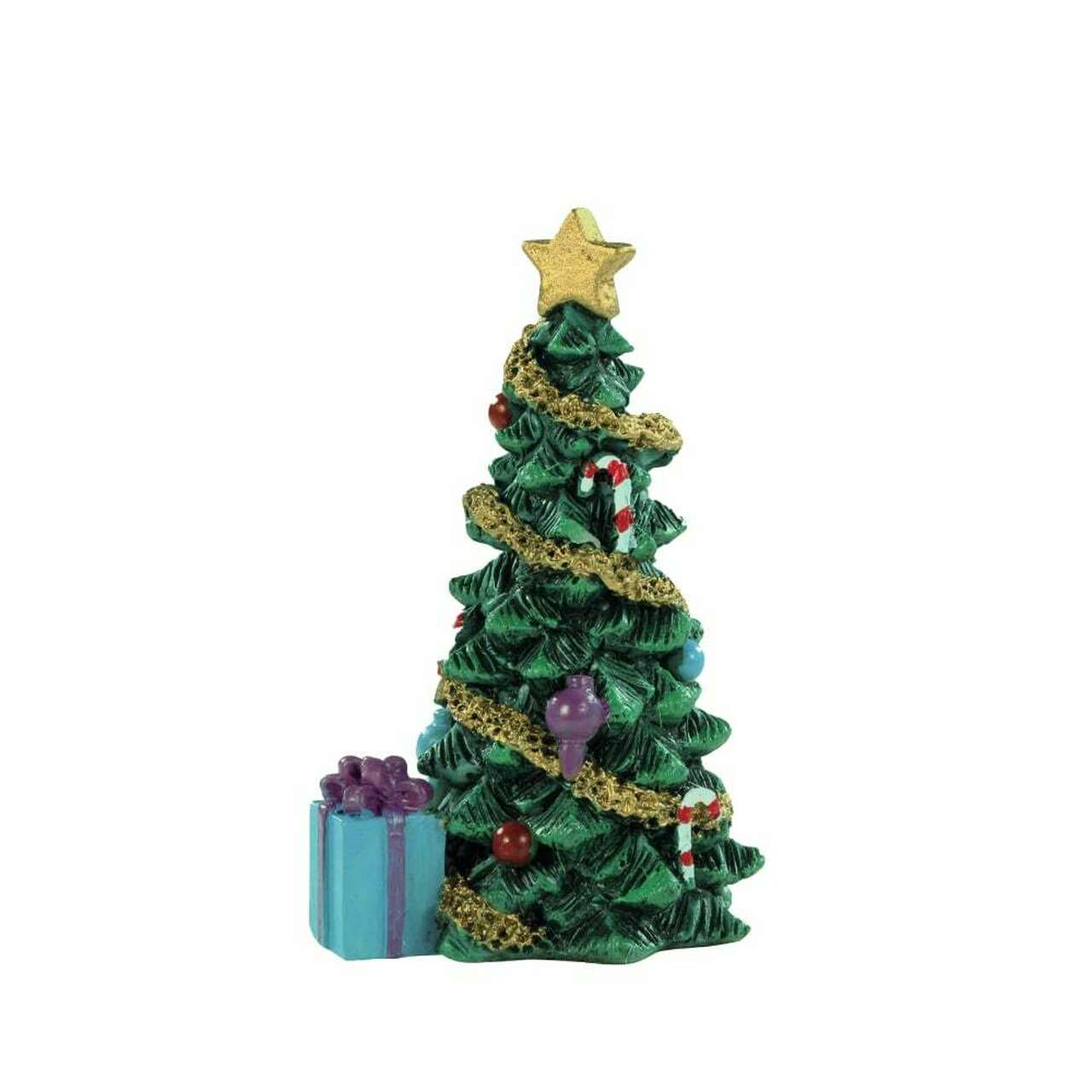 Create a Winter Wonderland in 3 Easy Steps
Seasoned Lemax collectors will already be familiar with our earlier blog posts on setting up a Lemax village, the 2018 starter kit, the 2020 product range, and last year's Collectors Packs.
Now that you know Lemax village decorating essentials, we're confident you can take your displays a few steps further. Construct even more intricate displays to engage and immerse viewers in the world you create by thinking whimsically.
This year, we're swept up in the idea of an idyllic 'winter wonderland': a place where winter colours and themes come together to reflect the season's muted beauty. We also love the contrast of cosy, warm lights to counter the cold.
Here are three easy steps to build one of your own around your Lemax village:
Add heaps and heaps of snow! We love these snow blankets, snow glitter fringes, and real feel fluffy snow. Use different products to reflect the different consistencies of snow. Among all your snow 'drifts', make sure that your light-up pieces sit securely on a flat surface so they stand strong.
Frame your village with floristry. Whether artfully placed alongside buildings or dotted throughout a village square, holiday floristry stands in perfectly for the type of decorations local councils display in public areas. Think poinsettias, pinecones, and spruce for a magically festive feel.
Launch a winter arts festival. In a mini village, baubles, glass ornaments, and larger figurines from other brands become street art sculptures. Station one on every corner, along footpaths, or in a small park of their own for your Lemax figurines to visit. You might even want to include a Lemax Christmas tree or three!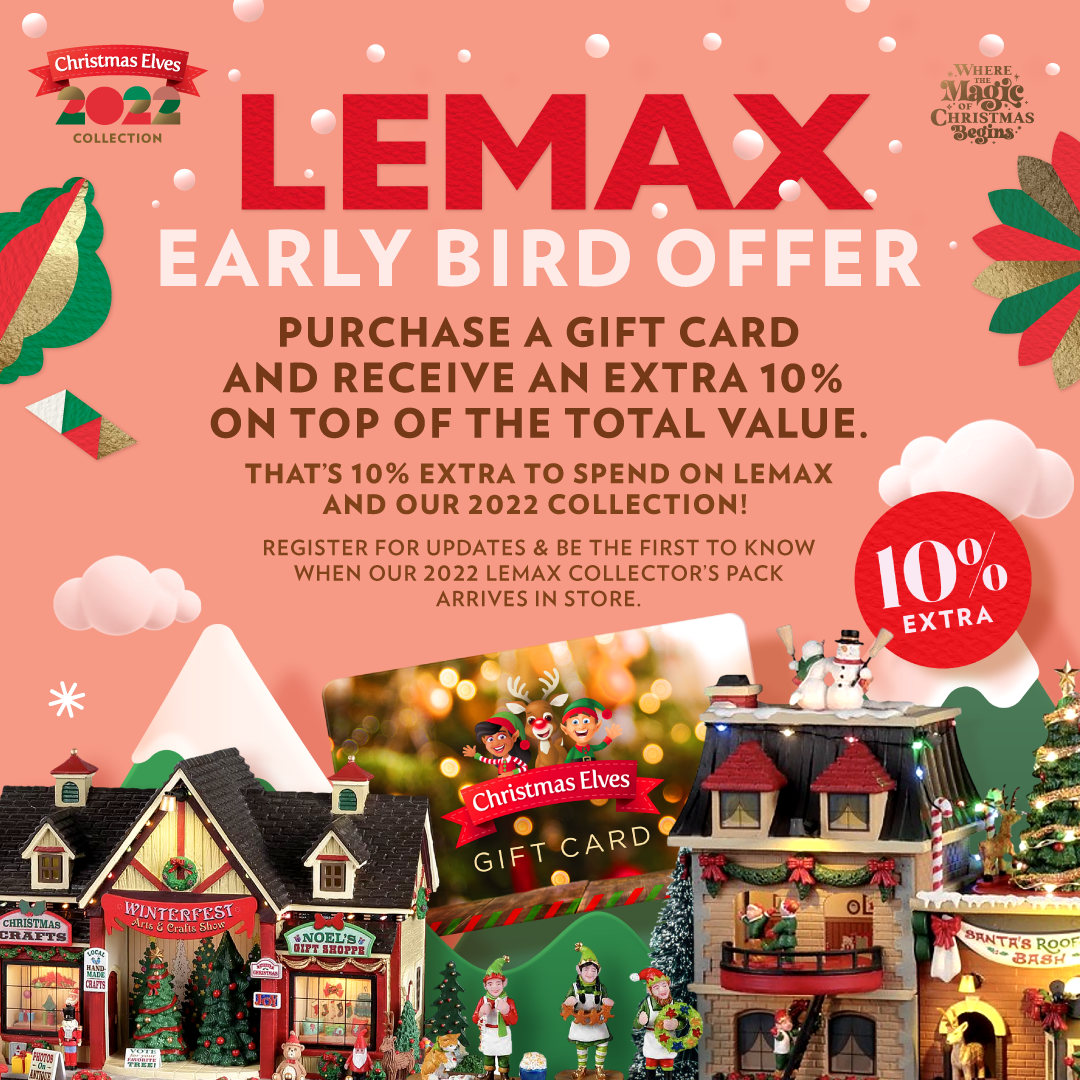 'Great-tastic' Gift Card Value
Your Christmas Elves are always in the holiday spirit, so to celebrate the arrival of the Lemax 2022 Collectors Pack, we're giving our customers more. – 10% more, to be precise.
For a limited time, purchase a gift card and get an extra 10% on top of the total value. That's right: 10% extra to spend on Lemax and anything in our collection. Best of all, our gift cards never expire, can be used in-store and online, and save easily in digital wallets.
Want to be the first to know about the latest arrivals and exclusive releases from Lemax and all your favourite holiday brands? – Sign up here to create an account and automatically subscribe for email updates that'll bring a smile to your dial when you see them in your inbox.
Heaps more Lemax is scheduled to arrive later in the year, and more pieces from our 2022 collection – our largest ever – arrive each week. We're gearing up for an amazing Christmas in July and can't wait to celebrate that with you!
Christmas Elves are sociable elves! Post photos of your Lemax villages to Instagram and tag us: @christmas_elves_ or #christmas_elves_