Tiny people, tiny dogs. Tiny houses. Tiny cars and tiny mailboxes. It's safe to say that we all have a healthy obsession with tiny things. So, it comes as no surprise that many of us have been decorating our homes with miniature Christmas villages and figurines for over 400 years.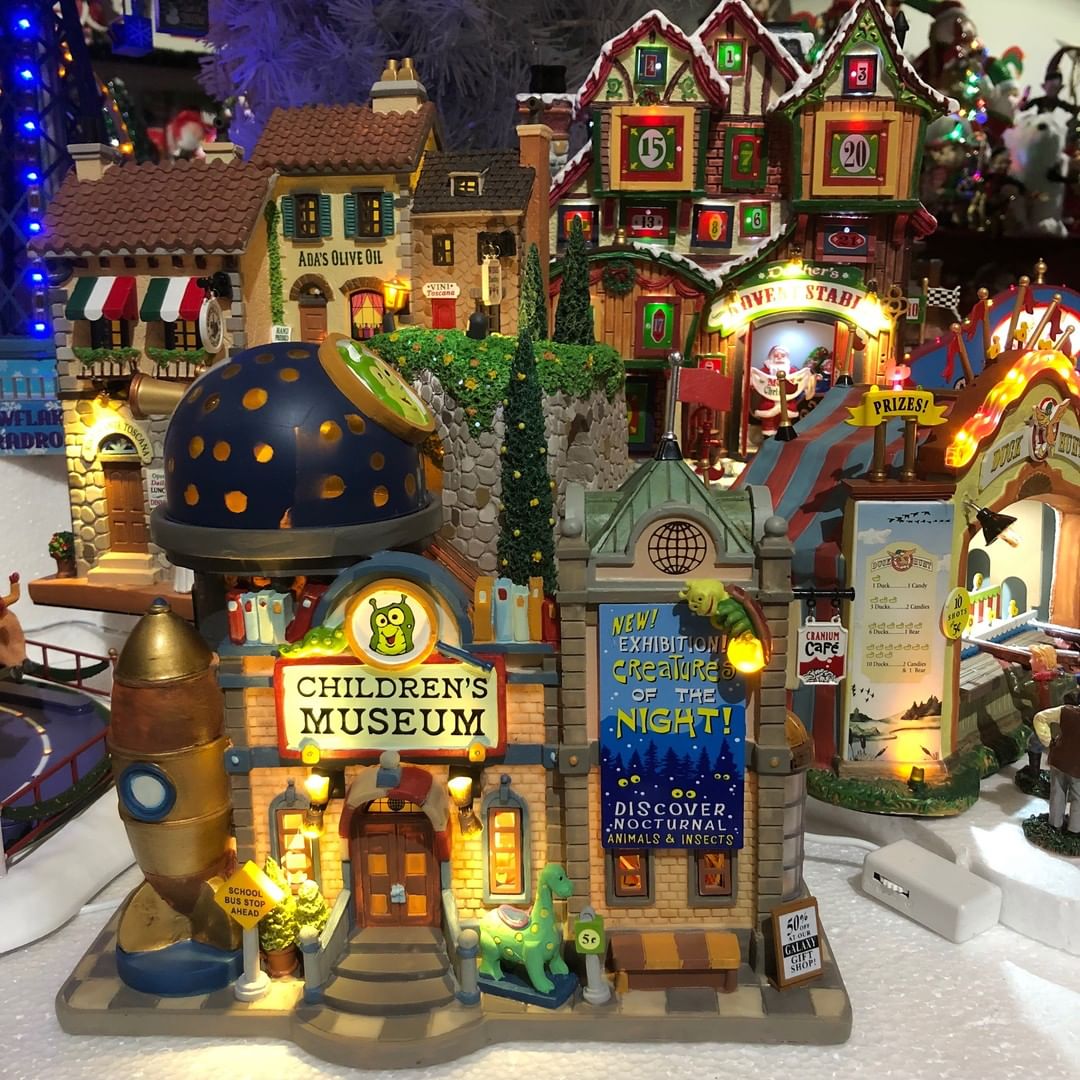 Image source: instagram.com/christmas_elves_
If you've ever visited a home with these charming and tiny villages on display at Christmas, you'll understand the appeal of them. While all creative hobbies are satisfying, there's something to be said about creating your own beautiful miniature world – where goodwill and Christmas cheer pours from every window.
Want to get started on your own? It can be a bit overwhelming for even the most experienced decoration enthusiast. The Christmas Elves team, can show you how to decorate your home with your very own Christmas village collectibles.
Why do we decorate with Christmas villages?
Decorative Christmas villages have enjoyed a long tradition of welcoming guests into homes since the 15th century. Their origins are rooted deep in Pennsylvania, USA by one of the oldest Protestant denominations in the world. It was during this time that people incorporated a small, handmade replica of the nativity scene into their Christmas decorations.
While these villages were originally placed under the Christmas tree, towards the start of the 19th century, a family's village was found in prominent places within the home, such as on a side table or a fireplace mantel. Soon, other stories from the Bible were replicated and displayed, until they became mass produced.
Our current village displays have changed dramatically to become the ones from Lemax that we know and love today. Made from ceramic or porcelain, each design is hand-sculpted, hand-cast and hand-painted. Some buildings in this collection even feature small holes where Christmas lights can be put through to provide illumination. Now, they're beloved collectibles, with Lemax cleverly introducing only a handful of new buildings at a time while retiring others.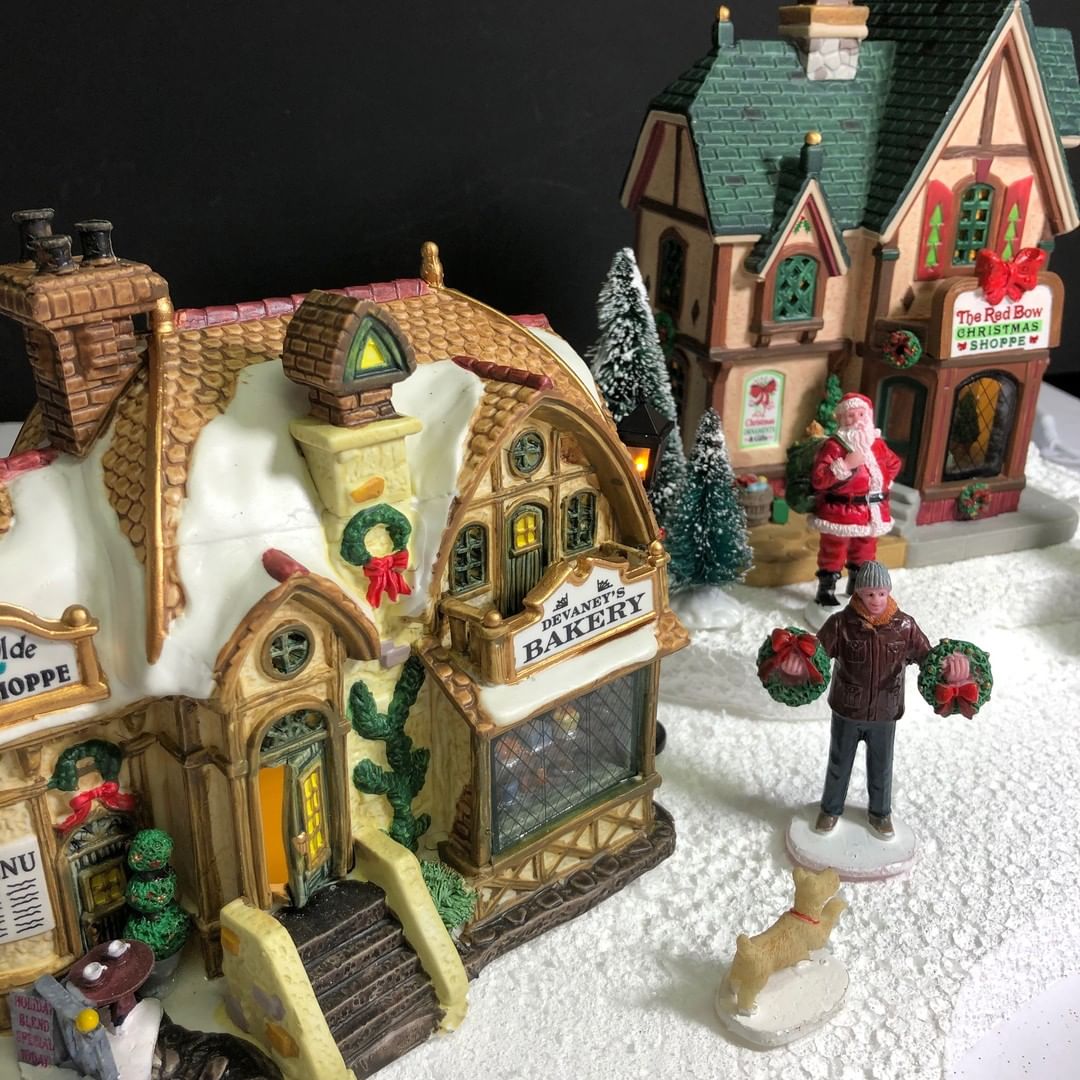 instagram.com/christmas_elves_
How to create a Christmas Village display.
Building a village requires a fair amount of space and time, but one that the whole family can be involved in, especially when passed down as a family heirloom from generation to generation. If you're just starting out, even with a modest collection, you can still set up an impactful village with our tips:
First, find a large flat surface and space where you can set up your village. We recommend at the base of your Christmas tree, as it's a fluid continuation of your decorations.
Start with a village base. We recommend finding a standard sheet of pressed wood or similar material from your local home improvement store. Then, cut several holes in the board in random spots (this is for the electrical cords to snake through without being seen).
Depending on your budget, you can emulate snow with white felt, cotton buds (you'll need a lot!) or mix water with flour or baking soda.
Then, you'll need to create 'mountains,' so all your buildings won't be on the same level. We suggest packing foam (don't worry – they'll be hidden under the 'snow'.) Play around with location until you're happy with the way it looks.
You can add roads with Lemax cobble stone or paved roads, or depending on your budget you could draw in some roads with a black permanent marker.
Now, here's the fun part: as you set up your village, try to group buildings together that look like they would belong. For example, put a church and a school within proximity of the other. It's okay if you only have three houses to start with – this is enough to create a neighbourhood.
Place figures outside to bring your village to life. Create scenes by grouping single figurines together, or opting for a whole family like the Lemax Snowshoe Family.
The important thing to remember is that you don't have to do it all at once. You can build it in stages or start small with just a few figurines. When you've built up your collection, you can add in railway tracks complete with a model train.
Expand on your Lemax village every year with Christmas Elves.
If this isn't already a Christmas tradition in your family, now's the time to start. Make this Christmas your best one yet and get into the festive spirit with your very own Lemax Christmas Village. From the Lemax showstoppers Christmas Elf Workshop, the North Pole Tower to the Candy Works Shop, Kringle's Cottage and many more, the possibilities are endless when it comes to filling your home with festive cheer.
With fast shipping to anywhere in Australia, we also offer a Product Delivery Guarantee for your peace of mind. Alternatively, you can pick up your Lemax village from our Preston or Ferntree Gully stores (Victoria only).
Order your Christmas villages online now or visit us in-store – but you'll have to be quick, as our products are sure to sell out fast in preparation for Christmas!