Fun to collect and display, tiny things hold a distinctive charm all their own. Collectors always manage to find room for the newest pieces of their favourite pint-sized passions. When it comes to miniature holiday villages, Lemax leads the way. This year, it's even easier to start your very own collection, or buy for the collectors in your life with 17-piece and 18-piece Lemax Collector Kits.
Lemax's range has a cute factor which no one can deny. Here on the Christmas Elves University Blog, we've shared their 2019 Christmas Village Starter Kit with you and heralded the arrival of 2019's Christmas villages. Collector's packs are back for 2021, and we can't wait to introduce you to them.
Join us and explore the world of Lemax and experience Lemax's brand of holiday magic for yourself. Grab your coat, hat, scarf, and mittens, because we're going to take a stroll through the winter wonderland of 2021's Lemax Collector kits.
Pets Collectors Kit ... a 17 piece animal lover's delight!
We all know that adorable animals belong in every community. The 17 piece Lemax Pets Collector Kit puts our loveable best friends in pride of place.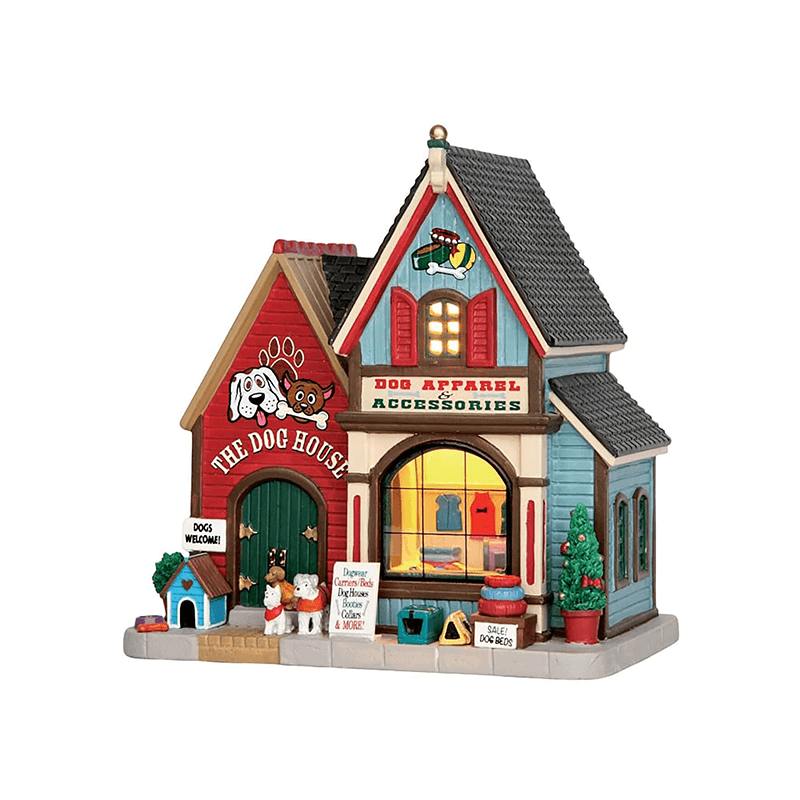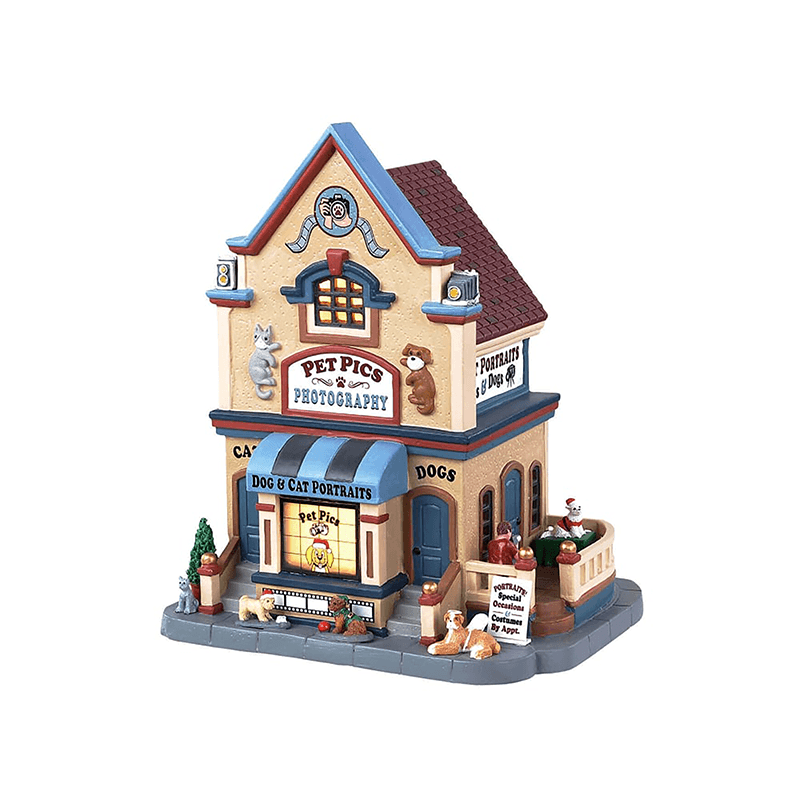 The Dog House (Size: 17.3cm x 16.8cm x 10.8cm)
Every darling dog and precious pooch want gifts from The Dog House this Christmas. –It's easy to see why. Crafted out of fine porcelain, this rustic double-fronted light-up table piece has everything that canine connoisseurs crave and charms with colour and lavish attention to detail. The halves of this puppy paradise complement one another with their contrasting looks. The left side resembles a genuine doghouse, complete with doggie door. The red clapboard walls, steeply pitched roof, and smiling doggies in the logo take you back to shopping on a quaint small-town high street. The right side's baby blue walls distinguish it while red shutters and trim link the two halves.
On the footpath in front of the shop, darling doggies wearing the latest in canine couture greet all passers-by. Don't you just love their puppy jumpers? The adorable little white Scottish Terrier wears a chic crimson kerchief!
To tempt shoppers, The Dog House sets out a daily selection of its finest wares, including a cosy dog house, classy pet carriers and a range of beds to suit breeds large, small, and somewhere in between. A quick squiz through the arched showroom window on the right reveals everything a dog could crave, including coats, shirts, and blankets. Once you start shopping for your fur baby, you won't want to stop!
Pet Pics Photography: (Size: 20.5cm x 17.3cm x 12.9cm)
Naturally, after treating your pup to presents from The Dog House, you'll want to capture them looking cute. We know just the place you need. Let's head over to Pet Pics Photography. This busy, double-storey studio bustles with activity and receives glowing reviews, thanks in part to its light-up feature. Made of porcelain, both the shopfront and the upper storey windows glimmer cheerily as cuddly customers wait their turn to pose for the 'purr-fect' picture.
From top to bottom, this piece is covered with whimsical detail. Cat and dog relief sculptures flank the main sign. Further up, tiny old-fashioned camera sculptures mounted below the front gable frame a decidedly retro logo. Down at street level, a handful of patient pets await their appointment with the photographer. (Luckily, the building provides separate entries for cats and dogs!)
The photographer has heaps of customers this afternoon, and it's a good thing that everyone looks to be on their best behaviour. Just look at them in their Chrissie costumes! Dressed as Santa's helper, one poochie poses for a few final snaps. Next in line, a furry angel practises her best 'puppy dog eyes'. A pair of elf pups pass the time by playing with a ball. Around the corner, hoping none of the dogs notice her, a fretful feline hides, waiting to dash inside once the cat door opens. Of all the times for the cat photographer to be out to lunch!
Figurines & Accessories:
The residents of this hamlet adore pets and have their own special stories.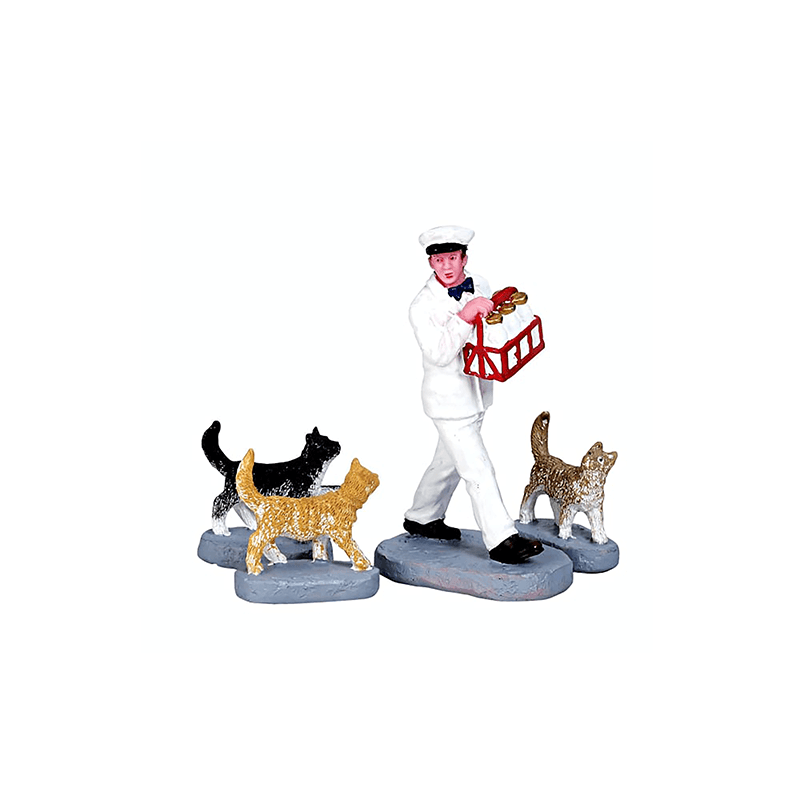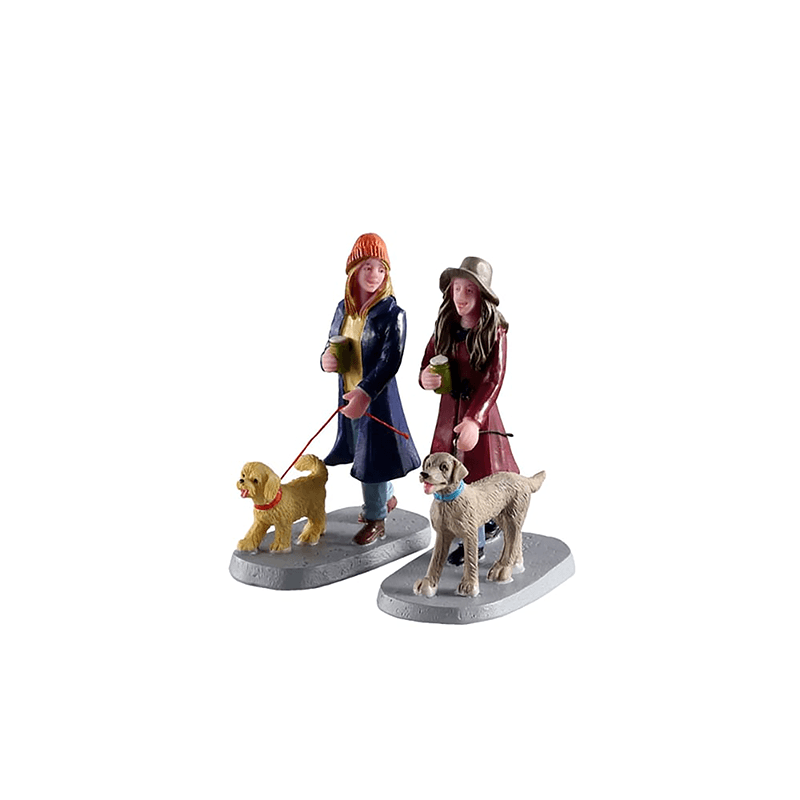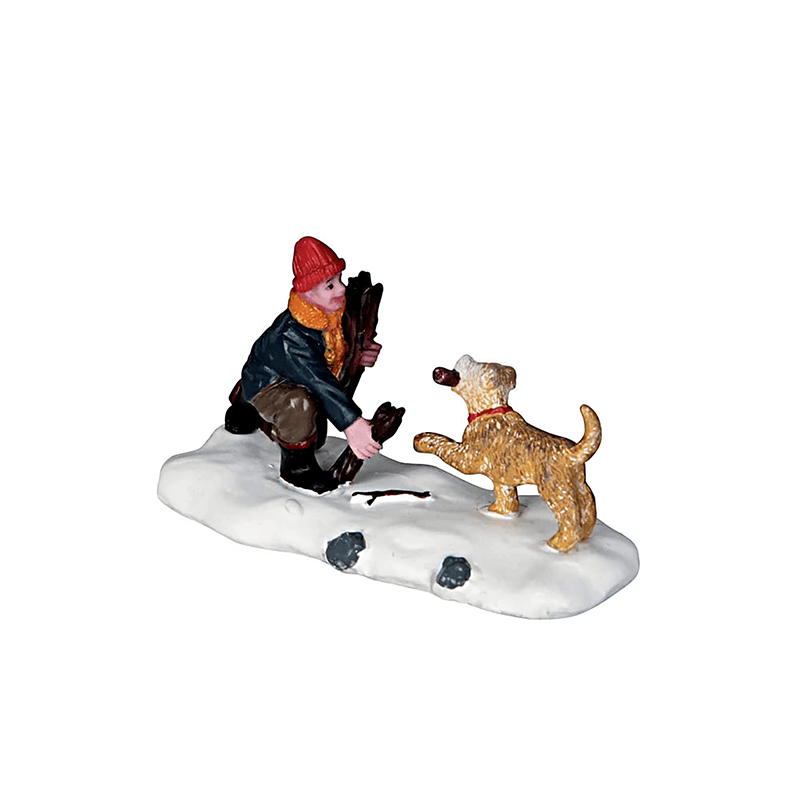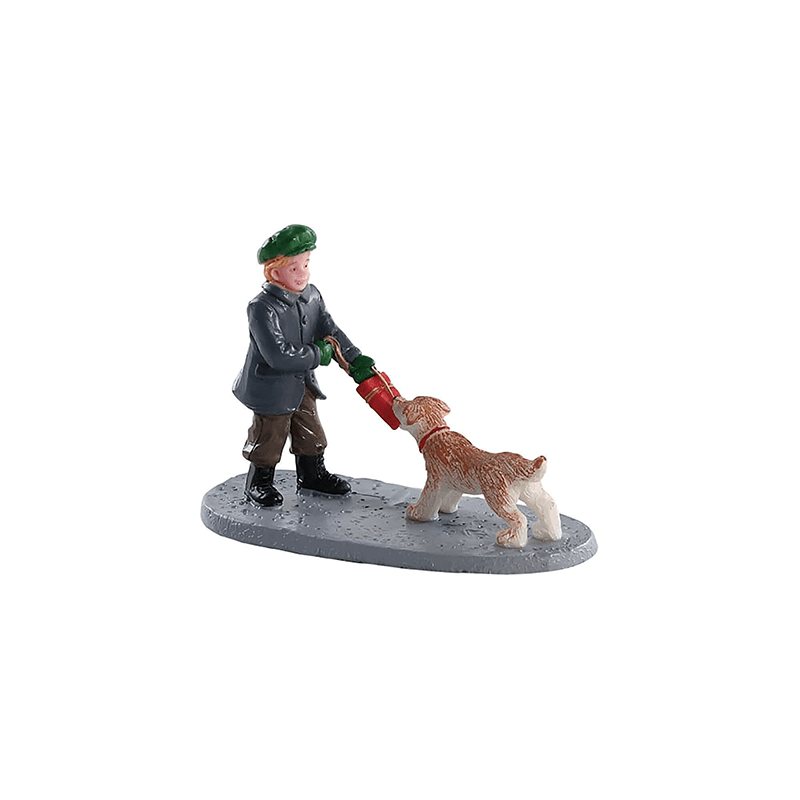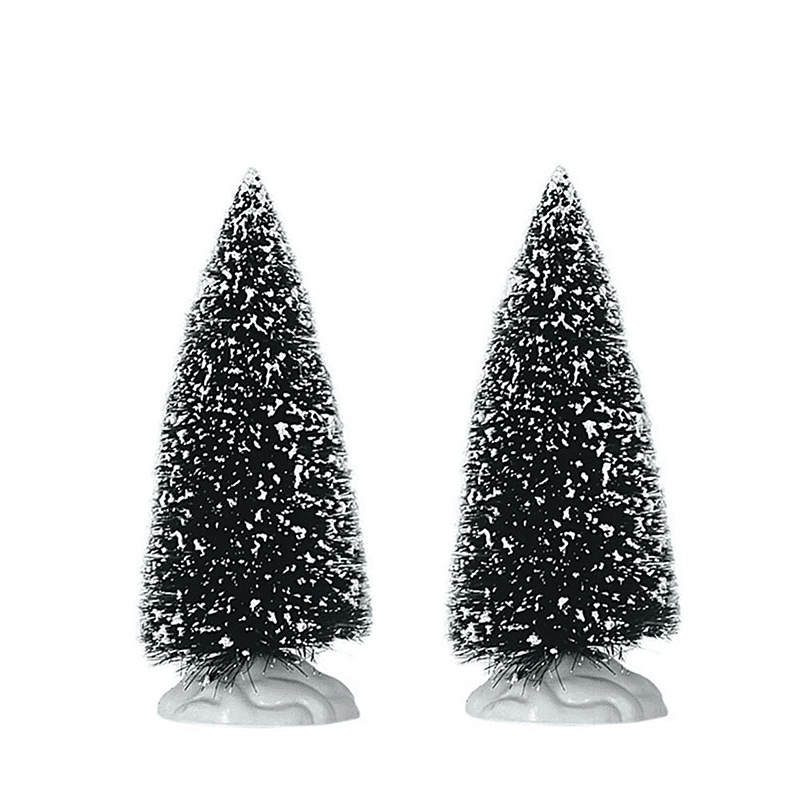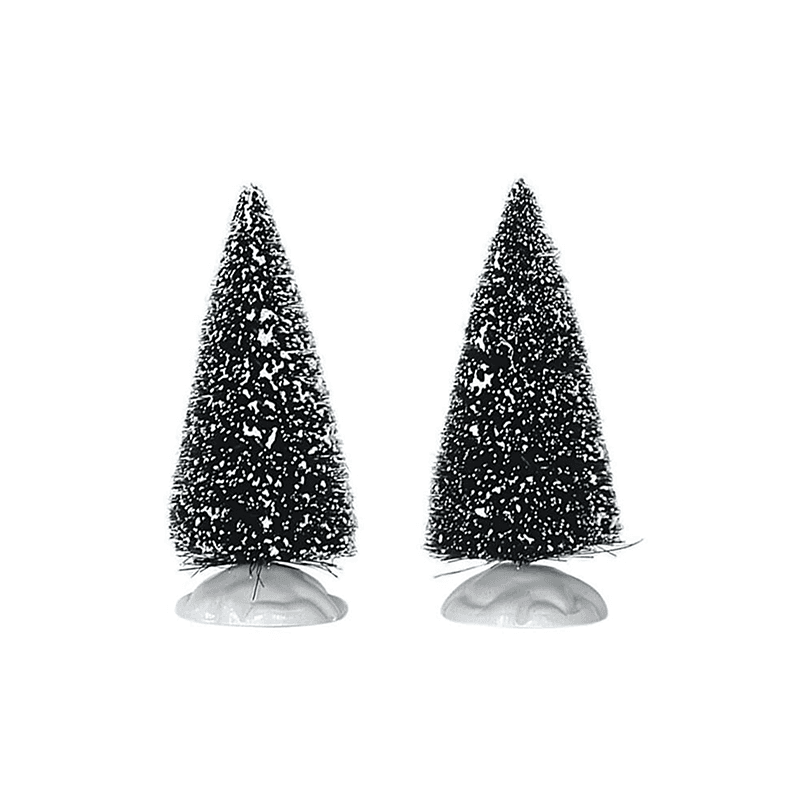 Merry Milkman (Set of 4)
With so much delicious milk in their sights, this persistent pussycat trio means business. Our milkman (7.1cm tall) better be careful if he wants to make it through this last delivery with all his lives intact.
Multitasking (Set of 2 - Size:6.8cm tall)
These friends go everywhere with their pups in tow. After meeting for lunch, they grab coffees and take the dogs on a long walk with a surprise visit to The Dog House to buy them each a special treat.
Gathering Firewood (Size: 4.5cm tall)
Teaching Fido to fetch has really paid off. When your best friend pitches in, you can do your chores in half the time! With Fido's help gathering firewood, he and Billy will be out of the cold and back in front of the fire in no time.
Tug of War (Size: 4.3cm tall)
Careful, now! Try as he might, Sam can't seem to make Spot understand that he needs to wait until Christmas to open his presents.
Trees (Set of 2 x 10cm and Set of 2 x 15cm)
Miniature villages need green spaces, too. When you set up your Lemax village, position these perfect, snow-encrusted pine trees to add extra Christmas notes and a wintry feel to your display.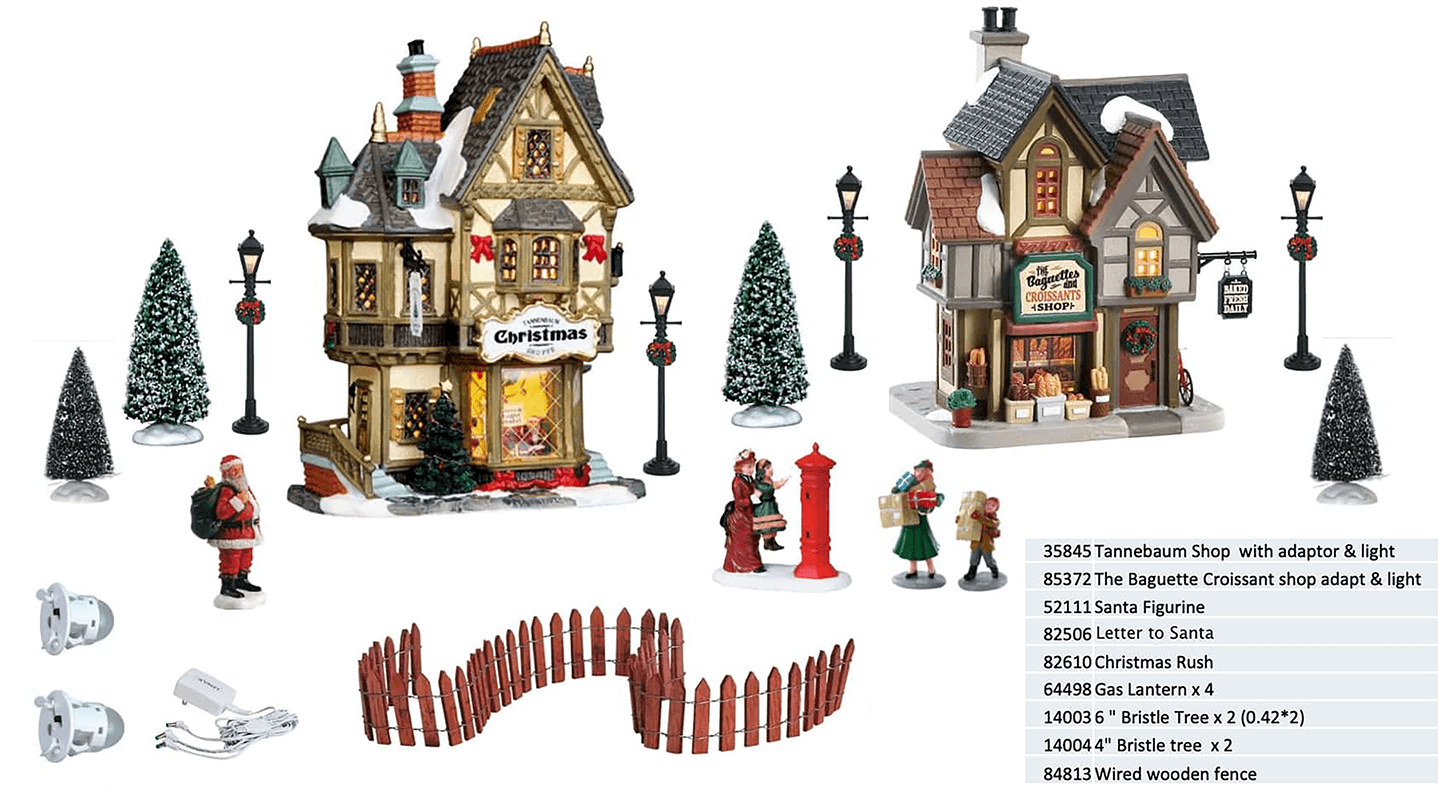 The 2021 Lemax Classic Christmas Kit – 18 pieces of timeless holiday nostalgia.
The 18 piece Collector Kit draws from images from classic European Christmases to create a world outside of time, with nods to both the 19th and 20th centuries.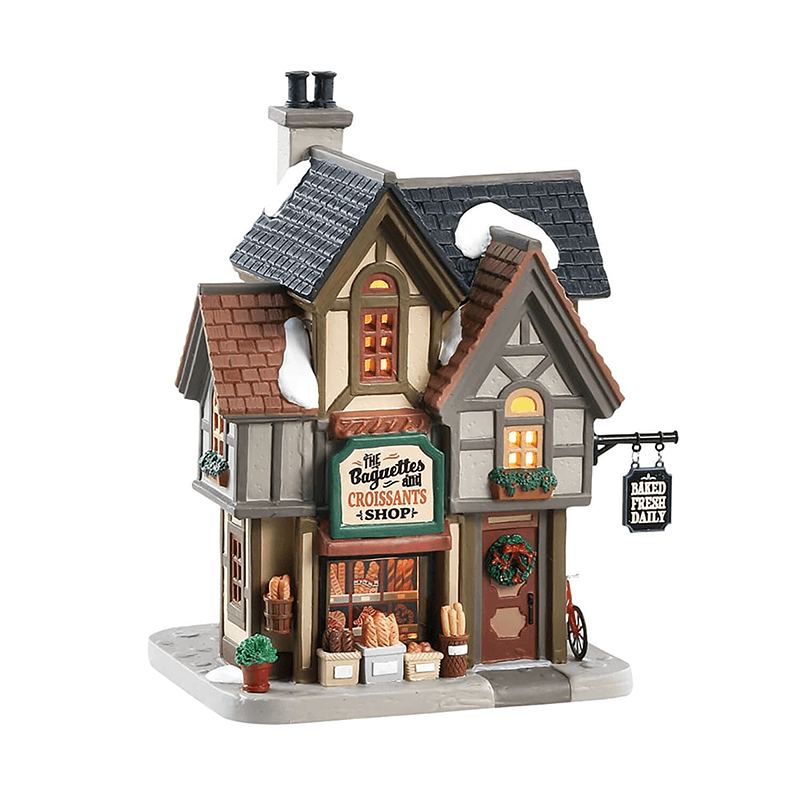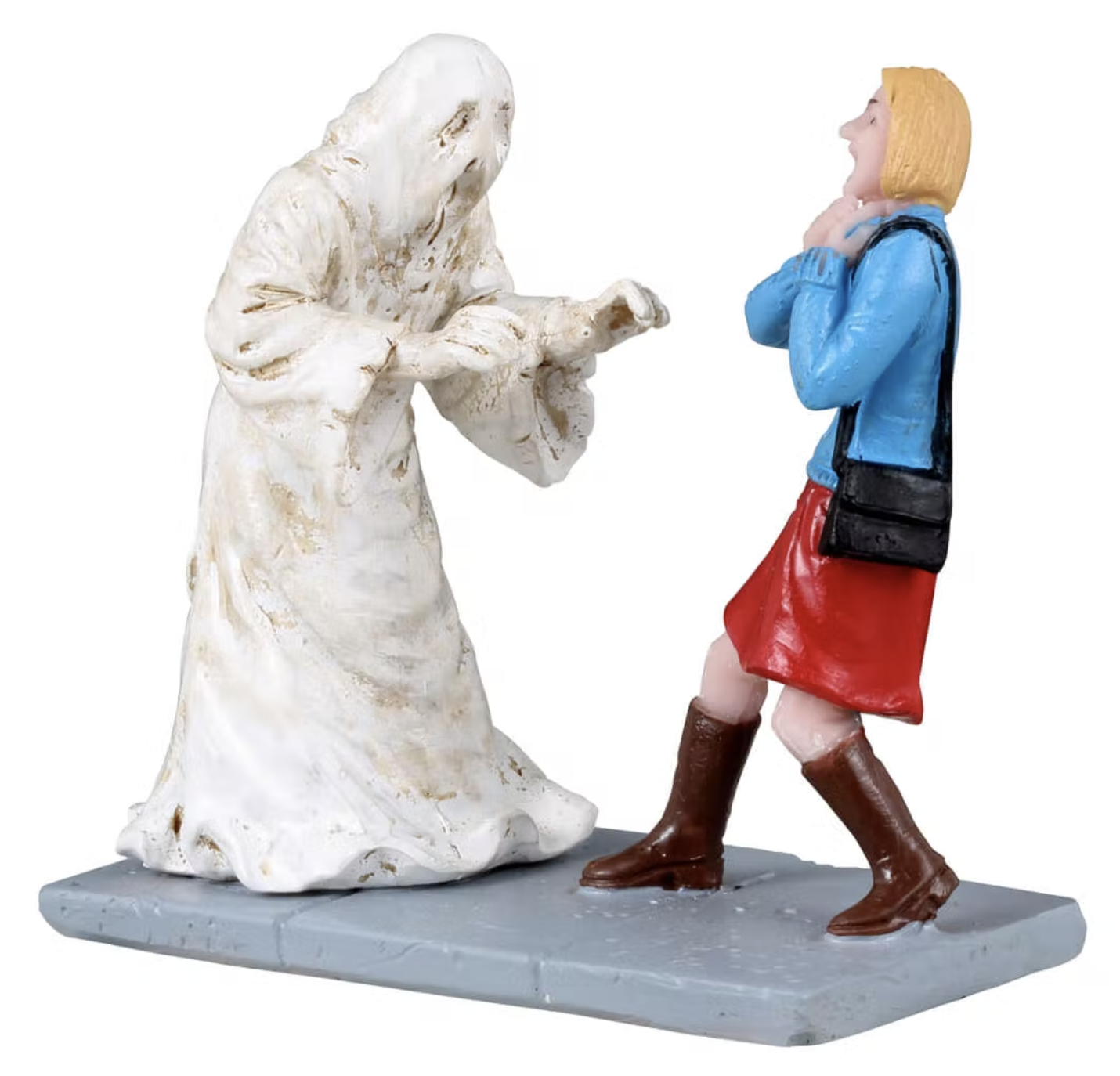 The Baguettes and Croissants Shop:(Size: 18.4cm x 15cm x 11.1cm)
Follow your nose to our first stop, The Baguettes and Croissants Shop. The warm, inviting glow from within beckons with a mouth-watering display of wonderful wheaten baked goods. Not a gluten-free thing in sight!
This enchanting porcelain light-up piece draws inspiration from French country boulangeries. The snow-dappled roof cascades in a series of gables framing brightly lit windows with flower boxes full of holly. In her haste to fire up the ovens this morning, the baker has parked her ruby-red bicycle against the side of the building. Peer into the shop's main window and you'll discover mouth-watering masterpieces of artisanal baking. —Why fight it? No one can stop themselves from nipping in to buy a buttery croissant or freshly baked loaf of bread.
Tannenbaum Christmas Shoppe:(Size: 20.6cm x 14.5cm x 9cm)
Munch on your croissant as we head over to the Tannenbaum Christmas Shoppe. Direct from the pages of an olde holiday tale, this porcelain light-up building belongs in every Christmas village. Emulating 'half-timbered' German houses, ornamental brass-coloured finials cap a steeply pitched and gabled roof with a ridge painted to resemble brick. Moulded shingles lead down the right side past a skylight to a whimsically wonky chimney topped with a pot.
Glowing light emanates from a variety of quaint windows. Dovecotes protrude from the top of the turret, while latticed casement windows ring the perimeter. Antique signage, bows, and wreaths lead the eye down to the ground floor. Red ribbon bunting across the front of the shop links the separate ends of a veranda that wraps around the back of the building. A jolly tree laden with baubles and other ornaments stands next to an enormous bay window. Peek through the crosshatched panes and you'll see Santa himself browsing!
Figurines & Accessories:
Now you can write your own Christmas stories with these Lemax figurines …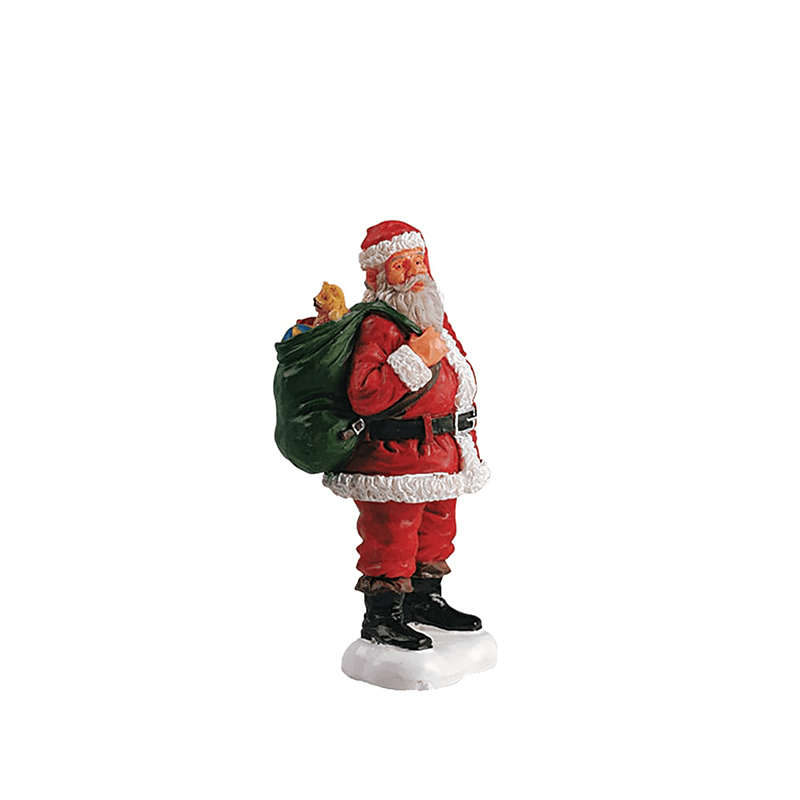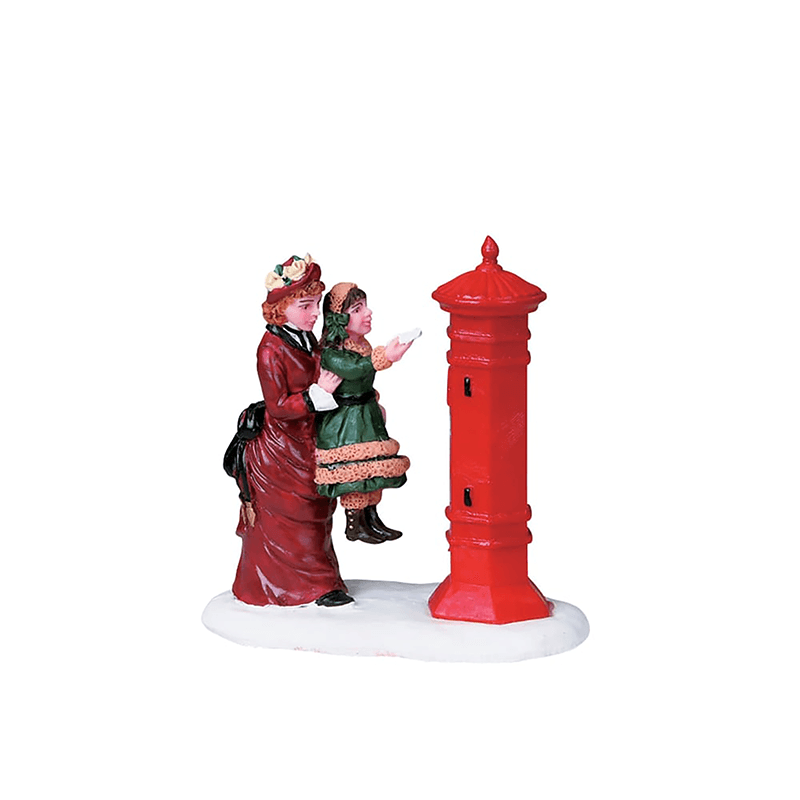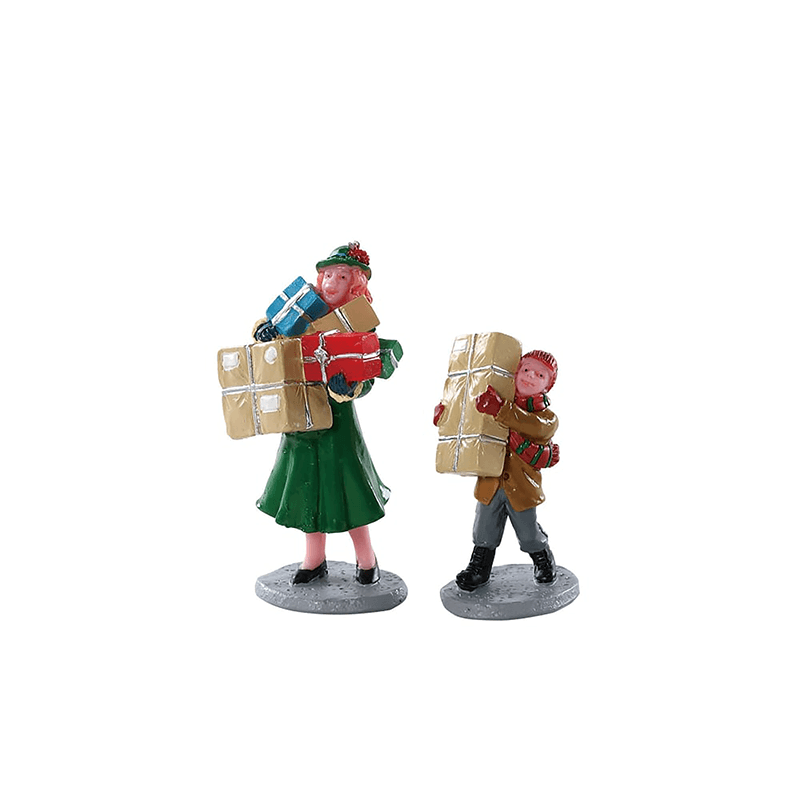 Santa Claus (Size: 6.7cm) – The man himself with his bag full of goodies. Now, where did he park his sleigh? 'Rudolph!'
Letter to Santa (Size: 7.1cm) – 'It'll arrive in time, won't it, mummy?' This Victorian-era pair wear costumes in Christmas colours and come with an iconic red Royal Mail letterbox. 'Darling, I'm sure your letter will get to Father Christmas in plenty of time. We can count on the magic to help with that.'
Christmas Rush (Size: 6.5cm, Set of 2) – 'Hurry up, Mason! We still need to grab some things at the bakery.' Rushing home to hide armfuls of gifts this 1950s-inspried duo look like they've come straight from a classic Hollywood sound stage. 'I'm going as fast as I can, Mum. What did you get for Dad? This box weighs a tonne!'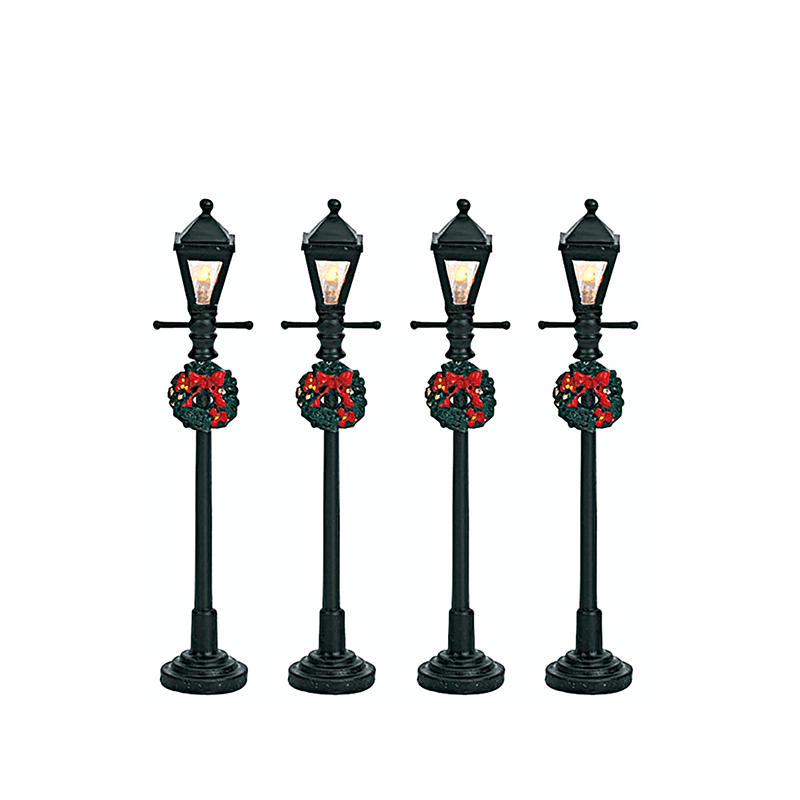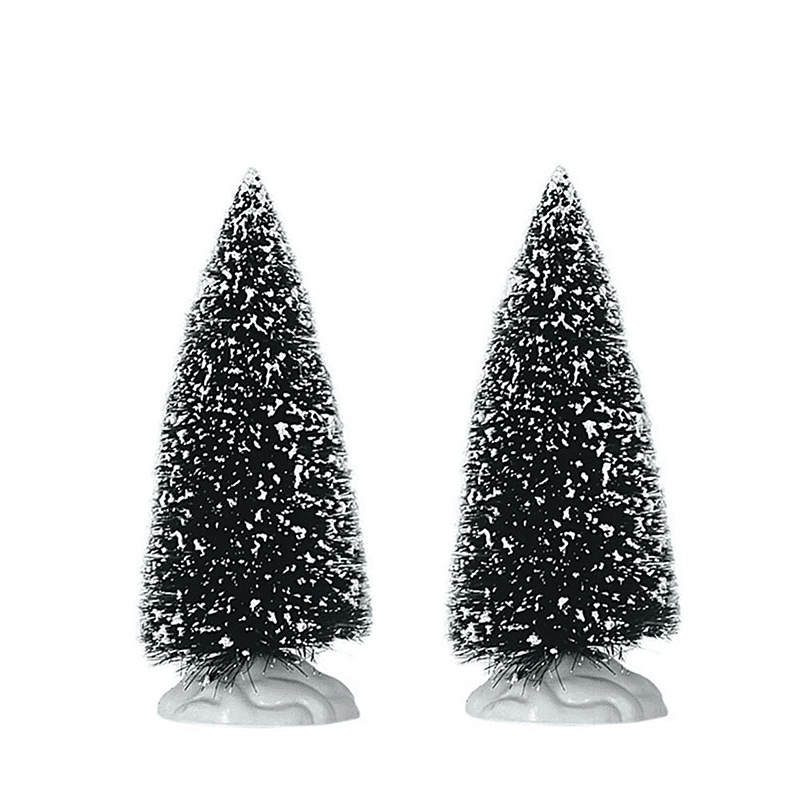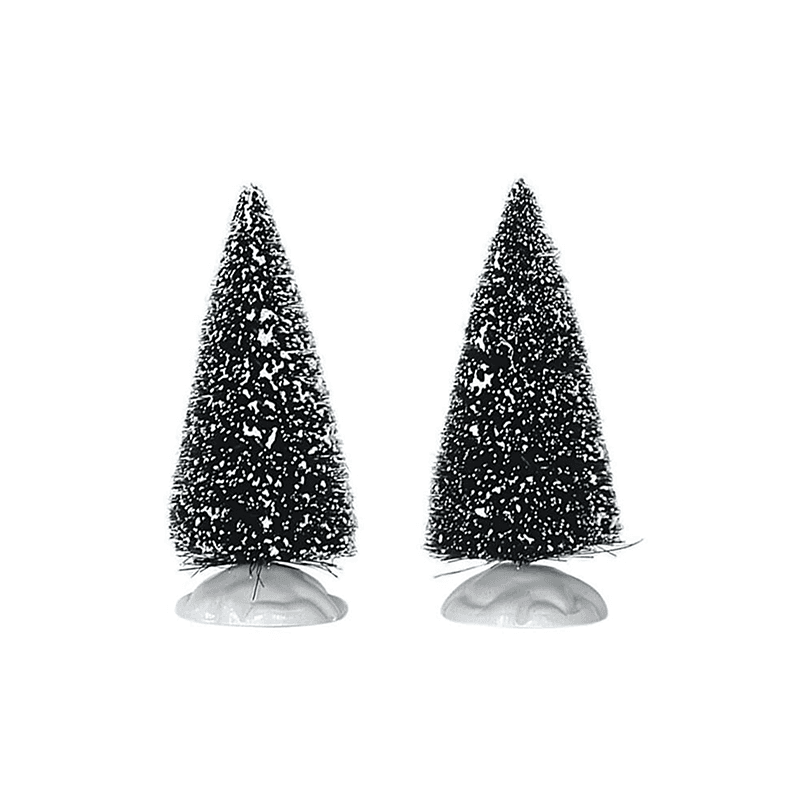 Accessories: Lemax accessories paired with buildings and figurines transform a mere display into a destination people will wish they could visit. Place vintage gaslight street lamps on imaginary corners or line them up to create a grand promenade or humble footpath. Plant snow-covered 10cm and 15cm bristle trees in splendid winter gardens. Use the poseable wooden fence to draw the eye deeper into the world you create or arrange it around a mirror to create an ice rink for your figurines.
Christmas Elves Top 11 Lemax Display Tips
Showcase your creativity and create an unforgettable display with your Christmas village at its heart. In a few simple steps, our expert tips will help you discover ways to tell a story that will capture the imagination and wow onlookers.
a. Room: Location, location! Exhibit your village in one of the main entertaining spaces in your home, such as a lounge, living, or dining room. Your best option will be wherever you have plenty of shelf or table space.
Expert Elves' Tip: A main room provides ample opportunities for family and guests to admire your amazing creation.
b. Platform: Next, consider the size of your display to find the best platform to suit your village. Smaller collections may need only a single shelf, small table, or a little space on the mantelpiece. Larger displays may require an entire sideboard, cabinet, buffet, or shelving unit.
Expert Elves' Tips:
If you have young children or pets, select a display platform that lies well out of their reach.
Preserve the vibrant colours of your decorations and select a platform that receives little to no direct sunlight.
c. Theme: When you picture the overall look of your display, what do you see? If snow comes to mind, then perhaps 'White Christmas' will be your theme. If the rustic feel of the countryside appeals, then perhaps your village will host a 'Country Christmas'. Let your imagination guide you and the perfect theme will magically coalesce.
Expert Elves' Tips:
Most Christmas village pieces fit perfectly into a winter-themed display.
Feeling a little daring? Decorate differently and try a sunny summer Aussie Christmas theme!
d. Adornment: Flesh out your display with decorations and additional accessories in line with your theme. Adding creative flourishes both within and around the central display will let the viewer experience different aspects of the world you've created.
Expert Elves' Tips:
Cut, sculpt, and paint dense foam to add snow-capped hills and mountains.
Place your display atop a mat to replicate snowfields, city streets, paddocks, etc.
Just add snow! Whether cotton batting, 'white fluff', or 'real feel', you can never have too much snow in a Christmas village…
Use mirrors to create frozen ponds, lakes, and pools.
Include pebbles and leaves (dried or artificial) to add variety and interesting textures.
Follow the garland with a merry assortment of fairy lights.
A destination as close as your imagination, your Christmas village is a labour of love. Collecting the perfect pieces and displaying them lets you tell the stories of your very own wee world. Because Lemax releases new pieces every year, your village can grow and change as you see fit. Give your family and yourself the gift of holiday memories to cherish with Lemax village collectables.
* Keen to see more from Lemax? Visit our our new specially-dedicated Lemax site for product announcements and more!
** Happy decorating! Christmas Elves are social elves. Post photos of your displays to Instagram and tag us: @christmas_elves_ or #christmas_elves_