At Christmas Elves we pride ourselves on stocking the leading brands in Christmas Collectables. Undoubtably Lemax is one of the most famous, and Christmas Elves is proud to be an authorised retailer of this established brand. For the keen collector anticipation builds as new products are released each year and the search begins for the perfect piece to complete a Christmas or Halloween village scene.
Wondering how to begin? well, the Lemax Collector's Pack is an excellent starting point. Ideal for the first timer wanting to build a collection and a great Christmas gift for all the family. The Collectors Pack contains 14 pieces including The Red Bow Christmas Shoppe and Devaney's Bakery accessorised with figurines, lampposts and Christmas trees. The set is powered by a 4.5V 3-output adaptor making unsightly power packs a thing of the past.
This year there are some pieces we can't wait to see up close, Ludwig's Wooden Nutcracker Factory is one and it's new for 2020. Imagine a German town square with timber framed buildings, this is where you'll find the Nutcracker Factory. Out front miniature nutcrackers revolve around the factory on a circular conveyor belt. All the while a giant nutcracker looks down on the activity below. In the foreground boxes are prepared for packaging and a proud factory owner surveys the scene. Ludwig's Nutcracker Factory has sound and movement, and comes with a Lemax power adaptor.
The Lemax New Majestic Christmas Tree will make a colourful and vibrant addition to your Christmas display. The lights can be set to steady or flashing and at 33cm high the revolving tree would make a fabulous centrepiece on the Christmas table. This is a battery operated piece but can be connected to a Lemax adaptor.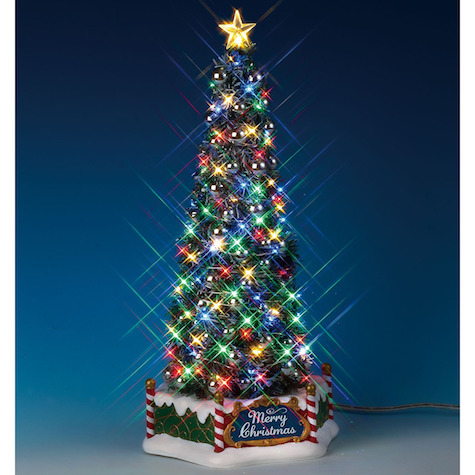 The Lemax power adaptor is a 4.5V, 3 output, changeable plug and it's specifically designed to handle the needs of a Lemax miniature product. It's a thrill to see the twinkling lights and moving parts of a Lemax Collection the magic really happens when your collection is powered.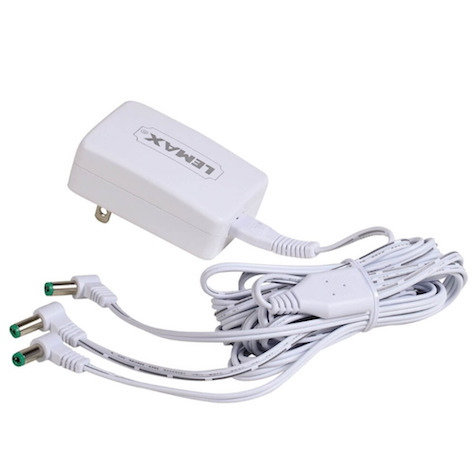 The romantic Grand Carousel takes us back to the funfair of yesteryear. A brilliant red and white striped awning covers the galloping horses. Detailed with mirrors, bright colours and painted with swirls of gold this piece of nostalgia has vintage appeal. The perfect centrepiece to your Lemax collection the Carousel never goes out of style. The revolving Carousel has a fairground soundtrack and lights around the base.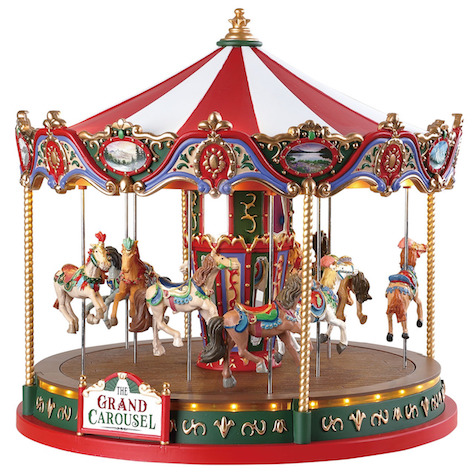 Christmas at the Cathedral is new for 2020. We know many of our Lemax collectors like to have a church at the centre of their display and this magnificent cathedral is a very impressive 22.2cm (H) x 18.5cm (W) x 15.5cm (D). The cathedral is made of porcelain and has two towers either side of a beautiful stained glass window.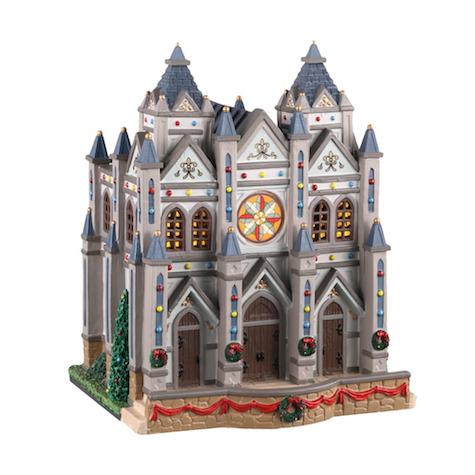 Where do Elves go to school?
At St Nick's Elf Academy of course! As you'd expect the Elf Academy is full of quirky detail with lollipops and candy canes decorating the facade. It looks like open house and these Elves are busy learning how to gift wrap and sew stockings. Children will love this charming porcelain house.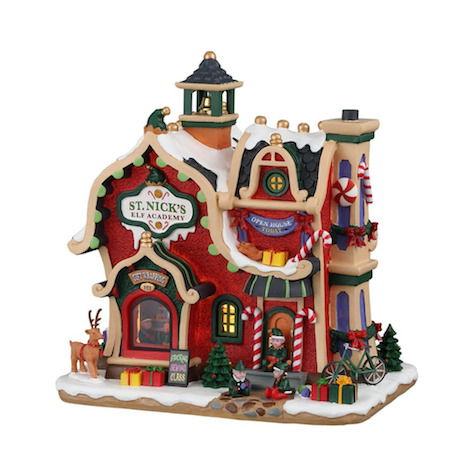 Once you've purchased your Lemax village the fun really begins. Creating an authentic setting for your pieces can be an exciting creative challenge. YouTube and Pinterest are both helpful resources and can show you the tricks of the trade. You will be amazed by truely awe inspiring village scenes created by hobbyists and Christmas enthusiasts, just like you.If you're creating a snowy Alpine Village or a Victorian Christmas scene these miniature assorted pine trees will make the perfect addition to your display. The trees are different sizes so they can be placed in the proper perspective. They're frosted with snow and very realistic bringing your entire Lemax collection to life.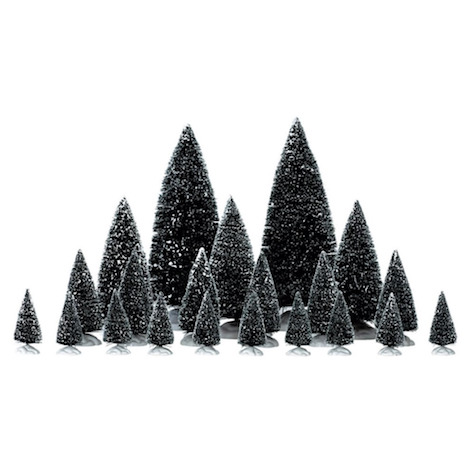 The Spinning Snowflake is such an exciting addition to the 2020 Lemax Carnival Collection. This fairground attraction has a great soundtrack it's almost like being there. The pod rotates and the arm swings back and forth to the squeals of delighted children. The spinning snowflake is great fun and goes well with a snowy winter wonderland or an amusement park display.
This year the Lemax Chestnut Cabin is sure to be a favourite. The quaint log cabin has welcoming lights and a smoking chimney! Patches of snow cling to the shingles but the inside looks warm and inviting. The porcelain lighted house is powered with an adapter and has a unique feature that causes smoke (water vapour) to appear from the chimney. This new feature will transform your display of Lemax villages and surprise your friends and family when they visit.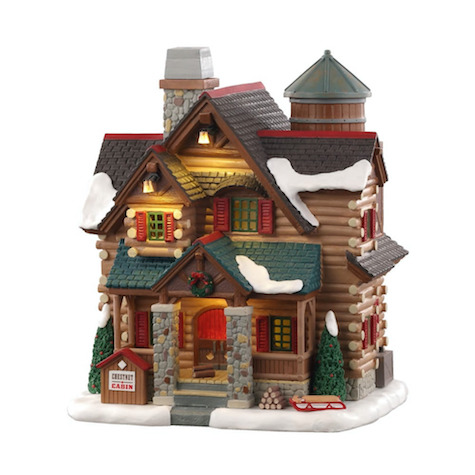 Every famous city has a world famous opera house and the Lemax world is no different. The Grand Opera House is an imposing building that wouldn't look out of place on the streets of Paris. Decorated for the Christmas season with a red sash, wreath and Christmas tree the historic building will make a splendid addition to your Lemax Collection.