Are you surprised that Easter is just around the corner, when you could swear that February was only last week? You've certainly got some catching up to do. Don't worry, we've heard this all before, and are ready to help. If you feel like Easter has crept up on you, we have just what you need to bring yourself up to date.
Our Easter Gift-Giving Guide will take the guesswork out of shopping for everyone on your list. Wow everyone you're hosting for lunch by throwing the most 'egg-ceptional' Easter egg hunt. Tips for outdoor spaces and indoor alternatives, as well as prize ideas for seekers young and young at heart.
We here at Elves University couldn't be more excited about everything Easter. It's never too late to whip up Easter enchantment when you have your elves to give you a hand.
Fashionably Late Arrivals
Have we got a surprise for you! Sensational new products have arrived just in the nick of time to appear at your Easter celebrations. Let us tempt you with a few new Easter essentials.
We love flocked decorations of all sorts, and this moss-covered selection from the land of make-believe has really taken our fancy. We love the colour and texture. Looking like the lord of the lake, the Woodland Duck sports feet made of jute and wings crafted of grass and leaf floristry. His mate Woodland Bunny has the best camouflage. Anytime he needs to hide, he just stands still and blends into the forest. He looks poised to hop away just as soon as we look away. Don't blink! In our imaginary forest, the Easter Bunny watches over all creatures and protects them from harm. Hang this large pendant anywhere you might like to add a little Easter spirit.
Hop, hop, hooray for more bunnies!
Someone fetch this fella a trolley or a wheelbarrow, and quick! Striding across a lilac-filled meadow carrying a precariously perched trio of decorative eggs, this bunny exudes a happy-go-lucky confidence. We think he would look fantastic in a sideboard display with some more moss and eggs scattered around him.
'Vroom, vroom!' Who's that speeding down the road in his deluxe carrot sports coupé? – Why, it's Brown Bunny! He better make sure he sticks to the speed limit or else he might find himself hopping along the side of the road like the rest of the warren.
This adorable bunny made from flaxen jute prefers to ride her bicycle so definitely wouldn't mind if the roads were less crowded. She loves the feeling of the wind as it blows across her fleecy ears. Arriving home, she puts her flowers in water then gets ready to dig up dinner. Quickly donning her coveralls, jacket, and sun hat, she grabs her spade and heads out into the garden. This year, her garden has yielded a bumper crop of carrots. Look at this one. It's enough to feed an entire family of rabbits! Our bunny decides to take the giant carrot to market and trade it for bouquets and bouquets of flowers. Tonight, she'll dine on a more modest carrot, some tasty lettuce, and a few slices of tomato.
These plush fawn bunnies yearn for cuddles. Each one wears a few of her favourite flowers as they patiently await their mother's return. Suddenly, they hear several thumps at the front of the burrow. Mum has returned with their littlest brother snug on her back in a wee basket. As she greets her daughters, another baby brother hops into the room. 'Mum, may I have this carrot?' he chirps. 'As long as you promise to save room for dinner…' Since he's always hungry, this young tyke scampers off to enjoy his snack before mum changes her mind.' What fantastical tales will you weave with these and the many more Easter Bunnies in our collection? Could you be the next Beatrix Potter?
Gift-Giving Guide
Do you delight in giving gifts at Easter? Presents of all kinds make such an impression at Easter because they're such a pleasant surprise. While you can always buy the special people in your life one of our gift cards, we have some marvellous gift ideas for any budget that we know they'll love. (You might even be tempted to grab a special treat for yourself!)
For Collectors
Treat fans of Bethany Lowe and Jim Shore to figurine surprises. This cute, chubby chick has worked up an appetite at the Easter egg hunt. He's decided to stop and scoff down a few eggs (chocolate, of course!) before walking home.
Wouldn't it be a treat to receive hand-delivered Easter greetings? Dressed in a Victorian-era outfit with a generous ruffled lace collar, our little lad comes bearing a basket of eggs sprinkled with sugar glitter on a bed of grass.
Jim Shore has a knack for bringing something utterly whimsical and new to characters we know and love. This time, he's created charming versions of Beatrix Potter's Peter Rabbit and Benjamin Bunny. When it comes to Mr McGregor's radishes, Peter can't help himself. He started nibbling on just the one and ended up eating the entire crop! His cousin Benjamin can only look on in dismay. He stops gathering onions, takes out his handkerchief to mop his brow and prepares to hop away at the first sign of trouble.
For Decorators
Ideal for indoor or an outdoor undercover space, these wooden signs show two families celebrating Easter in their own way. The bunny couple turns the weekend into a romantic getaway while this single parent has a surprise in store for their child.
This brood of ducks belongs on display all year long. Pair their glazed ceramic bodies and gold beaks with colourful eggs and themed figurines at Easter. Through winter, leave them on their own. In spring, encircle them with native floristry sprays. At Christmastime, put tiny Santa hats on each one!
A quaint jute Easter Hat like this needs only the floristry of your choice to become a superb centrepiece. We love the combination of Easter millinery with the most popular Easter mascot.
For Lovers of Homewares
The Morning Meadows collection by Ashdene depicts cute critters frolicking in flower-filled fields. Made of dishwasher-safe, durable melamine, both trays are easy to care for and will last for several years' worth of afternoon teas. Save the new bone china platter for Easter lunch's hero dish. Every Easter table needs a set of Pembroke's silver salt and pepper shakers.
Budget Buys
The sweet surprises no one never expects, small gifts can be given singly, as part of a larger hamper, and as unique Easter egg hunt prizes. Everyone would love a couple of chicks and a few chocolates. These glittery pastel eggs come ready to display with their own sprigs of floristry and display tray. Carrot 'drops' like these are very on-trend this Easter.
For Babies & Young Children
Beatrix Potter's characters have coloured the childhoods of millions across generations. Introduce the little ones in your life to Peter Rabbit with the Easter Basket Playset, complete with a squeezable carrot, a plush speckled egg, and the loveably mischievous rabbit himself. When playtime's over, pack them all away in their downy basket. Help fussy sleepers find sweet dreams with Bedtime Peter Rabbit. Simply press his belly to play Brahms' Lullaby and activate soft LED lights. Children one year old and above will want to give Peter's cousin Benjamin Bunny heaps of hugs. Whatever the occasion, youngsters will adore gifts from our Beatrix Potter range.
For Special Moments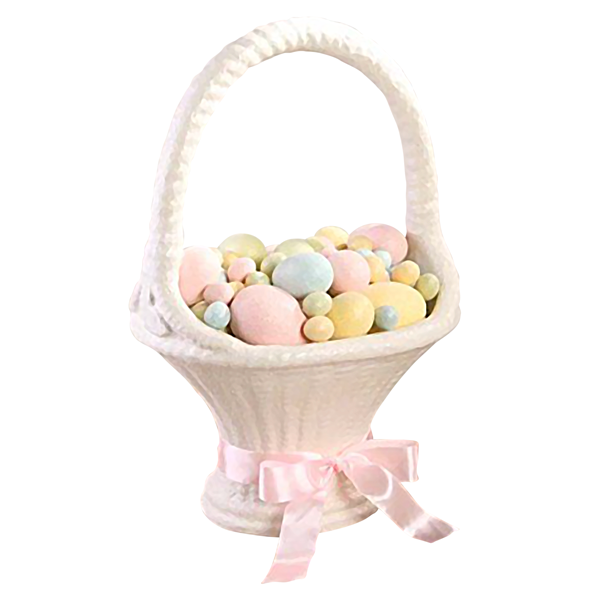 Transform a gourmet gift into a celebratory hamper with Bethany Lowe's Easter Basket. Picture the possibilities: a savoury edition with a bottle of wine, fine biscuits, delectable cheeses, and delicious antipasti; or, a sweet selection containing mouth-watering chocolates, heavenly mini-pastries, yummy cookies, and a bottle of the stickiest dessert wine. Made of reinforced papier mache with a high gloss sheen, it becomes the perfect centrepiece after the epicurean experience. Swap the pink ribbon for a red or green one and use the basket as part of your Christmas decorating, too. (Eggs not included.)
'Egg-ceptional' Easter Egg Hunt 'Egg-cellence'
Hosting Easter lunch for your family but forgot about the egg hunt? – Don't fret. We've got you covered. Banish thoughts of scattering foil-wrapped eggs willy-nilly in the back garden. We have the perfect plan for an 'egg-cellent' egg hunt in a few simple steps.
It's not too late to decorate.
You'll only need a few minutes. We're assuming that your egg hunt will take place in an outdoor space, however if you decide to hold an indoor event, please see our tips below.
Safety first! Walk around the area and try to spot any tripping hazards or anything that might cause injury. If you need to relocate any furniture or garden ornaments, remember to use proper lifting techniques and ask for extra helping hands, if needed.
Assemble your decorations and get creative.
Gather your goodies!
Chocolate, chocolate, and more chocolate. Absolutely necessary: eggs, bunnies, chicks, and our beloved Aussie bilbies. Check that your buying chocolate with a conscience and try to buy products that have either the Rainforest Alliance stamp of approval or UTZ certification.
Mixed lollies, the Easter edition. Use individually wrapped jubes, pastilles, gummy lollies, liquorice, lemon sherbets, and more. Better still, think a bit more sustainably and buy some reusable, refillable plastic eggs to house smaller portions when you buy in bulk.
Tiny Treasures. Make an egg hunt to remember when you hide a few pastel eggs, chicks, carrot drops, and straw bunnies among all the treats.
Grownup Goodies! Why should kids have all the fun? If your celebration lacks little ones, buy the types of treats suited to an adult palette to get everyone up and moving after lunch. We suggest mini cocktails, chocolate truffles, anything dark chocolate, and little jars of savoury snacks like olives and nuts.
Handy Hints
Perfect Timing: Stop everyone from nodding off after lunch by scheduling the hunt in the span of time between the end of lunch and the beginning of dessert. Instant entertainment for everyone!
Pet Unfriendly Sweets: Chocolate is dangerous for dogs and cats because it contains theobromine that their bodies cannot process. Once you've decorated and hidden all your goodies, the hunting ground is no place for pets. Keep them safe and separate from these festivities.
Indoor Incidentals: If you host an indoor egg hunt, be mindful of objects that can topple, fall, and break. The competition can get as stiff as overwhipped egg whites, so keep valuables and breakables secure.
Alternative Venues: Rained out? Head under cover. Restrict your egg hunt to an outdoor covered veranda and larger rooms within your home. —Better yet, use a basement. If you don't have a basement, you can easily make do with a garage in a pinch.
Because Easter doesn't have a fixed date, it can sometimes surprise you. Rather than get rattled, head over to the Christmas Elves in Preston or Ferntree Gully and let us help you sort out decorating options to dazzle your family and friends. We have the knowledge and knowhow to help you create an enchanting Easter, however you choose to celebrate.
Let's get social. Post photos of your displays to Instagram and tag us: @christmas_elves_ #christmas_elves_ or @easter_town_