Seasoned decorators love floristry because it suits all occasions. Beautiful, reusable, cost-effective, and long-lasting, floristry is your best friend. It fits right in anywhere, whether you're decorating for a dinner party or creating seasonal holiday displays.
If you follow us on Instagram or Facebook, you already know that Christmas Elves offers the most sensational selection of floristry in Melbourne. In this post, our trustworthy Easter Expert stylists will share their secrets and give you the inside scoop on how to decorate with floristry. Read on to discover expert arranging techniques for lush displays, DIY best practices, and Easter tree trimming essentials.
Let's start by looking at a few of our favourite stems and sprays, along with pieces that put fabulous floristry front and centre.
Floral wreaths evoke warm feelings of welcome, security, and hospitality. Understated and elegant, this half wreath features two of our favourite Easter symbols: speckled eggs and a charming yellow tulip. Spectacularly festive, the Apricot Floral Easter Wreath comes complete with laser cut wooden butterflies, tulips in apricot, and a dozen speckled eggs. Once you have one wreath, you'll naturally want more. Accompany your floral wreath with one of these colourful egg wreaths. Or, continue reading to discover how to construct one of your own.
Cheery and charming, this Daisy Easter Basket would look dandy on a sideboard, end table, or as a centrepiece. Fill it with gourmet goodies and transform it into the cutest petite hamper.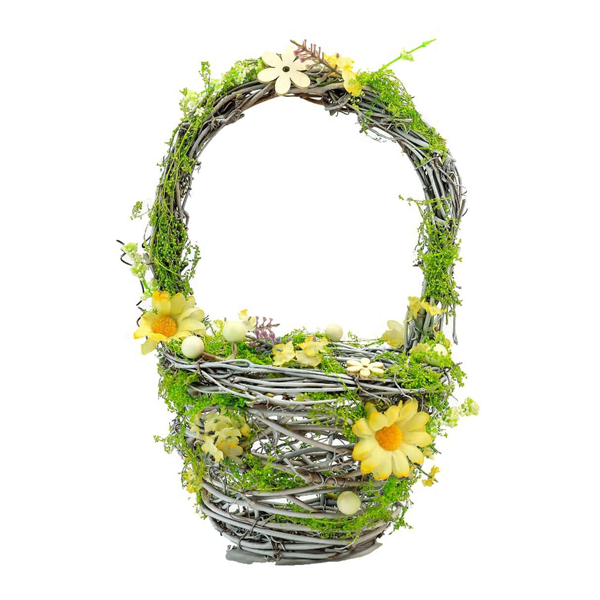 We can't imagine Easter without flowers, and we turn to tulips every year. We practically swoon over their old-world charm and find ourselves placing bouquets and pots of them all over the house.
We have fallen head over heels for sunflowers. Just looking at them brightens our day and puts a radiant smile on our dial. Whether you use single stems or go in for a beautiful bouquet, you'll find that you can't get enough of sunflowers this Easter.
Beautiful blushing blossoms in shades of peach and pink look stunning in Easter displays. Peach magnolias and ranunculus radiate cheerful goodwill. Couple them with cool, green cissus and money leaf sprays for instant serenity. Love pink and green as much as we do? —Look no further than green allium with pink dahlias, peonies, and amaranthus.
We love Australian native floristry for its variety and versatility. Lush colours, distinctive shapes, and tantalising textures delight the eye and tempt the senses. Sprays of eucalyptus add extra volume and contrast wonderfully with bright flowers. Because the leaves taper, they frame whatever they surround in a gentle embrace. Eucalyptus seed pods and gumnuts look like pixie-sized caps and make us nostalgic for Snugglepot and Cuddlepie.
We want to display grevillea and pincushion flowers with their featherlike petals all year long. We're using woolly craspedia heads (Billy buttons) in mauve and gold to create a magically whimsical forest for our Easter figurines to frolic within.
The clutches of tiny blossoms in gold setaria and yellow mimosa sprays deserve to take centre stage in autumnal arrangements accompanied by yellow and orange kangaroo paw stems.
Decorate to Delight
The easiest way to decorate with floristry is to let your imagination run free. If you're just starting to use floristry, here are our three simple tips:
Run sprays and stems along mantlepieces, sideboards, and shelves.
Wrap floristry around the arms of overhead light fixtures and the bodies and shades of table and floor lamps.
Build centrepieces that extend the length of the dining table, wrapping vinelike around place settings, LED candles, and serving bowls.
Arrange Artfully
Create arrangements and bouquets of various sizes and place them in vases, flowerpots, and large jars throughout your home. Depending on the size of the vessel, we first select one to five larger blossoms to act as the display's 'hero'. Next, we choose smaller flowers and greenery to highlight and focus attention on the hero floristry. Lastly, we decide whether we'll include some delightfully quirky picks, such as eggs, chicks, or butterflies for some extra Easter magic.
Build a Backdrop
If constructing displays with figurines is your passion, floristry will help you set the scene for the story you want to tell. Build lush gardens, miniature forests, and backdrops of all kinds. Remember to include artificial moss, pebbles, mirrors, and other props to immerse your figurines (and the viewer) in the imaginary world you create.
Easter Expert Tips:
Keep delicate figurines and their displays safe from petite paws of all kinds with a stylish glass cloche.
Mount floristry so it stands tall and strong. Paint or wrap polystyrene and cardboard in our mesh, lace, or other fabrics before pushing stems into position.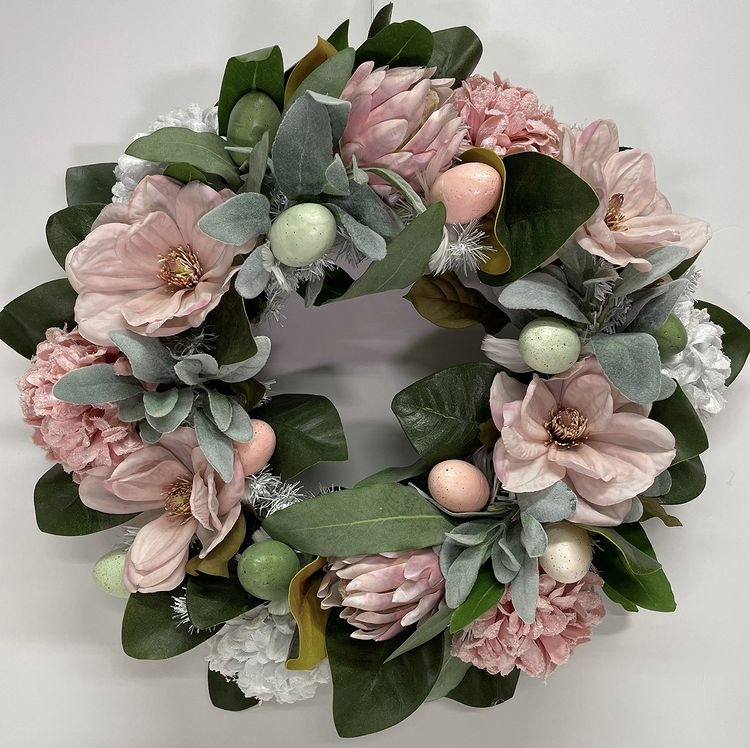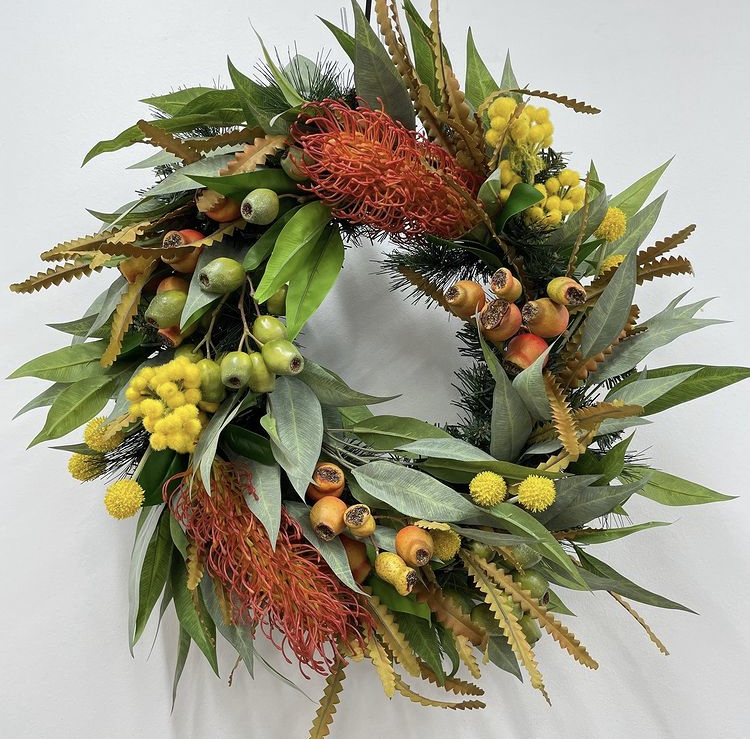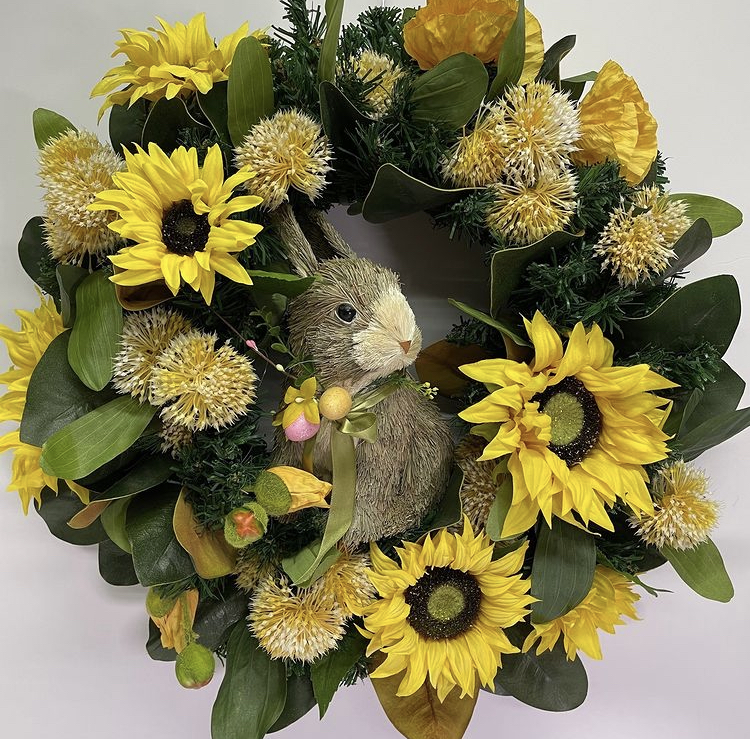 A Wreath of Your Own
Produce a one-of-a-kind original and explore your own creativity when you make your own floristry wreath. We recommend choosing a base first. Green, leafy options like eucalyptus, grass, cissus, and money leaf provide the perfect backdrop for bright flowers, ribbons, and trinkets.
On the other hand, you could embrace autumn and use gold setaria. The mustard and russet colours work well with kangaroo paws, sunflowers, and proteas. Since it's Easter, we wouldn't be doing our job if we didn't suggest you fall headlong into whimsy and base your wreath on pink wheat rabbit tails.
You'll also need to determine the size of your wreath and make sure you have enough of the base material. When you're ready to build your wreath, start by shaping it. You can use a wreath form from a craft shop or go it alone. Simply bundle together several stems using florist wire or twine. (If you're using wire, it's a good idea to wear gardening gloves to protect your hands as you work with the wire.)
Next, arrange the bundles in your chosen shape so that they overlap. Make sure that the tops of one bundle cover up the bottom half of the next bundle as you link them in whatever shape you've chosen.
After you've constructed your wreath, begin affixing flowers and other adornments. We've chosen sunflowers for our wreaths this Easter. So versatile and vibrant, a wreath with sunflowers brings light to dreary days and can be displayed across all seasons. Since we're building an Easter wreath, we simply must urge you to add eggs, chicks, and bunnies. You can place them all around the wreath's circumference, securing them with glue and wire, or choose one special item and place it in the centre, like this little bunny peeking out of his burrow.
Our Easter Experts say:
If you lack the confidence to make your own wreath from scratch, try adding decorations to a wreath you buy. Purchase a plain wreath and be guided by your muse. If you choose to add more decorations to an already-decorated wreath, we recommend exercising a little restraint. Think about what might complement what's already on the wreath. For example, if the wreath has yellow flowers, try including a few small pink ones or add some other Easter symbols like bunnies, chicks, and butterflies.
Not interested in decorating your own wreath, but keen on having one made for you? —Speak to our stylists. They've got the skills and flair to build you a beautiful wreath that you'll treasure.
Basket Decorating for Beginners
First-time decorators will appreciate the ease of decorating their very own Easter basket. You will need glue and florist wire to attach your decorations.
We'll get to the floristry soon, but first: to ribbon or not to ribbon? If you decide to use ribbons, attach those first, using glue as needed. We adore the crepe texture of this rose gold pink ribbon. Velvet never goes out of style, so we always have both narrow and wide velvet ribbons on hand.
Next, decide where you would like to focus an observer's attention. This is where you'll concentrate most of your decorations. We prefer off-centre placements on the basket's handle or rim. Select blossoms of different sizes and arrange them in a cascading shape. For a touch of whimsy, place some artificial moss inside the basket or along the rim.
Lastly, add eggs and small, lightweight figurines relative to the size of your basket. Take care to make sure that your basket remains sturdy and sits upright after decorating. You can always weigh it down with a few pebbles or a heap of chocolate eggs.
Easter Tree Excellence
We've written in praise of Easter trees before. This time around, we're hoping to win you over when we show you how to build one using light-up birch trees. You'll want to get familiar with these because they work a treat at Christmas, too. Birch trees come in 120cm and 180cm heights. Both have a sturdy base covered in a rustic jute sack.
Set up your Easter tree in four easy steps:
1. Find a dry place to display your Easter tree that's out of direct sunlight and away from draughts. Someplace where children and pets won't be tempted to touch it.
2. Time to decorate! We start by first weaving an egg or carrot garland. If you'd like to use ribbons, tie them on now.
3. Hang your ornaments. Egg-shaped, of course! We suggest Bethany Lowe's tin and paper retro ornaments or Mark Roberts' intricately decorated egg pendants. If you're feeling especially crafty, try making ornaments using these pastel eggs or antique golden metallic eggs. After the eggs, clip on a few of these cute, glittery glass baby chicks.
4. All done! Stand back and admire your creation.
Elevate your Easter tree:
Decorate the base of the tree with floristry. Cluster sunflowers and tulips or wrap eucalyptus and gumnut sprays.
Create an Easter Tree 'stand'.
Choose a large jar or vase that will support the tree.
Remove the base and jute sack, if necessary.
Prop the birch branch (or branches) using polystyrene pieces from craft shops or pebbles and stones from your garden. Make sure your tree will stand tall and strong.
Add embellishments. Wrap your stand in our lace or florist mesh and secure it with glue and ribbons. Some artificial moss tumbling down the sides makes for a quaint touch.
Now, it's over to you. We hope we've given you some inspiration and convinced you that floristry will make your Easter truly fabulous. Remember to check out our full floristry selection either online now or in-store the next time you visit.
Let's get social. Post photos of your displays to Instagram and tag us: @christmas_elves_ #christmas_elves_ or @easter_town_