Decorate for an enchanting Easter and whip up marvellous Easter magic in no time with our 2022 collection, featuring the latest décor, figurines, and floristry from Jim Shore, Katherine's Collection, Mark Roberts, and Easter Town. Whatever your budget, we have all you need to create an unforgettable celebration, including top tips from the team you've come to know and trust.
The magic of Easter begins right here on our Christmas Elves University blog. Read on to discover more enchanting Easter inspiration and explore what's new in the collection. Our five top tips for dazzling displays follows immediately after, and you don't want to miss those.
Jim Shore
No one creates bunny figurines quite like Jim Shore. Crafted from durable, long-lasting stone resin with a carved look, these pieces feature the distinctive rosemaling scrollwork, quilt patterns, and luminous colours that continue to win collectors' hearts. With their winsome expressions and playful postures, each figurine is sold separately and tells a distinct story …
Bunny Pushing Cart (12.5cm): Give way! This bunny hurries to deliver his eggs so that there will be plenty to hide for this year's egg hunts.
Bunny Couple (17.5cm): Among the hustle and bustle of holiday preparations, these newlyweds enjoy a tender moment.
Bunny Painting Eggs (13cm): This master craftsman has spent years carefully honing his egg-decorating skills.
Girl and Boy Bunny with Easter Egg (15cm): These youngsters cannot believe their luck. Look what the Easter Bunny left for them!
Easter Bunny with Scene (24cm): After a long morning delivering eggs, this bunny can't wait to return to his hedgerow and relax.
Easter Bunny with Eggs (13cm): Wearing his best suit and hat, this young bunny brings his pet bluebird with him everywhere.
Cat and Dog with Bunny Ears (10cm): Pets love Easter, too! These two have really gotten into the spirit this year, thanks to so many pet-friendly events.

We love everything about these Mini Bunny Easter Eggs: their endearing expressions, their captivating colours, and the cute symbols they hold in their teeny-tiny paws… They'll look delightful peeking out from behind houseplants, hiding amongst bookshelves, or neatly arranged on a sideboard.
Katherine's Collection
Equal parts elegant and playful, collectors prize tabletop pieces, figurines, and décor from Katherine's Collection for the superb attention to detail and unique finishing touches. Contrasting textures delight the senses in this year's offerings and make every single one a standout stunner.
Blossom the Bunny
Blossom has hopped right into our hearts. Lovingly crafted by artisans, you'll want to display these two larger-than-life, adorable tabletop figurines (bunny with balloon and bunny with sign) well past Easter. The smooth painted porcelain face pairs perfectly with the velvety café au lait fleece ears, arms, and head. Blossom wears a dainty dress in mint with lace at the hem, collar, cuffs, and waist, as well as a fetching floral tiara of red and white roses, bluebells, and begonias.
Blossom makes appearances across Katherine's Collection, so you can add a little bit of Blossom bliss throughout your home. We can't resist dreaming up stories about each one of these beguiling table pieces.
Blossom's Birdhouse
Looking for a holiday rental? Blossom's Birdhouse has quite a view! With rustic country charm in spades, this quaint 34cm tall piece looks like a weatherboard cottage but is made of porcelain. You'll want to caress the felt flowers and Blossom's ears, too.
Spring Showers Candy Dish
Yes, please! Since Blossom's more partial to carrots, she's giving away Easter sweets. Covered in pastel velveteen, this porcelain candy dish will hold generous amounts of foil-wrapped chocolate eggs, jellybeans, or whatever bite-size sweet treats take your fancy.
Swinging into Spring Cake Plate
We asked Blossom which cake we should bake for Easter. Can you guess her answer? – Carrot cake, of course! Serve your favourite cake or tart on top of this lovely 28cm cake plate and admire all the tiny details, like the carnations growing in the boughs of the tree.
Enchanted Bunny
Blossom isn't the only rabbit in Katherine's Collection. Sumptuous faux fur in ermine coats this 47cm bunny's ears and tail. Appliqué poppies, vines, and leaves encircle her neck and trail down her back as she enjoys a tranquil moment.
Basil & Beatrix
The king and queen of the rabbit kingdom, Basil and Beatrix only grant audiences at Easter. Both life-size figurines stand 157cm tall and wear intricate costumes with couture-quality fabrics and finishing.
A Tisket, a Tasket, a Chick-Filled Basket
Witness Easter whimsy perfected. Felt and satin flowers surround this beautiful 40cm basket whilst a pair of chicks stage a chariot race on the spongy turf within. So cute!
Enchanted Fairy Mushroom Bowl
A pretty picture of a pixie paradise, this generous bowl provides the perfect place for potpourri, floristry, or these decorative Easter eggs. Captivating to the last detail, a serene fairy wearing a gauzy gown covered in glittering gems offers a delicate rose. On the reverse side, appliqué flowers adorn velvet and satin mushrooms. Find a special place for this bowl and admire it all year long.
Mark Roberts
Famous for hand-painted, poseable figurines, the Mark Roberts Easter 2022 collection delivers the quality we cherish, along with a cheeky impishness and a few extra surprises thrown in, too.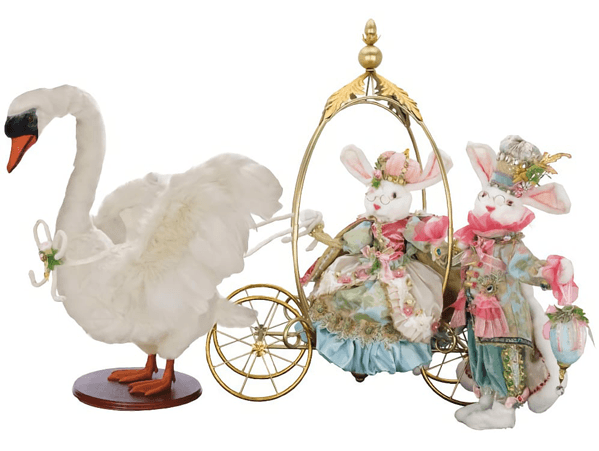 Rabbit Royalty
The Easter Bunny's annual Easter Egg Hunt draws rabbits from near and far, all dressed in their Easter finery. These courtiers certainly travel in style. The crown jewel of the collection, this incredible carriage set comes complete with a 94cm tall golden carriage, a beautiful swan steed, and two royal rabbits wearing courtly costumes.
A veritable legion of caterers has put their talents to the test for this year's celebration. As the guests arrive, a few waiters start to bring out lunch and desserts on shining trays.
Mr and Mrs Sweet Rabbit always arrive early to secure the best seats. The simplicity of their coats paired with marvellous floral millinery suit these plush bunnies down to the ground. After paying their respects to their host, they select seats closest to the buffet.
Once upon a time, the Cottontails and the Peter Rabbits began a friendly competition to see who would win the coveted 'Best Dressed' award at Fashions on the Field. Years later, it's turned into a full-blown rivalry.
This year, Mr and Mrs Peter Rabbit just know they'll take the top prize with their classic ensembles. Using shades of purple as a foundation, they added layers of lace, reams of ruffles, and gemlike beading for a subtle sparkle. She wears a tiered ballgown with a panel at the front cut out to reveal delicate lace embroidered lilacs. He wears a dapper morning suit with amethyst buttons down his waistcoat and a top hat specially fitted to accommodate his grand leporine ears.
Mr and Mrs Cotton Tail 'do declare' that no one could possibly beat their New Orleans-inspired cotillion couture. Working from a firm belief that 'more is more', they combined rich egg-yolk yellow brocade with silky satin pleats, velvet, gems, sequins, lace, ribbons, and a couple of feathers for good measure. She wears an evening gown with several layers of silky, light fabrics made for swirling around the dance floor and a jaunty hat harbouring a grand bouquet. He wears a carnival-inspired tuxedo with epaulettes and a bejewelled bowtie, along with a feathered mariner's cap in rose velvet.
After strutting their stuff for the judges, both couples wait to hear who wore it better. Last year ended in a draw, but neither pairing will accept that verdict this time. When the judges announce the winner, jaws drop. In a surprise upset, Mr and Mrs Sweet Rabbit take the award for 'Best Dressed'!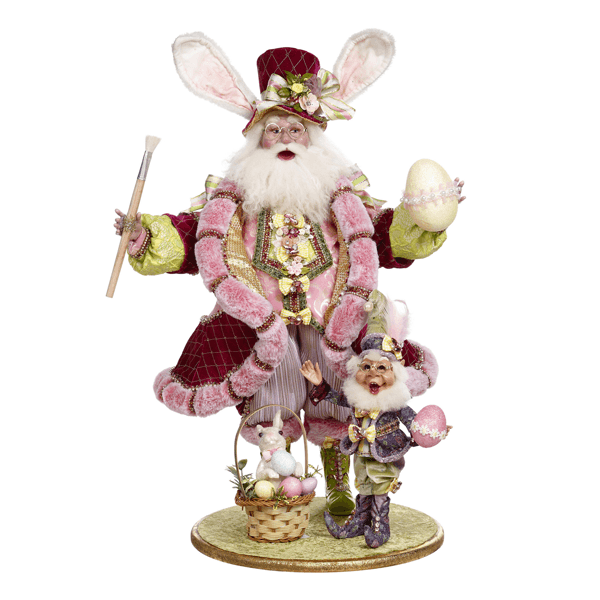 An Elven Easter
Father Easter, the Easter Bunny's best mate, has provided all the eggs for today's Easter Egg Hunt. His team of hardworking elves painted each one by hand, and Father even decorated a few himself. In this spectacular table piece (66cm tall), the 'man with the eggs' wears a luxurious Easter coat, velvet top hat with bunny ears, and moss-coloured boots. Paintbrush in hand, he's just applied the finishing touches to a glorious golden egg. Below, a smiling elf and a wee bunny offer him three cheers for a job well done.
Elves adore Easter because they have more time to share in the festivities. They also get to wear bright Easter colours. These girl and boy elves cannot wait to strut their stuff in these grand get-ups. Available in 48cm and 35.5cm, each of these soft, poseable figurines has a bespectacled, smiling face and carries a sign with an Easter greeting.
After the Easter Egg Hunt, a troupe of fairies will entertain the guests with moments of magic. Each fairy has poseable limbs and wears a quirky cap with a glittery crystal at the tip. They shine all over with stones, diamantes, and sequins.
Delectable Décor
The latest decorations from Mark Roberts spread the magic of Easter throughout your home:
Easter Town
We created Easter Town to satisfy our passion for bringing the world's best Easter decorations to Melbourne. This carefully curated collection draws from brands such as RAZ Imports, Bethany Lowe, and more to uncover hidden gems that we know you won't want to miss.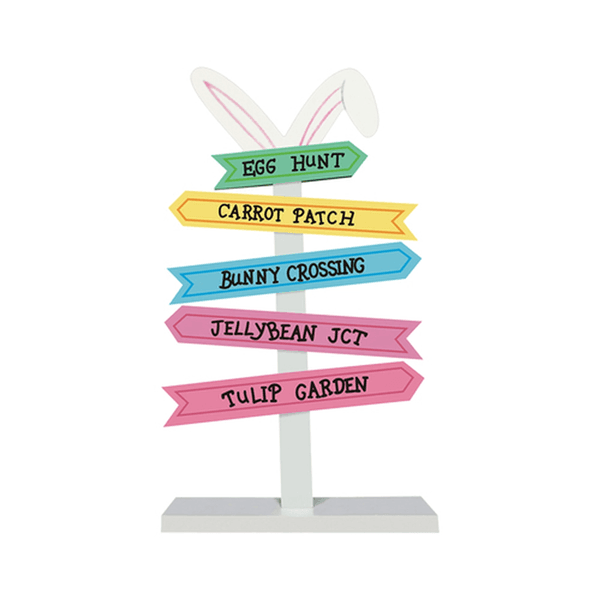 Add 'instant Easter' to any room with this whimsical 45cm Wood Easter Sign. We suggest letting the sign guide you (see what did there?) when you plan your displays and use pieces from our Easter Town collection to recreate the destinations on the sign.
Bunny Crossing
When we first laid eyes on this Bunny on a Snail (21cm), we knew we had found a bunny who would capture hearts and find his way into your imagination. He'll complement all Easter decorations and would look at home displayed anytime. Construct 'Bunny Crossing' by adding smaller figurines, such as this 8cm Hen and Rooster pair to create a busy intersection where the snail holds up traffic.
Carrot Patch
These ladies run an organic farm that specialises in – you guessed it – carrots! The best carrots in the country won't harvest themselves, so these farmers rely on their faithful rooster (30cm) to wake them up every morning at the crack of dawn. Knock together your own Easter farm floor display with these adorable 104cm soft figurines, fabric carrots and a pumpkin or two.
Tulip Garden
These 76cm tall bunnies by Raz Imports revel in tiptoeing through the tulips. Colourful, cute, and cuddly, each of the two styles carries its own plush Easter egg.
Jellybean Junction
The place with the best Easter treats! This 40cm platter has plenty of room for your chocolates, lollies, and hot cross buns. Arrange an array of tasty goodies and then sprinkle some jellybeans throughout. So no one else will find them, hide a few of your favourites for emergency snacks in this silver ceramic egg box.
Egg Hunt
Keep these eggs in plain sight for everyone to admire. Run this 'eggcellent' garland along a shelf or mantlepiece, then hang these heavenly retro paper ornaments by Bethany Lowe Designs in the spaces between the eggs. Or, better yet, put both on your Easter tree!
Our Top 5 Tips for Dazzling Easter Displays in 2022
Need some help with freshening your displays, or not sure how to start decorating? —Never fear, the 'Easter Experts' at Christmas Elves have the answers.
Hero Worship: Every story has a main character, right? Select one piece to act as the focus of your display. Then, add supporting pieces and accessories to flesh out your vision. Think along the lines of 'less is more'. This idea works particularly well when you decorate with a figurine as the centrepiece.
Thematic Fantastic: Whether you choose a single theme for your entire home or decorate each room distinctly different, you'll charm your family and friends with you stay consistent to your original concept. When you attempt this for the first time, our stylists recommend choosing just one familiar thing to link your displays, such as bunnies, chicks, or eggs.
Budget Beginning: Great decorating doesn't have to break the bank. Set a budget, then allocate a portion of it towards one 'hero' purchase from a popular brand. Spend the rest of your money on inexpensive items of the best quality that you can afford. It's a good idea to buy things that you can use for a few years. Floristry, paper products, and art supplies are great investments, too. Before you know it, you'll have a collection all your own.
Flower Power: Floristry and decorative sprays elevate displays because they add depth, interesting textures, and colours. Plus, they're beautiful, can be used for multiple occasions, and suit every budget.
Easter Tree: We've saved the best tip for last! Trust us, you will want to embrace this trend wholeheartedly once you give it a go. You can purchase tree-shaped stands from craft shops, but we like the idea of starting out with some leafless twigs and sticks that you can find in the garden or on the ground at a nearby park. ('Leaf' trees alone. Don't damage them by tearing sticks from their branches.)
Wash the sticks and twigs in cold water to get rid of any dirt and let them air dry. These will be your tree's 'branches'. Place the clean, dry twigs in a sturdy vase, plant pot, or jar and arrange them as you see fit. You can let them fan out naturally or push them into a foam block placed at the bottom of your chosen vessel.
Next, decorate! Feel free to paint the branches, add floristry and sprays, tie ribbons throughout, even loop some lights. Then, hang your ornaments and garlands. Finally, create a display at the base of the tree. You could arrange a few figurines, chocolate eggs, or both. Once you set up your first Easter tree, you'll wonder how you ever decorated for Easter without it.
We hope our 2022 Easter collection and these expert stylist tips will inspire you to create dazzling displays for an enchanting Easter that your family will treasure.
Happy decorating! Christmas Elves are social elves! Post photos of your displays to Instagram and tag us: @christmas_elves_ or #christmas_elves_ or @easter_town_