Icicle lights are a unique lighting decoration for your home or building. Their most common use is to be hang them along the edge of a roof or guttering.
Icicle lights consist of a series of LED light strings. Each drop of LED lights would vary in length, hanging from 10cm to 40cm each. The drops are usually in staggered lengths to mimic the look of natural icicles of all different sizes. When hung along an edge, the lights drape down over the side like a series of lit icicles, thus explaining their name.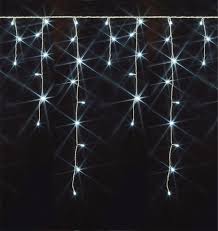 The benefit of using Christmas Elves icicle lights is they are connectable. This means you can add another set of Christmas Icicle Lights without needing to start back at the power supply. You can safely add 3 sets of icicle lights to each other without any issues.
While icicle lights are a nice alternative to simply outlining the edges of your house. The average house will need several strings to be covered. Icicle lights hang free, so they move in the wind (which is considered a nice bonus). The next choice is which colour - the more popular colours are: White, Warm White and Multi Colour and Blue/White.
Icicle lights are very popular, as they represent a simple, but effective, form of decoration. If you want to try something new with lighting, but aren't confident enough to try a more complex project just yet, perhaps icicle lights will give you the change in style that you have been longing for.