Few presents are as perfect as a gift card. The receiver can buy exactly what they want from a place they love. For the giver, the pressure is off. They have the convenience of a low-pressure – yet considerate – shop. Everybody gets that warm and fuzzy 'perfect present' feeling of gift-giving excellence.
What could possibly top that? – A gift card with 10% extra value ... FREE (for a limited time).
All new Christmas Elves Group gift cards purchased before 1 July 2021 receive an extra 10% credit on top of the loaded value.
With an extra 10% in Christmas Elves credit, you'll want to buy one for everyone on your Christmas list, as well as those hard-to-buy-for people throughout the year.
—And make sure you take the time to treat yourself to a gift card while you're at it! You deserve it.
Gift cards make buying a breeze both in-store and online at the Christmas Elves group of companies. They never expire and can be added to either your Christmas Elves account for online shopping or Apple Wallet / Google Pay for in-store shopping, so you'll always know they're safe and sound.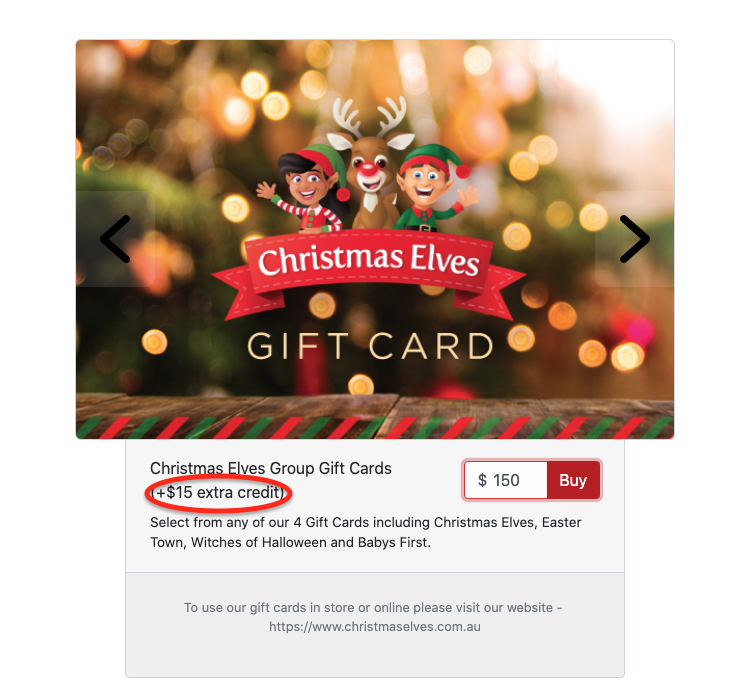 How to Buy:
Online: Visit www.christmaselves.com.au. We recommend that you register with us so that you have a record of everything you order online at Christmas Elves. Simply select the 'Sign In/Register' link at the top of the page to create your account in seconds.
Next, purchase your gift card by clicking on either the gift card banner below the homepage menu, the gift card badge at the top right of the homepage, or right here. You can choose a gift card from any of the Christmas Elves group of companies – Christmas Elves, Witches of Halloween, Easter Town and Baby's First. Type in the amount of credit you would like to add to the card. Gift cards can be issued with an initial value of $20 or more before the extra credit value is applied. The gift card value amount will automatically update and display the free extra 10% credit value separately. Select your preferred delivery method and then pay via PayPal.
In Store: Simply visit either our Preston or Ferntree Gully stores during opening hours. Find out when we're open here.
How to Use:
Online: Add the credit balance of your card to your online Christmas Elves account by sending an email to [email protected]. So that we can match your card to your account, please give us the gift card number, as well as the email address that you use as your Christmas Elves login.
In Store: Use just as you would any other card by presenting either the card itself, or the gift card number , if you chose email delivery. You can also add your gift card to either Apple Wallet or Google Pay to keep it safe and sound, ready when you purchase in store using your mobile.
When you buy gift cards for fans of all things festive, they'll fall over themselves thanking you for such a thoughtful gift. You'll sit back, smiling and basking in that 'perfect present' glow.
Christmas Elves Group gift cards take the guesswork out of shopping and make it easy to put a smile on the dial of every holiday enthusiast in your life. Guarantee that 'perfect present' feeling for your loved ones when you give them Christmas Elves Group gift cards any time of the year.
Did you know this year Mother's Day is Sunday, 9 May and Father's Day is Sunday, 5 September