On a quest to find screen-free entertainment, many of us have turned away from electronic devices and rediscovered the joy of board games, card games, jigsaw puzzles, and printed books. We've all learned that hours of scrolling leaves us with us unfulfilled and that our brains crave more than simply binge-watching our favourite shows.
Rediscovering the fun of playing games, assembling jigsaw puzzles, and immersing ourselves in books has lifted our moods whenever we needed a boost during periods of lockdown. Now that we can spend time with our friends and families, it's time to share the fun with them at family functions over the Christmas holidays.
Christmas Elves have carefully curated a selection of the best holiday-themed 'analogue' activities from your favourite bands just in time for Christmas. Let's head over to the Elf Bookshelf and dive into the good times just waiting to be had this festive season!

Games
Whether chasing other pieces around the board, revelling in trivia triumph, or playing strategically to get the drop on other card sharks, games nights turn terrific times into traditions. Spend time away from screens and catch up with your loved ones this holiday season over the games we here at Elves University play all year long.
Board Game Bonanza
People love besting their besties, and board games provide the perfect opportunity. Savour the laughs, groans, and all the excitement of friendly competition when everyone sets their phones and tablets aside. Stock up on snacks and build a night around a game or enjoy a round or two after holiday lunches and dinners.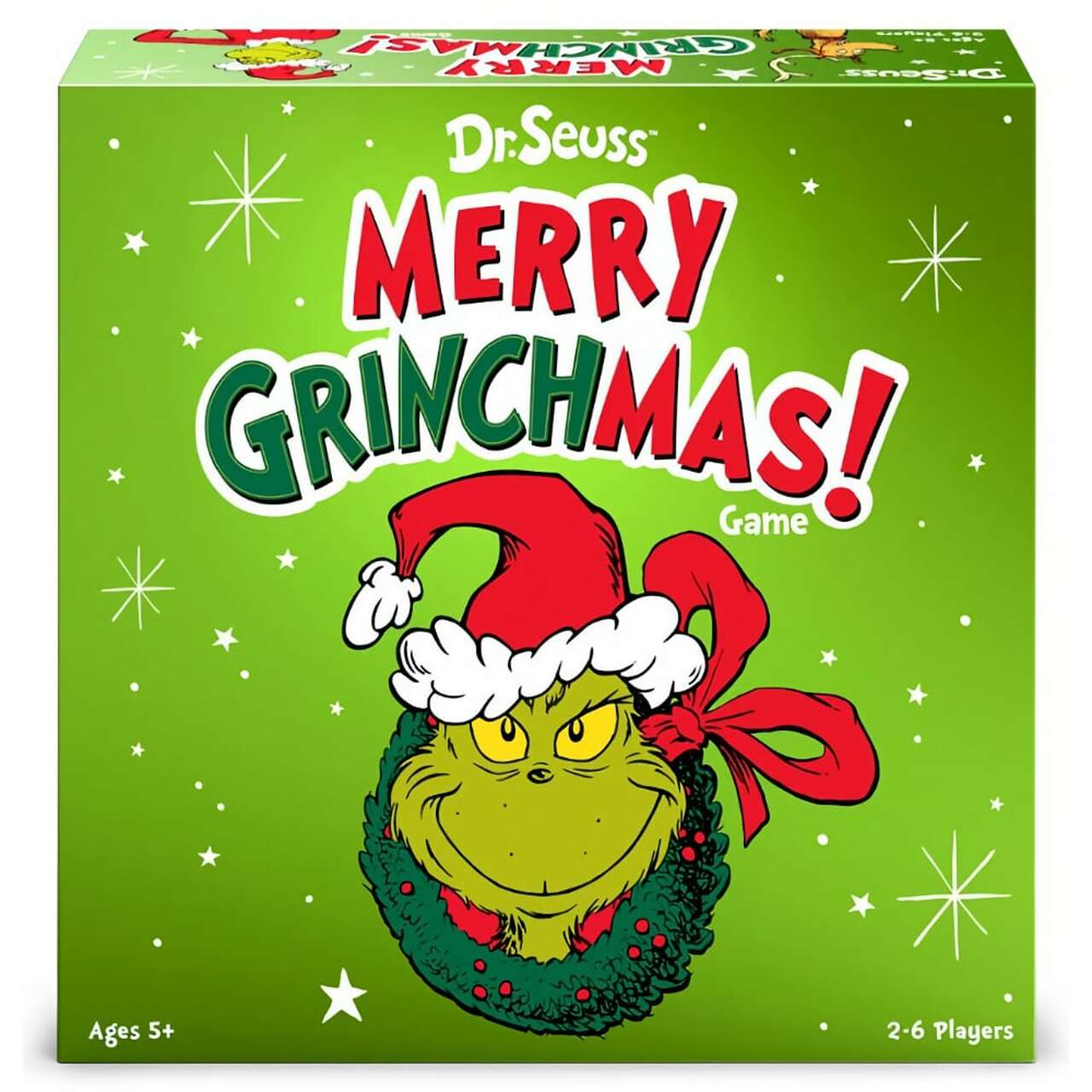 Merry Grinchmas
Our most popular Christmas game! The Whos of Who-ville need your help to keep their holiday dreams alive. If he has his way, the grouchy Grinch will turn Christmas into 'Grinchmas'. (Ewww.) Only by working with your fellow players can you hope to collect more points than Mr Grinch. As if the stakes weren't high enough, you have only 30 minutes to thwart our villain and save Christmas. Fantastic fun for the entire family, Merry Grinchmas can be enjoyed by ages 5 and above.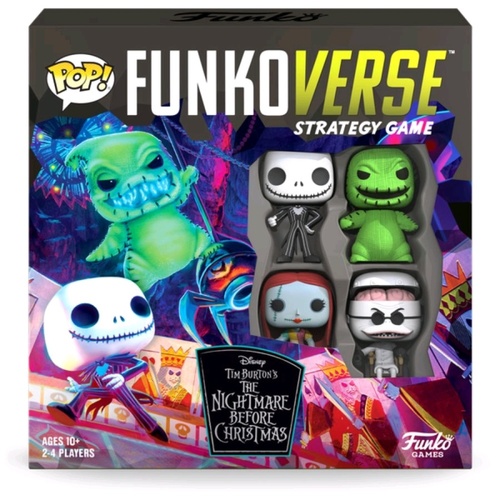 Funkoverse Nightmare Before Christmas Board Game
Stay focused and don't lose your head! Across four nail-biting scenarios, Halloweentown's finest go head-to-head in the 'Funkoverse'. Use your cunning wits alongside your favourite character's unique powers to win this game of strategy.
Monopoly
Monopoly makes for a marvellous night, especially when paired with the magic of Christmas and your favourite characters. Featuring customised game tokens and place names, these special editions will thrill Monopoly moguls, collectors of Christmas memorabilia, and fans of The Nightmare Before Christmas, Elf the Movie, and Peanuts. Please do pass GO and get a set for yourself and everyone on your list.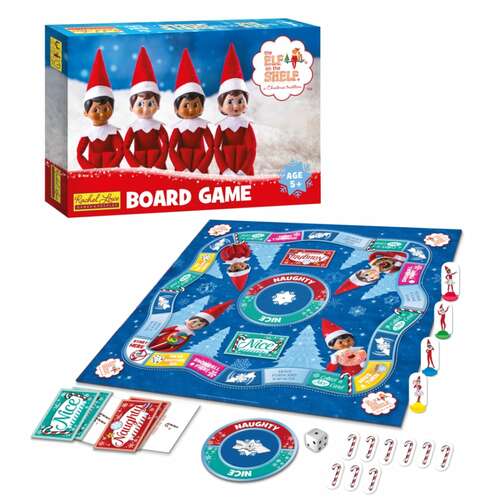 Elf on the Shelf Board Game
We love Elf on the Shelf! Our favourite game this season gives players the chance to pretend they're a hardworking Scout Elf. Spin the dial, roll the dice. Who's been naughty? Who's been nice? As you travel around the board, snowball fights and other challenges await while you collect the most candy canes to win this delightfully whimsical game.
Checkers and Bingo
Checkers with elf caps? Bingo tokens that look like delicious peppermints? You'll want to experience these two traditional favourites all over again now that they have added magic from Elf on the Shelf.
Trivia Night
Who can resist terrific trivia? Test your knowledge of all things merrily munchable and seasonally scrumptious with Christmas Crowd's Food & Drink Trivia. Fancy yourself a Christmas mega-fan? —Prove it. Christmas Crowd's rapid-fire holiday quiz game will definitely keep you on your toes. Amplify the festive frivolity when you play a round (or two) of Beer Pong before and between rounds of trivia. This one's for grown-ups only, unless you fill the cups with drinks on the softer side.
Card Games
Everyone has a favourite card game – even if they haven't discovered it yet. Here at Elves University, we've been playing card games for as long as we can remember. They make sensational stocking stuffers, perfect pass-the-parcel pressies, and cracker Kris Kringle surprises. Give games like solitaire, go fish, crazy eights, and slapjack a holiday flair with Christmas-themed decks from Peanuts and Sesame Street. Matching games like Disney's Cookie Swap, Chip 'n' Dale's Christmas Treasures, and the Elf on the Shelf Matching Game test everyone's memory. Games of strategy like The Nightmare Before Christmas 'Making Christmas' Game, Jingle All the Way's 'It's Turbo Time', Frosty the Snowman's 'Follow the Leader', and Dr Suess' 'Grinch Grow Your Heart' offer fun tests of cooperation, memory, and foresight.
Jigsaw Puzzles
Who could have predicted the sudden, sharp rise in the popularity of jigsaw puzzles? For a little while, we were scratching our heads, too. However, when we puzzled it all out, it made perfect sense. In a world with plenty to captivate the eye, jigsaw puzzles tempt our sense of touch. The shape, size, and feel of puzzle pieces provide us with a tactile experience. And we all love that feeling when we get to add the final piece!
Your family will love these 1000-piece jigsaw puzzles starring Buddy from Elf the Movie, the kids from Peanuts, and Rudolph the Red-Nosed Reindeer. Piece together a traditional picture when you embrace the spirit of Christmas and join Santa Claus as he delivers presents to all good little girls and boys on Christmas Eve. Looking for a puzzle that youngsters can handle? Look no further than this 500-piece collage of 'the most famous reindeer of all'.
Books
Share stories both old and new with a selection of books chosen by your Christmas Elves. Irresistible holiday tales like 'How the Grinch Stole Christmas' and Disney's Storybook Collection will enchant the young and young at heart. No child's Christmas would be complete without the story behind Elf on the Shelf. The Elf on the Shelf: a Christmas Tradition keepsake box houses an adorable Scout Elf along with a winsome rhyming storybook that explains how these important helpers aid Santa at Christmastime. Children will love discovering even more about Elf on the Shelf when they use the special marker to reveal the colourful designs within the pages of the Magic Ink Book. Parents can rest assured that this is one colouring book that is truly mess-free, thanks to the wonders of 'magic ink'.
White Christmases look wonderful, but we love our Aussie Summertime Chrissie the most. The entire family will love reading about Santa's travels to different Australian cities in the 'Santa Is Coming to…' storybooks. Young readers will get swept up in a world of adventure in the 'I Saw Santa in…' series of search and find picture books. Head to New South Wales, South Australia, and Tasmania for dinkum seasonal Australiana.
10 Tips for Creating Great Family Gatherings with Games, Puzzles & Books
Get your friends and family together for any of these themed events, and we guarantee everyone will feel like a winner.
Monopoly Marathon: Start at brekkie, morning tea, brunch, or lunch and see how many rounds you can get through before dinnertime, or bedtime.
Gamers Paradise: Gather a large group and break out all the games you have. (Feel free to ask your guests to bring a few, too!) Set the games out on different tables or in different rooms for people to play and move from game to game as they like.
Wild Cards: Sure, you can theme a night around a single card game, but why not try a few – or a slew? Ask everyone to bring standard playing cards and just add refreshments for a winning night.
Game School: Every wondered how to play euchre, whist, cribbage, rummy, bridge, or pinochle? Research the rules as a group, then have a go at playing a few hands.
Degustation Gaming: Move from house to house, sharing small meals and playing quick card games afterwards.
Puzzle Party: Arrange some sweet and savoury nibbles on Christmas tableware then take your time assembling one or more puzzles as you while away the day.
Race Pace Puzzles: Clear some space, pour out the pieces, and run a stopwatch to see how fast everyone can put together a puzzle. Better yet, have multiple puzzles, divide into teams, and see who finishes theirs first.
Christmas Story Time: Light some candles, plug in the fairy lights, and gather the family around the tree as everyone takes a turn reading treasured stories. Make sure everyone gets a cuppa first!
Children's Story Hour: Kids love reading stories aloud as much as they love us reading to them. Let the youngest family members take charge and choose which stories to read. Be prepared to hear their favourites more than once…
Christmas Book Club: For a group of adults, choose a book set during the holidays to read and then meet and discuss over nibbles and drinks. For a kid-friendly version, select a book for every week in the lead-up to Christmas and see how many they can read before Santa visits.
Traditional game formats and drawing-room pastimes continue to surge in popularity because we all yearn for nostalgia. Back in 2020, many of us counted ourselves lucky to find an old Monopoly board and a dog-eared set of playing cards after ransacking cupboards, rummaging through drawers, and searching high and low on shelves in long-neglected corners of our homes.
We played those same childhood games again and found a newfound enthusiasm for them. It's time to share that enthusiasm with the people in our lives that matter the most. With a little help from the games, puzzles, and books on the Elf Bookshelf, you'll create moments that you and your family will cherish and replicate for many Christmases to come.
Christmas Elves are social elves. Post photos of you and your family enjoying your favourite games, puzzles, and books to Instagram and tag us: @christmas_elves_ or #christmas_elves_