Many of us only cook it once a year. To maximise time with family at Christmas, we prepare as much as possible the day before. Stuff the turkey on Christmas Eve and cook it slowly.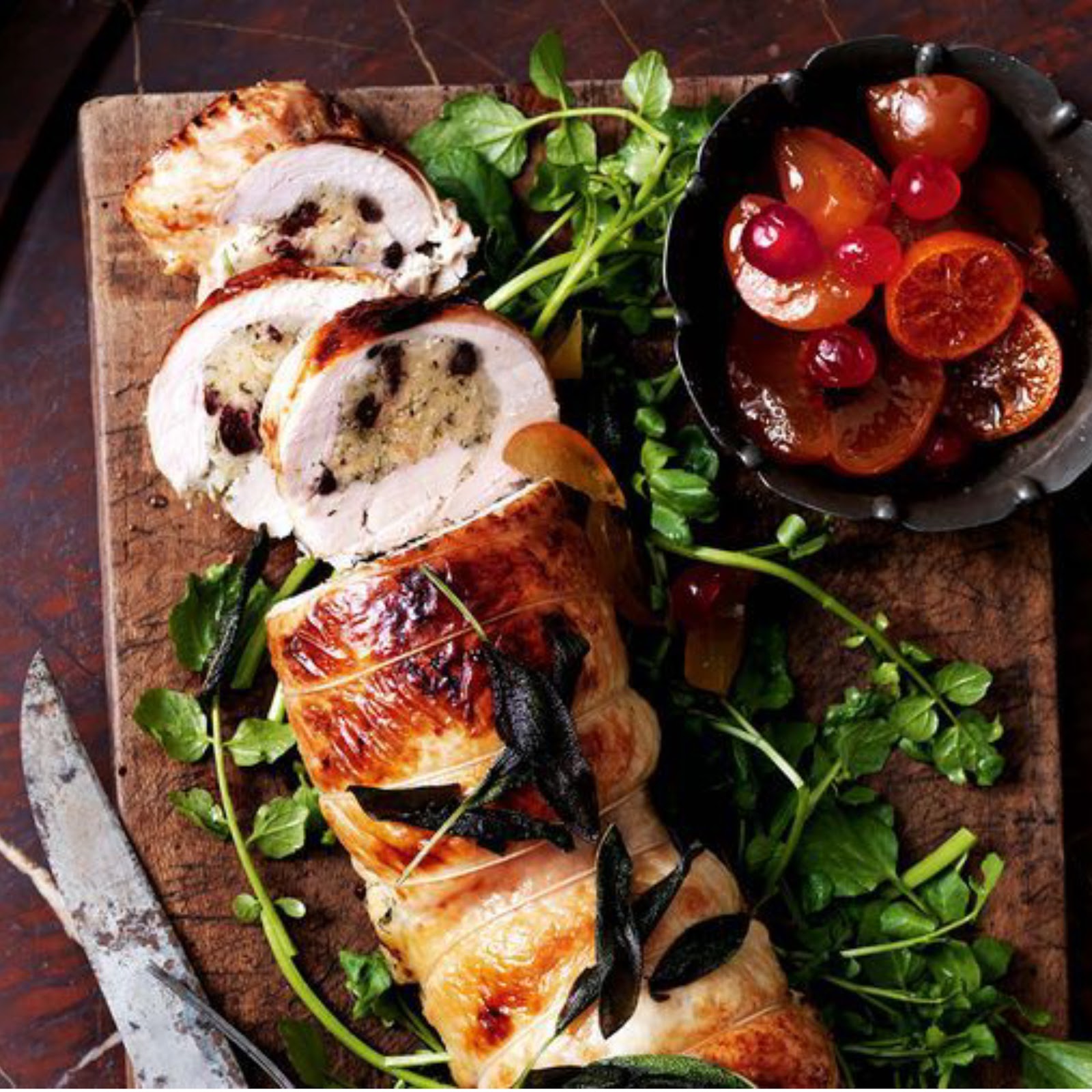 Picture: Boned and rolled turkey breast
Ingredients:
Juice of 1 orange
1 Cinnamon Quill
½ cup (125ml) maple syrup
2kg boned turkey breast
50g unsalted butter, melted
1tbs plain flour
1 cup (125ml) white wine
300ml Chicken stock
Watercress sprigs and mustard fruits (both optional), to serve
Stuffing:
100g unsalted butter, chopped
1 onion finely chopped
1 cup chopped flat leaf parsley leaves
10 sage leaves finely chopped, plus extra fried leaves to serve
2 ½ cups (175g) fresh breadcrumbs
⅔ cups (100g) raisins
1tbs plain flour
Method:
1. Preheat the oven to 190°C. For stuffing, melt butter in a frypan over medium heat. Cook onion, stirring, for 2-3 minutes until softened. Combine with remaining stuffing ingredients. Season and set aside to cool.
2. Place orange juice, cinnamon and maple in a small pan over medium heat. Bring to a simmer, then cook for 10 minutes or until reduced by half. Set aside.
3. Using a rolling pin, flatten turkey between two sheets of baking paper until 2cm thick. Season. Place stuffing along one edge. Roll turkey breast tightly to form a log shape. Tie in 5cm intervals with kitchen string. Brush turkey with butter and season. Place in a roasting pan and cover with foil. Roast, basting every 15 minutes with maple mixture, for 1 hour, then remove foil and roast for a further 20 minutes or until golden and cooked through. Remove turkey from pan and rest, loosely covered with foil, for 10 minutes.
4. Return roasting pan over medium heat. Cook flour, stirring, for 1-2 minutes until golden. Stir through wine and stock, then cook for a further 3-4 minutes until jus is slightly thickened. Strain the liquid into a jug.
5. Slice the turkey and serve with fried sage, watercress and mustard fruits, if using, and jus on the side.
https://www.delicious.com.au/recipes/boned-rolled...
"Crisp sage leaves add a final touch to this festive stuffed turkey breast. The buttery stuffing makes sure it stays tender during cooking and doesn't dry out".
Original Article by VALLI LITTLE.
Don't forget your Christmas Crackers to make the perfect Christmas dinner.