This season, artificial floristry is once again a popular addition to Christmas decorating. At Christmas Elves we have a wide range of floristry from a single flower on a long stem to a floristry spray that might contain several baubles, greenery and flowers. Then there's garlands, picks and glittered sprays. So much choice, but each and every piece has its own use. Here's a quick and easy guide to what you should look for and which pieces are best for the job in hand whether you're decorating the tree, making a wreath for the front door a garland for a mantle piece or a table centrepiece.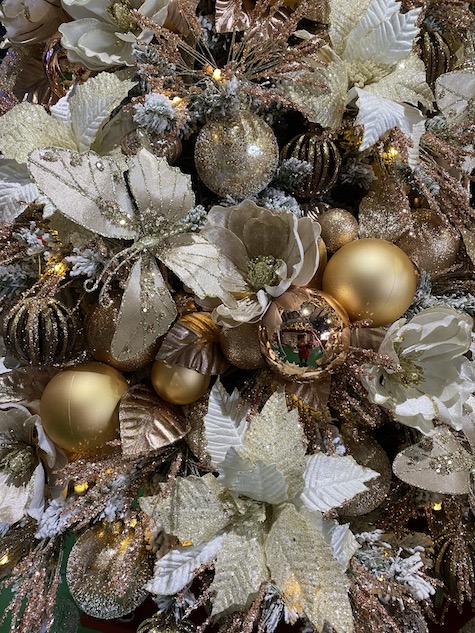 Christmas Tree
The Christmas tree has a special place in our heart and home. The modern Christmas tree allows us to express our creativity and showcase the current trends in colour, interiors and now floristry!
Floristry is still the biggest story in Christmas decorating and this American style is now popular worldwide. This year shades of blue from dark navy to royal blue were found in poinsettias, magnolias and even in dyed pampas grasses. Pink is still a firm favourite joined by shades of green from sage green to a wintry dark green.
At Christmas Elves we love a trend, but know that a classic red poinsettia is just as important to our customers, so we supply it all. This year we think our floristry range is our biggest and best yet.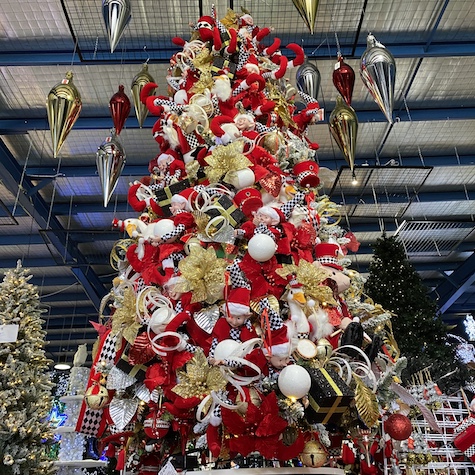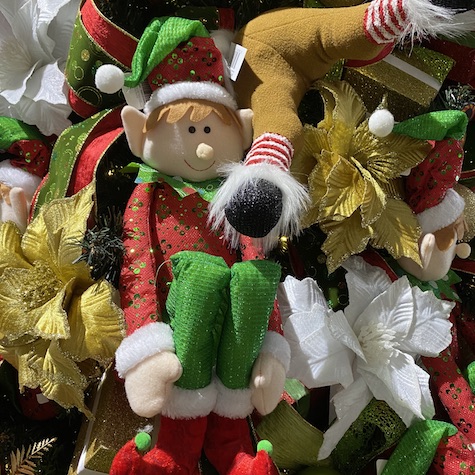 Have fun with floristry these long stemmed poinsettias look stunning in a sophisticated tree and work just as well in the Elves tree we designed for children. Poinsettias are known as the Christmas flower and we have a large range in red and white from a long stemmed flower, to clip on poinsettias and even poinsettias sold in a flowerpot.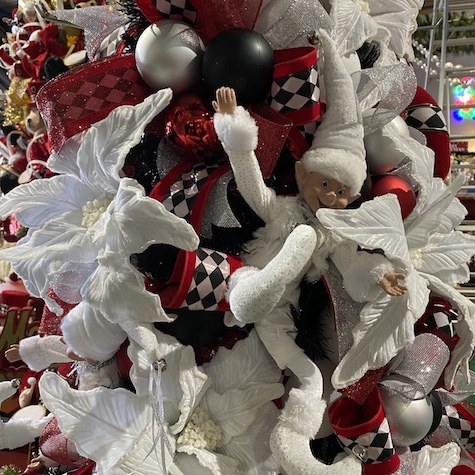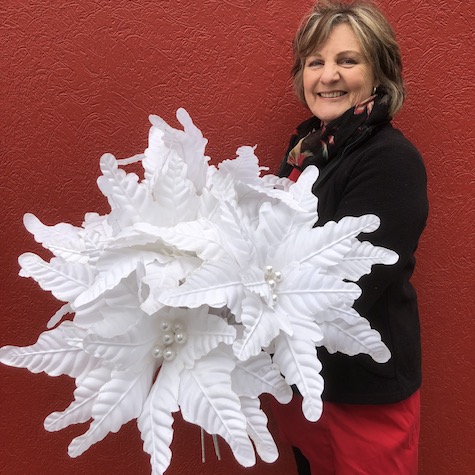 Larger blooms can span up to 25cm which means they're a great space filler especially if you're decorating a large tree. Remember to select your flower type according to the project at hand. Scale is important, a 10 foot Christmas tree looks amazing covered with large poinsettia flowers but a smaller tree can be easily overwhelmed.
Decorated Wreath
If you want to create a lush floral wreath bursting with flowers and foliage you need to start by adding a leafy garland into a plain wreath.
Lay the garland into a fluffed wreath or separate a garland into sections and add evenly throughout the wreath. A green leafy garland like magnolia works well or choose a natural look green garland that has holly berries and pinecones attached. This forms the base of your decorated wreath and adds body and colour to a standard green wreath. Most floristry is made of individual pieces such as petals or leaves that are wired together and covered with paper and they can easily be prised apart. This technique can be applied to garlands just as easily.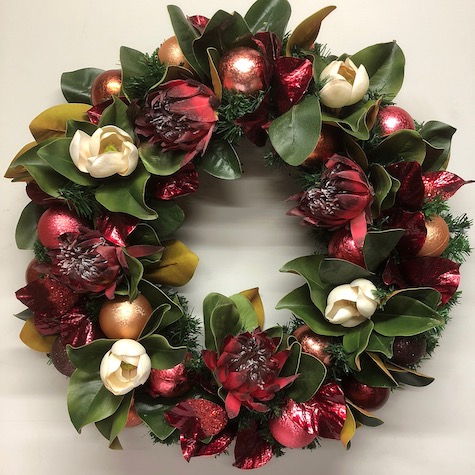 Decorated Staircase Garland
A decorated garland is often used on a staircase, there is nothing more impressive than a scalloped garland glittering with floristry and twinkling with fairy lights. Sometimes it's easier to decorate your garland on site because positioning is all important. This is where clip on flowers come into their own. You can easily attach them where they will appear most prominent and this year I've already used the new season clip on magnolia and poinsettia. They're available in some great on trend colours like cream, taupe, navy blue and pale pink.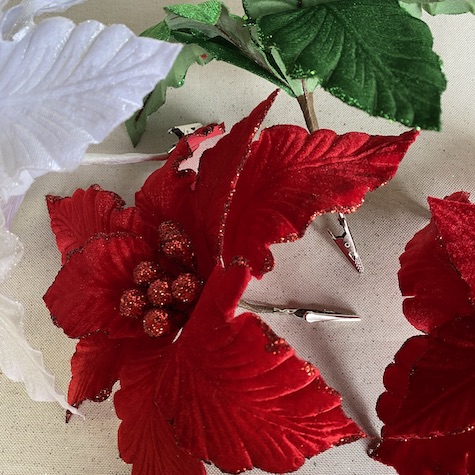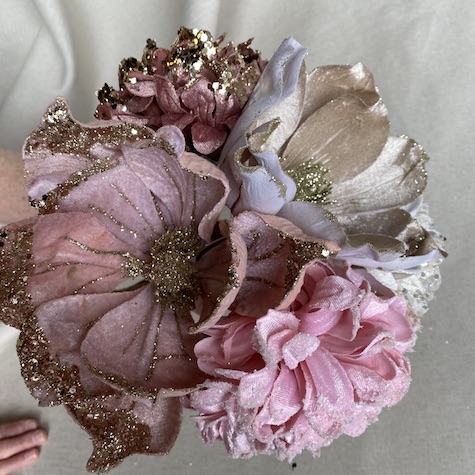 Decorated Mantelpiece
There is always something glamorous even decadent when floristry sprays are allowed to cascade over a mantelpiece the overhang allows these sprays to look their very best as they have space to hang straight. I suggest using a glittered or sequinned spray and embedding the stem into a garland allowing the spray to hang loose.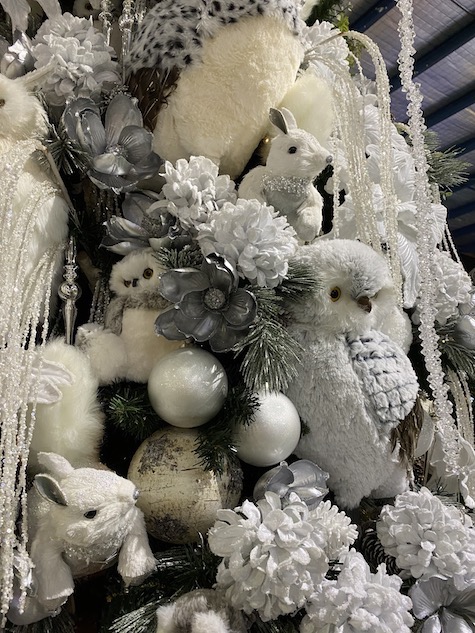 These sparkly pieces catch the eye but artificial floristry can look just as good and is now amazingly lifelike. You can combine both styles a popular look at the international trade shows, get ahead of the trend and create your own stunning display with sequinned flowers and natural look sprays.
Each year at Christmas Elves we decorate a Christmas tree using artificial native Australian wildflowers like wattle, flowering gum and eucalyptus. It's a joy to see our national flowers celebrated and a refreshing change of tone to see the subtle colours and spiky textures of the Australian bush on the Christmas tree.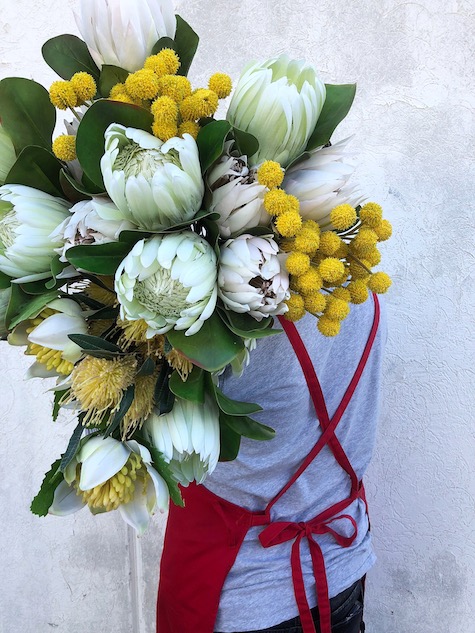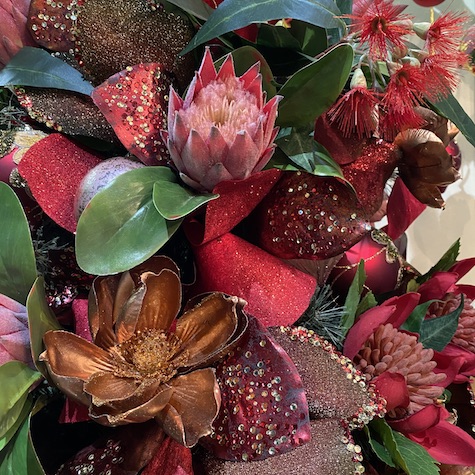 Decorated Centrepiece
A Christmas table is time for you to shine and show off your decorating skills. Start with a green centrepiece as you will need a base to attach other floristry pieces. Now it's time to decide on your theme or your colour palette. Start with pieces like leafy sprays, then add larger flowers to the centre and glittered picks to fill in the spaces inbetween. These sprays with greenery, and baubles already attached are great value. They will complement your finished piece and save you money.