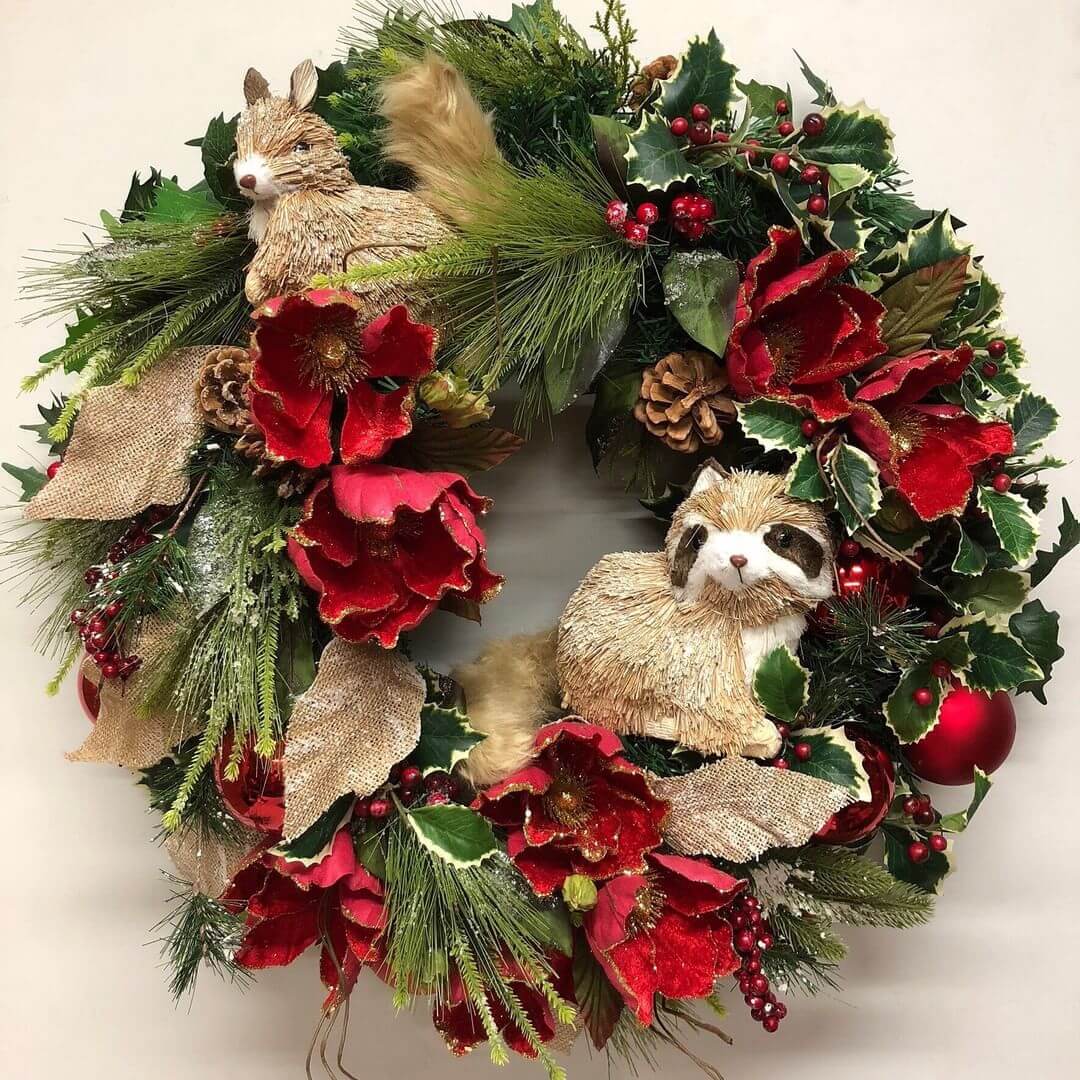 We've found five creative ways to decorate the inside of your home using these popular Christmas symbols. In fact, they're so delightful, we're not sure you'll want to take them down after the season is over!
Wreath tabletop display: Table centrepieces are a great way to decorate your space with Christmas wreaths. Placed front and centre, the round shape means you'll be able to easily put a bowl or decorative plate in the opening. Then, you can add baubles of different sizes and colours into the bowl for a festive look at the table.
Stairway wreaths: Your stairwell is the perfect place to decorate your home for the season, especially if they're located right near your entrance or on the way to the dining room. All you need to do is hang small wreaths at intervals up the stairs. Attach to your railing with beautiful Christmas ribbons individually or link them together if you'd prefer. We think odd numbers of similar items are visually appealing, so try for quantities of 3 or 5.
Wreath Christmas clocks: This Christmas, take the ordinary and make it extraordinary. If you have a wall clock hanging in your home, why not dress it up with a Christmas wreath? Hang your wreath around the clock to put your home in the festive spirit while still keeping the functionality of the timepiece.
Chair wreaths: Here's a cute and inexpensive way to decorate your dining room: hang small Christmas wreaths on the back of all the chairs for a festive and charming touch. Use thick Christmas ribbon to secure them in place from the top, but allow a little bit of slack to let them hang freely.
Chandelier wreaths: Suspend a foliage wreath above your Christmas table. Hang the wreath from ceiling hooks and secure with wire or heavy-gauge fishing lines. The hanging florals will provide depth and dimension to your room, and will be a delight when your guests look up and around.
Bonus tip: Christmas wreaths aren't just decorations for your own home – why not give affordable beautiful wreaths to your friends, family or boss as a gift? Even if they're not big on celebrating Christmas in the traditional sense, you can find some subtle designs that honour the festive season – and are sure to bring joy to their home.
Christmas wreaths for sale online at Christmas Elves
Whether you're dreaming of a white Christmas and looking for silver wreaths adorned with woodland animals or prefer a bright and traditional red and green wreath covered with mini candy canes, you'll find just what you need to suit your theme at Christmas Elves this December.
We stock a collection of deluxe Christmas wreaths in a range of sizes and colours to suit your needs. From 45cm upwards to a whopping 91cm, and available in different materials, such as tinsel, berries, holly and pine cones, as well as lush pine, you'll be forgiven for wanting to display them all year round!
Shop our range of Christmas wreaths today.