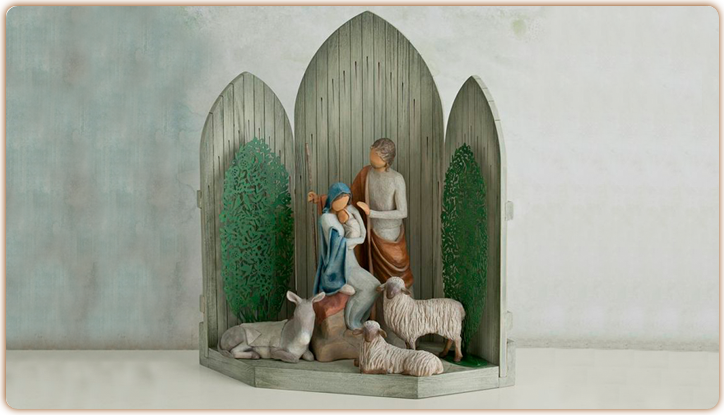 Willow Tree ... The Christmas Story
The lovely nativity by Willow Tree is significant in its larger scale and richly layered colours. The figures of Mary and Joseph are 38cm tall, and the centre piece of The Christmas Story. The Sanctuary soars to 60cm tall, creating a beautiful presence. Within its enclosure, the Gentle Animals of the Stable nestle close to provide warmth and protection. One of Willow Trees newest piece is the Tree Silhouette, fits on the base of the Sanctuary, adding colour, pattern and texture to this nativity display.
The lovely Angel of Light ornament is a beautiful addition to the Willow Tree Christmas range.
"The Christmas Story is a story from the past… but the overwhelming emotions of holding a new baby, starting a new family, and wanting to protect them forevermore are present today in every culture and every age. My hope is that the gestures of Mary and Joseph will represent these powerful feelings of love and protection."
The Christmas Elves have introduced a lovely range of Willow Tree Christmas ornaments and figurines.