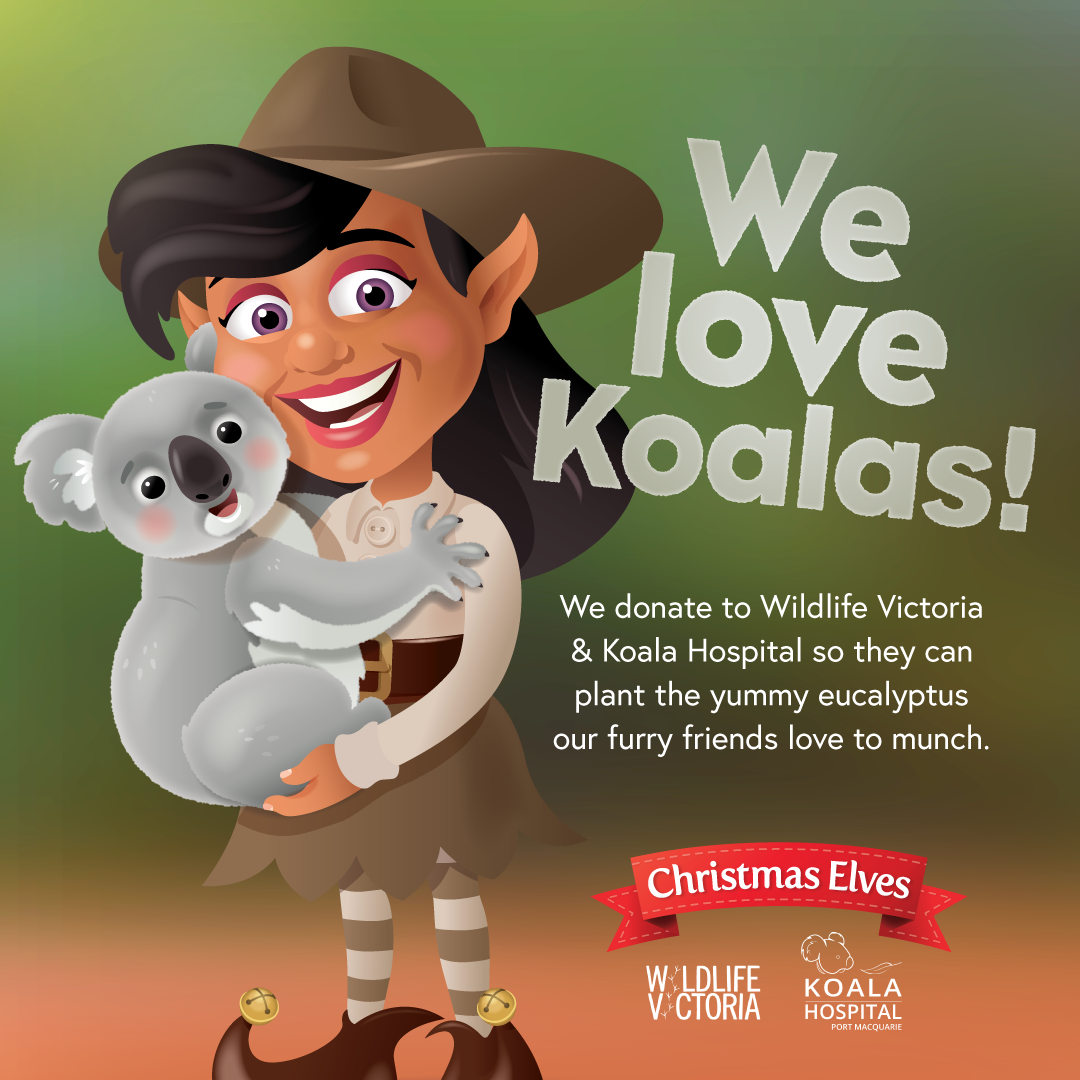 "Christmas Elves are Aussie Elves. We love this Great Southern Land and want to do our part to preserve it and protect its wildlife for future generations."
Australian wildlife brings us so much joy. Whether cute and cuddly or prickly and poisonous, some of the most fascinating creatures on the planet call Australia home.
Sadly, the loss of natural habitat to urban and agricultural development poses a threat to so many Aussie icons. Because we want our native wildlife to thrive, Christmas Elves proudly donates to Wildlife Victoria and Port Macquarie Koala Hospital.
Koalas melt our hearts. (Don't tell the reindeer, but these gentle tree dwellers really are our favourite!) The Port Macquarie Koala Hospital rescues and rehabilitates their furry patients so they can hopefully return to the wild one day.
Donations to the Koala Hospital also fund its koala food tree program. Famous for being fussy eaters, koalas eat specific types of eucalyptus leaves to stay strong and healthy. Deforestation has made finding the right food for these loveable epicureans challenging. By planting the yummy eucalyptus varieties our furry friends love to munch, including Tallowwood, Swamp Mahogany, and Forest Red Gum, the program will ensure koalas receive the nourishment they crave whilst reducing Australia's carbon footprint.
Wildlife Victoria has rescued sick, injured, and orphaned animals for more than 30 years. Over 50,000 animals receive help every year from a statewide network of trained and dedicated volunteers, veterinarians, and shelters. Besides animal rescue, Wildlife Victoria runs programs to teach the general public 'the skills they need for peaceful and positive co-existence with wildlife…'
You can help koalas and other native wildlife when you shop with us. $1 from every purchase of our Australiana range of decorations and floristry goes towards our donations to both the Port Macquarie Koala Hospital and Wildlife Victoria.
Create a dinkum Aussie Chrissie with ornaments, figurines, and decorations galore from the Australiana range at Christmas Elves.
Koalas make for a cuddly Christmas! Add instant Australiana to your Christmas decorating by simply hanging a few koala ornaments on your tree. Isn't the Gum Nut Baby Koala ornament just the cutest? Or maybe the Koala with Joey has you smitten?
We have everything you need to add even more Australiana touches to your decorating. Trim your tree with even more amazing Australian animal ornaments. From marvellous marsupials to audacious avians, you can hang all your favourite critters from the branches of your Christmas tree, including wonderful wombats, perfect platypuses, bonny bilbies, and more.
Marsupials may be the stars of Australian fauna, but don't forget our native birds. Gutsy galahs, mischievous magpies, cunning kookaburras, and quirky cockatoos will love roosting anywhere you can find a spot for them. Keep some room for our flightless friends, the eager emu and pensive penguin, too.
Even less-than-cuddly creatures want to spread Christmas cheer. Look at the expressions on the faces of the cantankerous crocodile and delightful Tasmanian devil. ––They're not snarling; they're just singing Christmas carols!
Heaps of baubles make Christmas trees brighter and more beautiful. Produced by Aboriginal artist collective Warlukurlangu. the intricate, bold patterns on these baubles bring the colours of the country around the remote desert communities of Yuendumu and Nyirripi into your home.
Who needs pine when Australia has so many evergreen trees to choose from? Eucalyptus is green all year round, making it ideal for holiday decorating. Arrange eucalyptus sprays and pincushion flowers in vases or hang decoratively bunched in place of mistletoe. Warmly welcome friends and family into your home any time of year with this beautiful eucalyptus and native berry wreath on your front door.
'Decorate local' with the Christmas Elves Australiana range and help us lend a helping hand to the organisations that take care of our local wildlife.