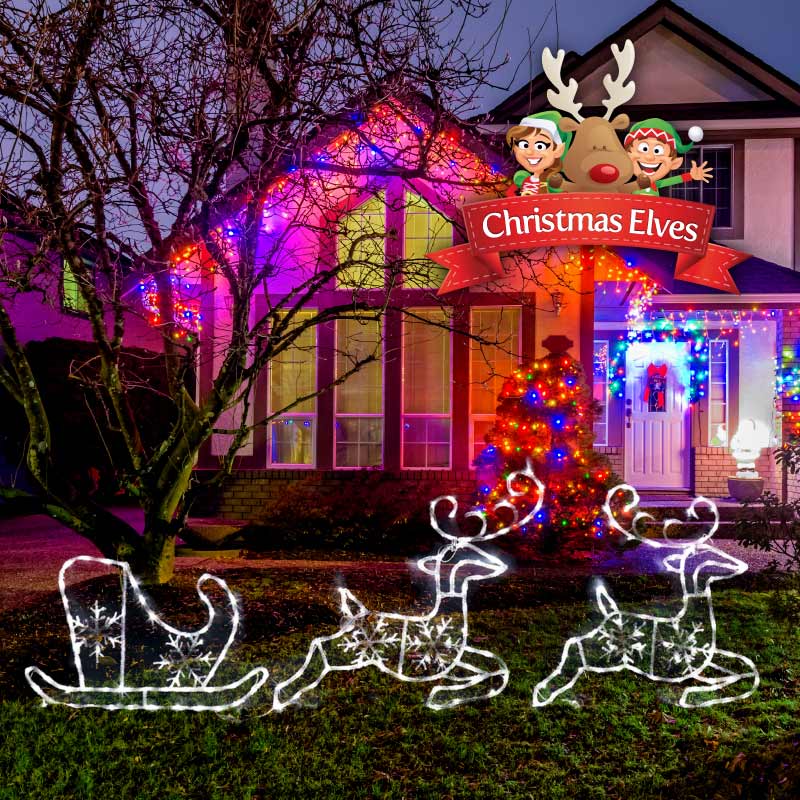 Lighten up your home and neighbourhood by getting creative with outdoor Christmas rope lights. The holidays are a time for fun - and not just for the little ones. Play around with outdoor LED lights for your own bright Christmas surprise.
While traditional-style lights, such as icicles and fairy lights, can still bring Christmas cheer, rope lights offer a new possibility that many people haven't experimented with before.
Light your space in a different way this year, with these "outside-the-box" ideas.
Getting Creative with Rope Light
The display opportunities are limitless with a reel of rope light at hand.
LED rope lights work just as well outside as they do inside. At Christmas Elves, we love the way they can be spread across an area and don't need to be confined to a single focal point. Some ideas we love for the outdoors include:
Rope lights hung across decking or fences
Floor-level lights along a walkway, to light the way at night time
Landscape lighting against walls or other features
This rope style looks elegant and can cast a glow across large spaces, creating a warm atmosphere for those summer nights spent in your garden. Rope lights tend to have clear tubing, so all the focus is on those shining LED flashes and you can highlight your favourite outdoor features.
Think you can only feel the sparkle at Christmas? Think again. You can keep these versatile light displays up all year round without it feeling too "festive".
Ready-made Christmas Display Motifs
Make a statement without too much effort with our collection of Christmas display motifs, showcasing those traditional Christmas shapes we know and love. From the typical reindeer and Christmas tree motifs to the funky (and very Australian) Santa perched in a 4WD, there's something for everyone.
For rope lights already formed into eye-catching designs, you can set up presentations in your garden or against your home for a visual treat for the family and the neighbours!
Our range is perfect for all sizes and spaces, with transformers included with most products so you can control whether your presentation looks bright, dim, still or flashing.
A relatively new tradition, people only started hanging Christmas-themed lights in their homes during the 1960's and, since then, the tradition has blown up! There's no limits to where you can add some glow, so install these display motifs on your building, in doorways or on the roof! Whether you adopt a busy presentation with multiple motifs, or prefer to keep it simple with a single star, for example, this collection is sure to create a talking-point at your home.