The Tale of Peter Rabbit is a much loved children's book written by Beatrix Potter. A gifted writer, artist, scientist and conservationist Beatrix Potter had a deep connection with the countryside and the country way of life. Many of her illustrations and stories depict the animals and landscape around the Lake District in the North of England where she owned Hilltop a working farm.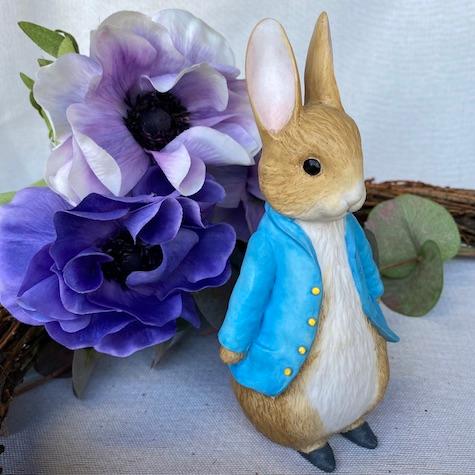 Her children's stories are populated by many lovable characters from the mischievous rascal Peter Rabbit to the unfortunate Jemima Puddle- Duck, the friendly frog Jeremy Fisher and the kindly hedgehog washerwoman Mrs Tiggy-winkle. Peter Rabbit first appeared in the story The Tale of Peter Rabbit in 1902 and subsequently in five more books between 1904 and 1912.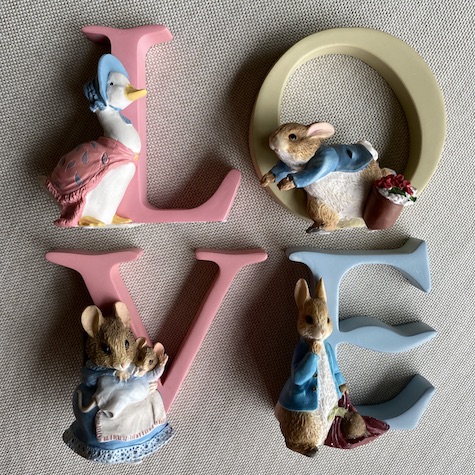 Peter Rabbit was named after a pet rabbit Beatrix Potter had as a child. The stories reveal Peter to be a charming rabbit with a natural curiosity as he overcomes obstacles, outwits predators and avoids danger. These escapades have endeared him to generations of children and adults alike.
Beatrix Potter was the first to see the commercial potential of her work and over the years became an astute business woman lending her popular characters to appear in many forms of merchandise starting with a Peter Rabbit doll. Later came nursery ware and porcelain figurines, plush toys, cards and paintings even games. It's a testament to her work that these stories are still popular indeed her books have sold in their millions.
Today Peter Rabbit has never been more popular. Wedgwood has produced Peter Rabbit Nursery ware under licence since 1949 and today the brand is still inspired by the simple childhood pleasures of play, adventure and exploration. The Peter Rabbit Wedgwood Collection is made in England from fine bone China and decorated with whimsical illustrations of Peter Rabbit and the English Countryside. The figurines, ornaments and tableware are presented in decorative boxes perfect for gift giving.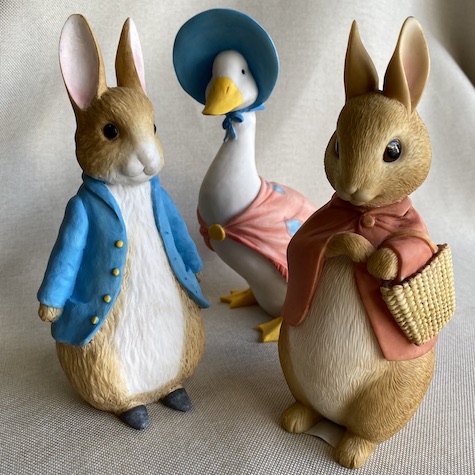 Much of the income derived from these sales was used by Beatrix Potter to protect her local environment and on her death in December 1943 she left most of her property to the National Trust a charitable organisation working in the environmental and heritage conservation field. Today you can even visit a Beatrix Potter theme Park in her beloved Lake District. This family attraction features scenes from her favourite books including the Peter Rabbit garden!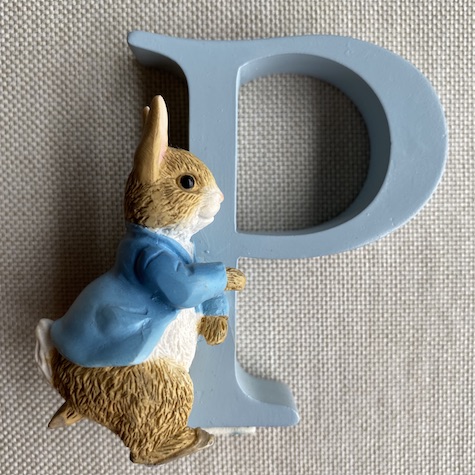 At Christmas Elves we stock a range of Beatrix Potter products.These popular resin Peter Rabbit alphabet letters produced by Border Fine Arts are 3D and hand painted. Peter Rabbit features on every vowel of the letters. They make a perfect personalised birth or christening gift and can be used alongside the Beatrix Potter numbers to spell out a name and date of birth.These letters become a great talking point and a gift that can span the generations.