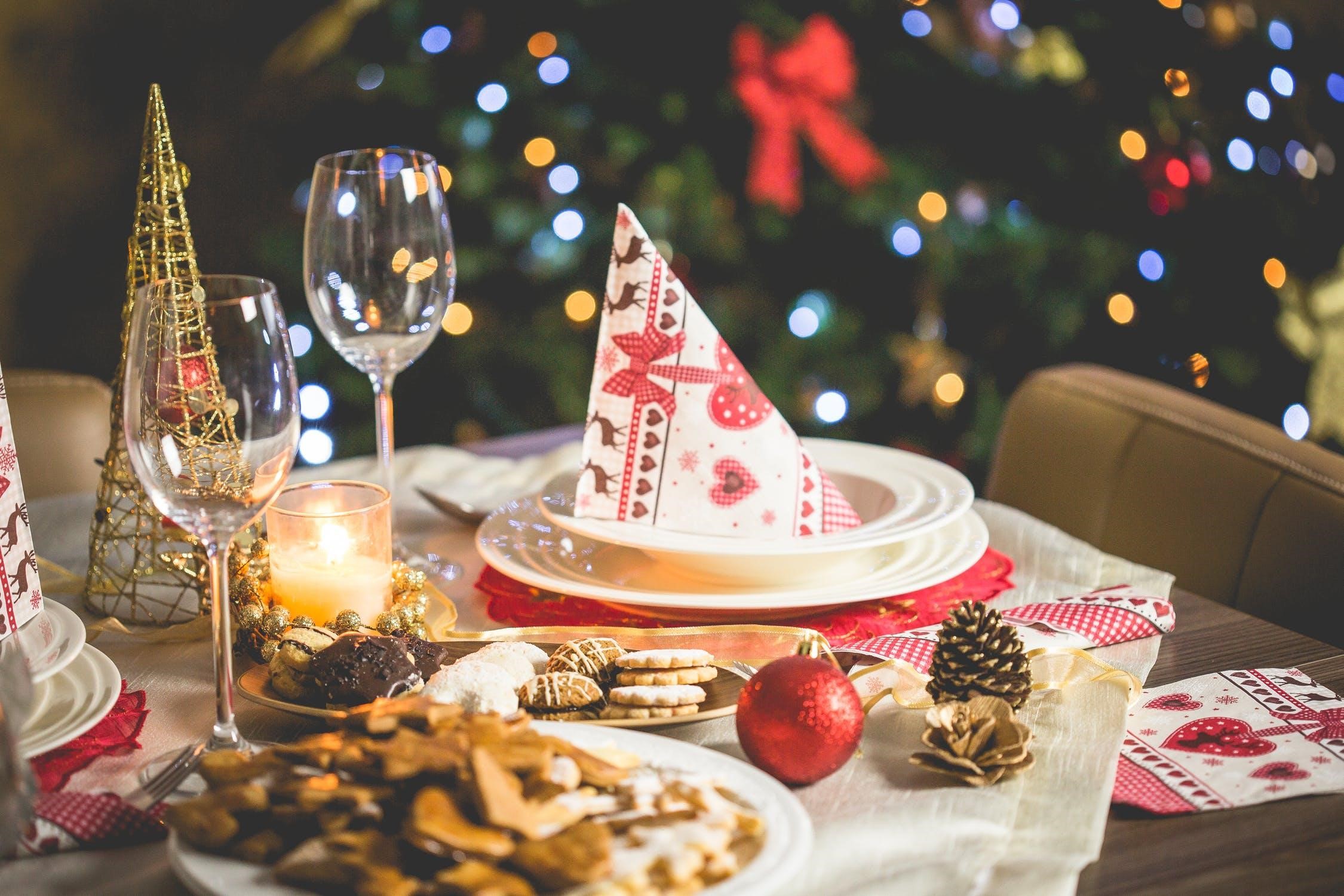 The tree is up, LED lights are sparkling around your window panes and your Elf on the Shelf has been suitably naughty all month. The big man in the red suit visited your home last night, which means the time has come to complete the look with Christmas table decorations.
There's more to it than just festive table runners, too.
Transform your dining room and transport your family to a wonderland as they enjoy their Christmas dinner this year with our complete guide to table decorations. From the staples to the unique, here are the features you may want to have around your roast turkey this year.
Christmas Candles
Complement that delicious scent of food that's drifting throughout your home with Christmas-scented candles. Not only do they set the mood and are a cute representation of one of the season's biggest symbols, flickering stars, but they're available in fragrances that will forever remind you of happy memories.
If open flames around your table make you nervous, LED candles are the perfect solution for you. Their flames flicker just like the flames of real candles, providing the right atmosphere as you dig into your food.
Don't forget to bring attention to candles with a coat of their own. Browse candle holders in a range of styles, including ficus candle holders and other magical Christmas-themed styles. Add your own touch by purchasing mason jars filled with water, cranberries and artificial plants and allowing tea lights to float.
Synthetic Floristry
Artificial wreaths and garlands can add an interesting look to your tabletop. Choose festive shades like green, deep burgundy and white to really pack a punch. Mistletoe, poinsettia and holly all work well.
Whether arranged as a centrepiece in tall glass vases, or as small bunches of flowers around the table, your guests will love it. Tie a twine or ribbon around each bunch for that final thoughtful touch, and leave them as a favour on each plate for your guests to take home.
Playful Centrepieces
Offer your guests a warm welcome with cute characters taking centre stage. An ideal conversation starter amongst the kids and the grown-ups, find the pieces that suit your theme and add a magical element to the table.
Choose from happy snowmen and penguins and take things up a notch with a full tabletop display of multiple characters, adorned with fake snow (because let's face it - we won't be getting any of the real stuff!)
If you're sticking to a neutral, tasteful theme, place a glass candle pillar on top of the table that will reflect lights and create an ambient glow.
Table Runners & Place Settings
Tablerunners and placemats should be your first stop when decorating a table. Once you lay these elements out in your chosen theme or colours, you can work everything else around them.
Experiment with new colour combinations when arranging your decorations. This year, we've seen a few exciting themes pop up. Try parchment and white with metallic touches for a neutral colour scheme, or hot pink and lime green for a bright and alternative Christmas table. If you prefer classic colours, you can't go wrong with red and gold placemats.
Warm White Christmas Lighting
Don't hold back on white lighting this year, to set a glamorous yet rustic mood at the dining table. You can use these everywhere; intertwined around tabletop decorations, around the Christmas tree and even draped across dining chairs.
LED lights twinkle brightly and can look like stars in the home - especially coming into full effect once the sun goes down. If your theme is fun and playful, swap white lights for multi-coloured lights in a variety of styles including modern looking copper wire lights.
Fancy Dress Costumes
Yes - we're talking about putting fancy dress costumes on the table as a surprise for your guests! 'Tis the season to be jolly, so have fun with the family and dress up as Santa or his team of Christmas Elves.
You could enjoy wearing a Christmas hat, choosing each one especially for each person around the table. While paper hats from crackers may be dated, you can play around with sequin Santa hats and velvet elf hats for a silly dinner.
Make memories that last a lifetime or create a new tradition. Trust us - every generation of the family will appreciate this thoughtful touch.
One for the Sweet Tooth
Even after a filling Christmas dinner, there's always room for some sugary treats, right?! Sweets can be stylish, too, so grab a huge glass vase and fill it with typically-festive lollies. This adds a pop of colour to your Christmas table, and is an easy DIY method to decorate your table.
Try putting mini candy canes on display, whether packed into jars or hung from centre pieces as decorations, for a sugar rush this Christmastime.