(Serves 15, Preparation and Cooking Time: 1Hour 25 minutes)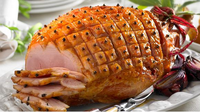 Ingredients
7kg leg of ham, on the bone
Cloves, to decorate
1 x 500g jar Breakfast marmalade
125ml (1/2 cup) Muscat
Method
Preheat the oven to 160°C.
Remove the skin (leaving fat) from the ham.
Using a small, sharp knife, score the fat in diamond shapes, then place a clove in the centre of each diamond.
To make the glaze, heat the marmalade in a saucepan over medium heat, stirring often, for 4 minutes or until the marmalade melts and just starts to bubble. Stir in the Muscat
Place ham on a rack over a large roasting pan and baste with glaze. Half-fill the pan with hot water and carefully place it in the lowest part of the oven. Bake for 55 minutes, basting 3-4 times until golden.
Set aside for 15 minutes to rest before carving.
Note(s)
Cooking time will need to be altered, depending on the size of your ham.