Skilfully combining playful whimsy with exquisite artistry, Mark Roberts figurines and decorations bestow a genuine feeling of Easter splendour upon all your displays.
With their quirky expressions and gorgeous detailing, these collectables will charm their way into your heart. Thanks to quality craftsmanship, they endure for generations. Every piece also comes with an individual certificate of authenticity, so you can trust Mark Roberts.
Discover the magic and splendour of Easter, create displays to delight and memories to cherish with Mark Roberts this Easter, and for many more to come.
BUNNY BOXES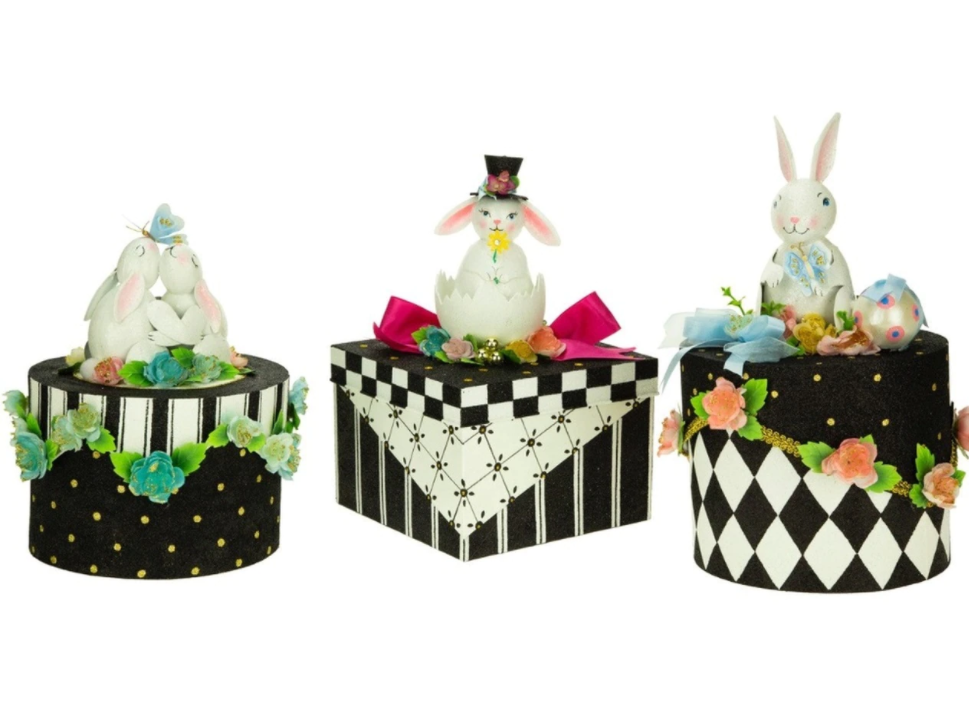 Hide all your Easter treats and trinkets in these beautiful bunny boxes. Decorated to resemble classic hat boxes, each 33cm box presents a playful scene full of Easter enchantment. (From left to right.)
Bunnies always find the time to cuddle.
What a cheeky bunny! How did he get in that egg?
Instead of hiding eggs, this cute bunny has decided to play with a butterfly.
ELVES
Elves love Easter almost as much as they love Christmas. These elves have committed themselves wholeheartedly to sharing in the Eastertide celebrations. Bunny Elf (28cm) has fallen 'ears over tail' in love with the colours and symbols of the season. He wears a pair of satin knickerbockers and a jacket bedecked in diamanté's, ribbons, floral accents, egg-shaped pendants. Behold his Easter cap with even more sparkles and finery, including a veritable bouquet of colourful beads and ribbons, playful bunny ears, and a magnificent shiny egg pendant to top it all off. Skipping along in his chick-yellow slippers, he calls out Easter greetings to his neighbour across the garden to show off his gaudy ensemble.
Flower Garden Elf (28cm & 44cm) waves a greeting in return. A quieter sort of elf, he has opted for a more classic style. He has adorned his understated, debonair suit with a few sprigs of greenery and beautiful blooms from his very own garden. With his velvet coat, floral print vest, slippers, and top hat, he'll be the most handsome elf wherever he goes this Easter. And he knows, it, too. Just look at that cheeky grin.
FAIRIES
The wonder of Easter gives these fairies a real buzz. Zipping around on gossamer wings, Butterfly Girl Fairy (45.5cm) is a vision in sequins, lace, and glittering jewels. Her bespectacled eyes glimmer as she flies near and far, spreading joy to all she meets.
Clad in royal purple, canary yellow, and moss green Butterfly Boy Fairy (43cm) dazzles thanks to sequins, bows, and blossoms. His eyes smile as he encourages everyone to 'Become something beautiful!'
Both Butterfly Fairy collectables also come in more petite versions. Just as meticulously detailed as their siblings, this splendid little sister (26.5cm) and brother (28cm) want to do their part and bring happy Easter wishes to you.
FATHER EASTER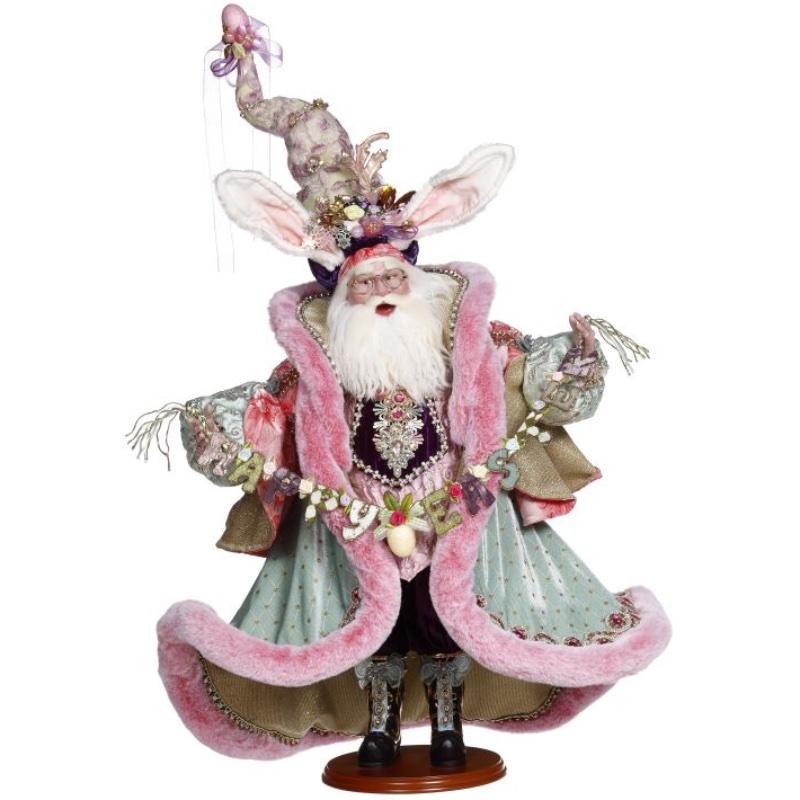 Although he's often mistaken for his famous cousin, Father Easter has his very own season and distinct aesthetic. We've caught Happy Father Easter (59cm) just as he's putting the finishing touches on his Easter Saturday garden party decorations. His entire costume sparkles thanks to shimmering embroidery, a jewel-studded cravat, and a brocade greatcoat with pink faux-fur trim bordered with shining gems. Despite all that, Father Easter's favourite part of this outfit is the hat. This work of marvellous millinery features bunny ears (naturally), floral beading, lace ribbons, and a glittery egg. If this is the outfit he wears to decorate for the party, what'll he wear to the actual event?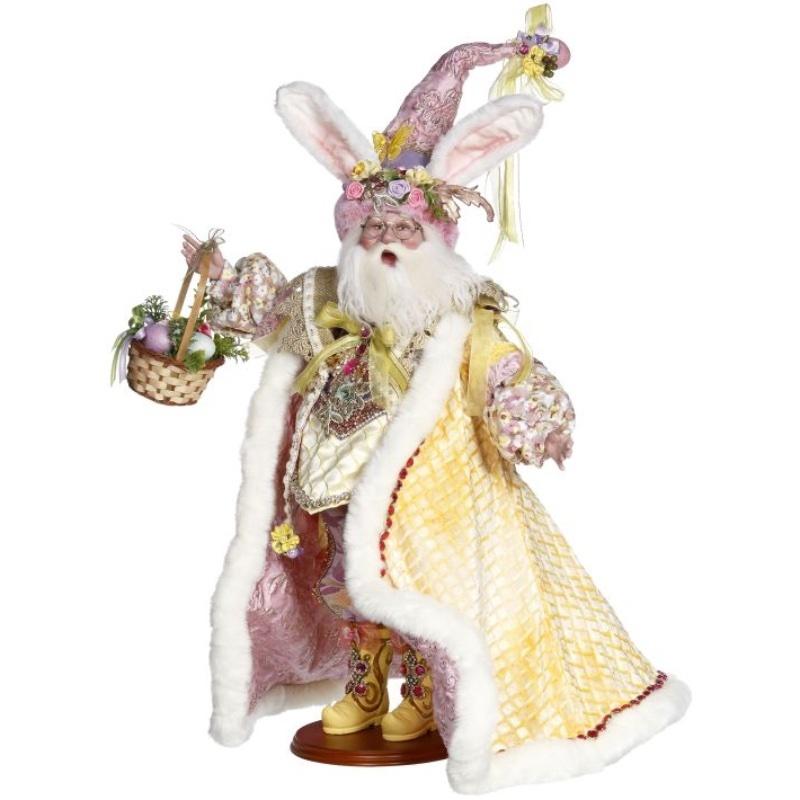 It's time for lunch on Easter Sunday, and Father Easter (59cm) is heading out to a picnic with his friend the Easter Bunny. He has chosen floral-print trousers and shirt underneath a quilted yellow coat. Paired with a shiny waistcoat, bejewelled cravat, satin cap with bunny ears, and a pair of epic elvish yellow boots with rosemaling whorls, Father Easter has elevated 'picnic couture' to the next level. In his basket he carries pastel eggs, lush ferns, and fine flowers. Hopefully, the Easter Bunny has brought more practical food for lunch.
BUNNIES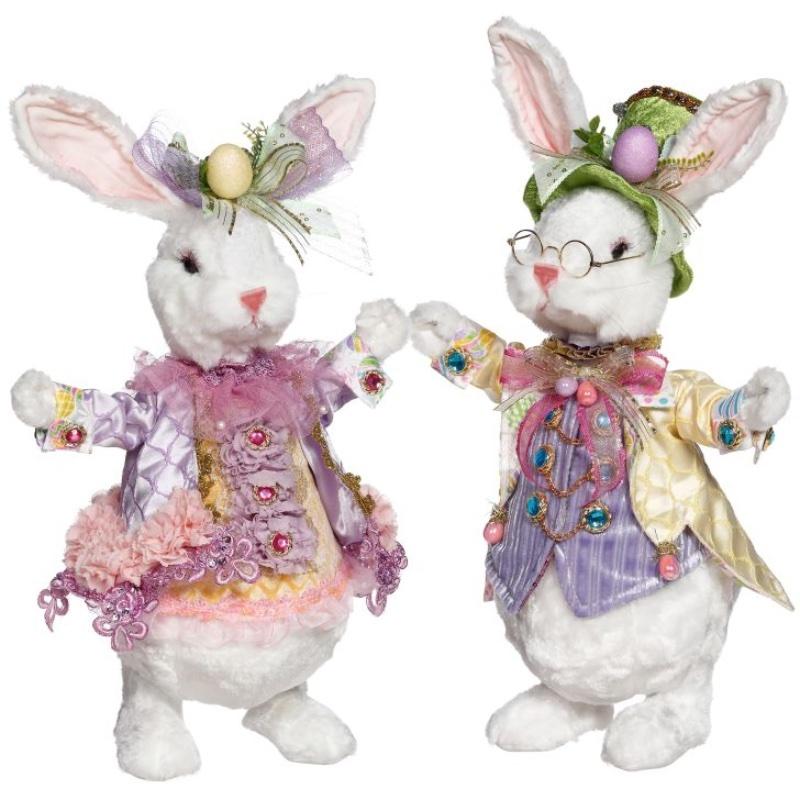 Easter belongs to bunnies! This Fluffy Easter Bunny couple (43cm) intend to have a hopping good time. Over her plush fur, our lady bunny wears a fetching lavender quilt coat with ruffles along a floral hem and jewelled cuffs. Her dress boasts appliqué flowers and a tulle collar. With her Easter egg fascinator, she'll be the most fashionable bunny in the warren.
He looks dapper and dandy in a lemon brocade morning coat and amethyst waistcoat with chain link azure buttons. Topping off his look with a bowtie, ruffled collar, and moss top hat, he looks as smart as his missus.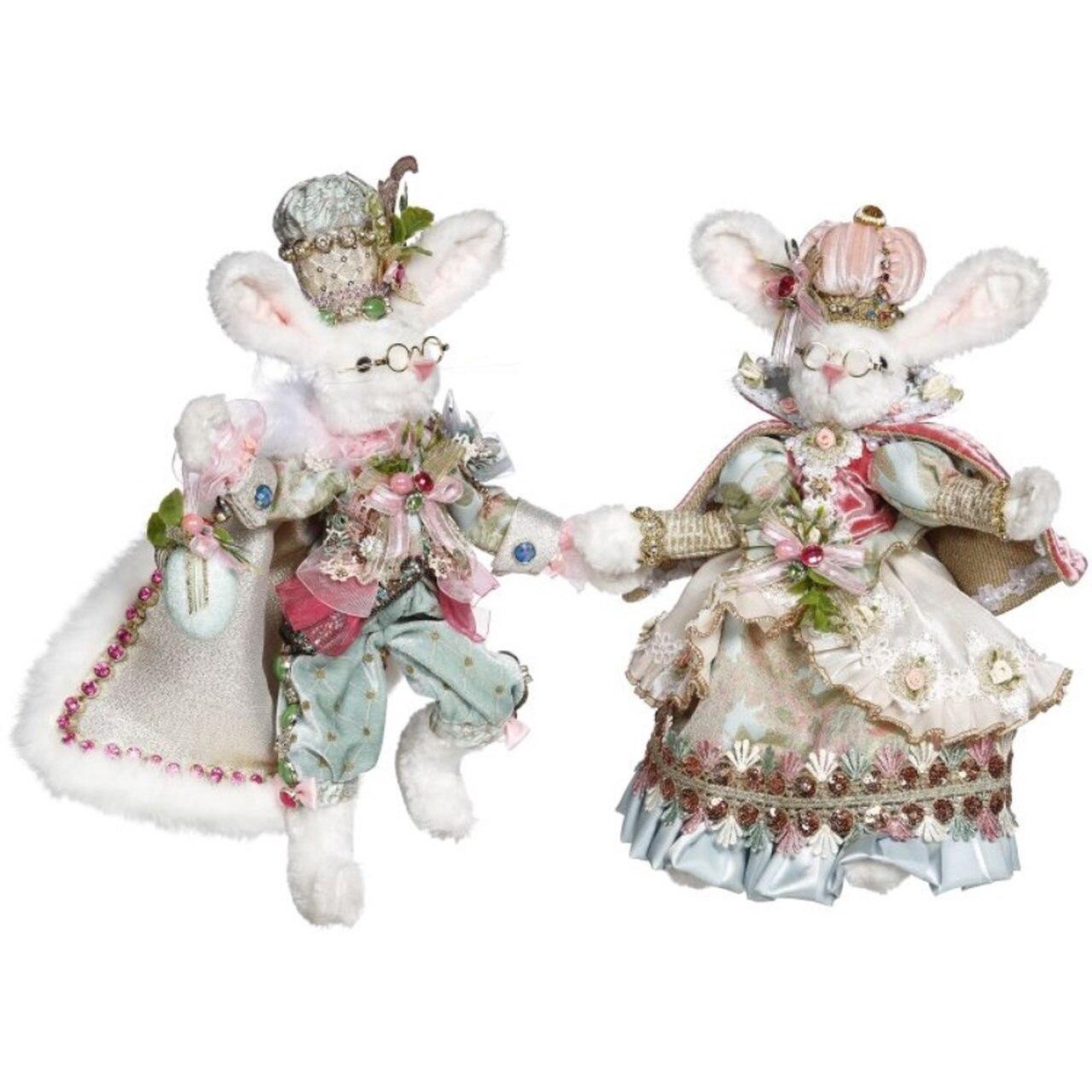 Some bunnies attend garden parties; others attend gala events at court. Mr and Mrs Royal Court Bunny (33cm) have donned their most opulent apparel for the biggest day of the year. From jewel-laden crowns to faux-fur-trimmed capes, fine brocade fabrics and tiny roses, these costumes will spellbind. With every glance, you'll discover ever more exquisite detail to appreciate.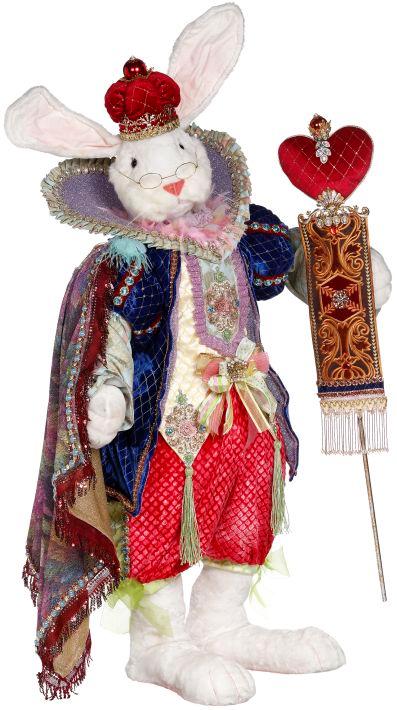 As the King of Hearts, the Easter Bunny stands tall (125cm) and proud. Mark Roberts has lavished the most intricate detail on this version of the wise and gentle ruler adored by all rabbitkind. His fine attire features quilted velvet, brocade, a heart-shaped collar, tassels, ribbons, feathers, and sparkling crystalline detail over every garment. A rabbit among mere bunnies, the King of Hearts inspires awe. You may want to keep him on display all year long.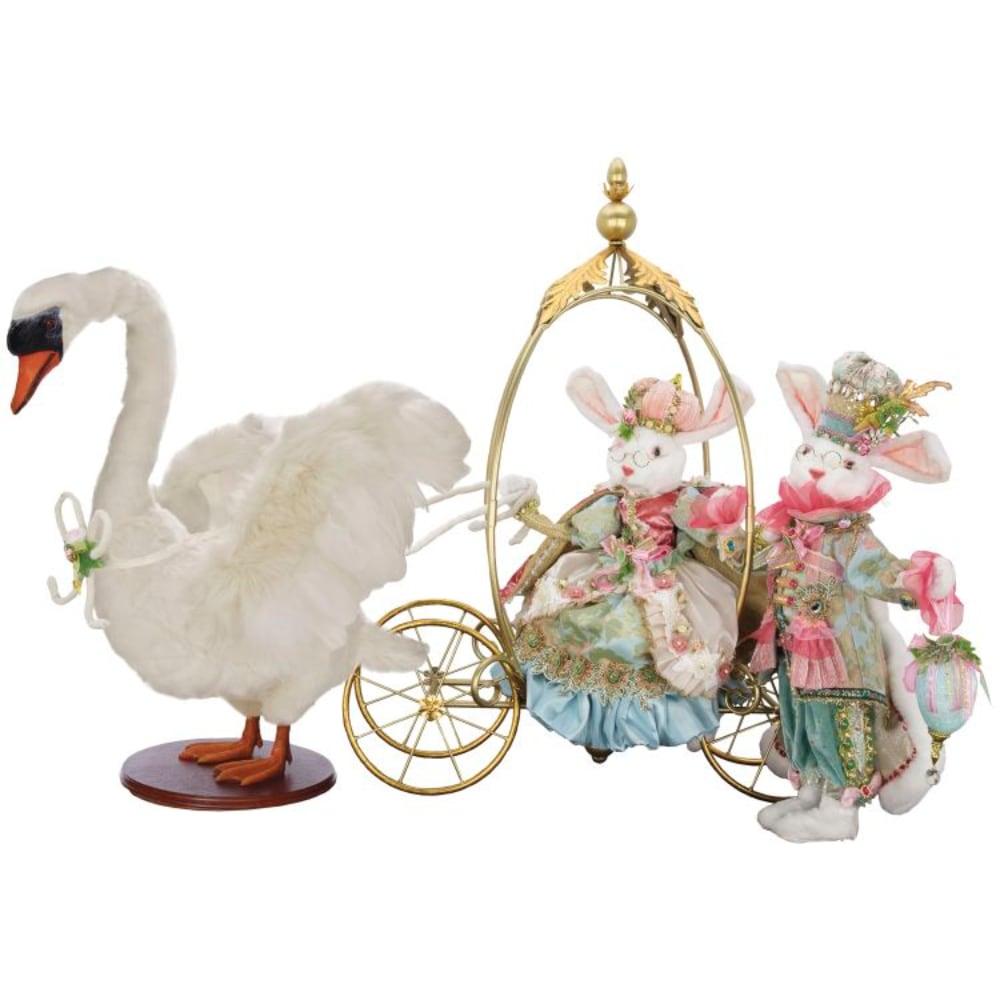 An Easter fairy tale brought to life, these rabbit courtiers travel in a swan-drawn golden carriage. The superb craftsmanship and strict attention to even the smallest of details in Mark Roberts' Vintage Rabbit Easter Carriage Set makes this piece the stuff of dreams for collectors. Creative flourishes abound in each figurine. The graceful swan covered in soft plush fur ruffles its pure white feathers and settles itself after a long journey as Mr Bunny helps Mrs Bunny alight from the egg-shaped coupé. This piece inspires the imagination and will take pride of place in Easter displays for generations.
Adored by collectors everywhere for their quality and design, Mark Roberts collectibles become treasured heirlooms. Whether your taste tends towards the traditional or veers towards the varied, you'll find a piece that suits your style. Once you start your collection with your first purchase, we invite you to register for the Christmas Elves Collectors Club. You'll receive advance notice of new collectables and decorations from all your favourite brands, as well as decorating hints and tips intended to inspire even more creative splendour.