Walt Disney created a world of make believe populated by the cartoon characters we know and love. The adventures of Mickey & Minnie Mouse the escapades of Donald Duck and a cast of cartoon characters are beloved by all ages. At Christmas Elves we're celebrating Disney Days a full of special events, giveaways and discounts on our large range of Disney products. In this Jim Shore piece "Santa Mickey Ta Da" Mickey Mouse is dressed in his Santa Claus suit and looking forward to the holiday season.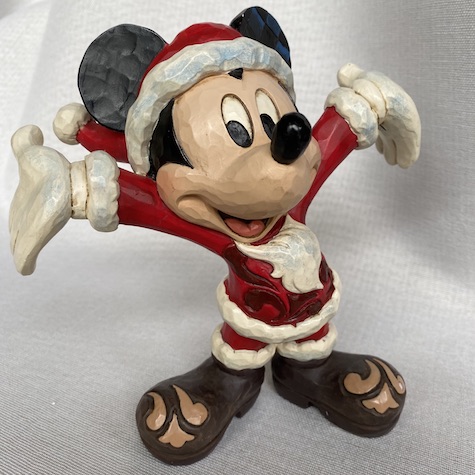 We know our customers love the Disney Universe and our collectors adore the figurines, keepsakes and gifts. Why not bring joy and happiness to your family and friends with a birthday or christening present from Disney. The "It's a Boy/Girl" figurines are adorable and a gift that will be treasured by the family for years to come they would look great in the nursery and could be the beginning of a life long collection!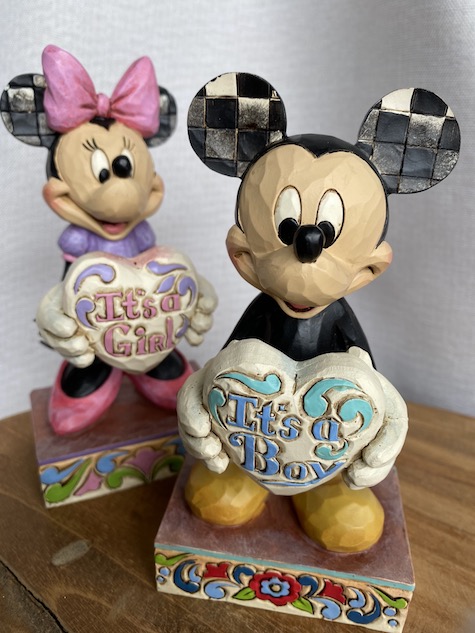 'Disney Traditions' is a very special Jim Shore collection. Characters like Goofy, Pluto and Chip n Dale are interpreted in the unique Jim Shore style. The charming figurines blend his distinctive American folk art with an interesting colour palette and make these collectibles amongst his most popular pieces.
Woodland Mickey and friends joyfully build a snowman together in a peaceful soft white winter wonderland and are suitable for any home or decorating style. "Frosty Friendship" is hand painted and crafted from high quality stone resin.
Below, Snow White's seven dwarfs reach new heights in holiday decorating. Wrapped up in garland the dwarfs are dressed in white robes and Santa hats. they form a garland covered pyramid and Dopey tops the festive pile. We love the humour and the beautiful hand painted detail.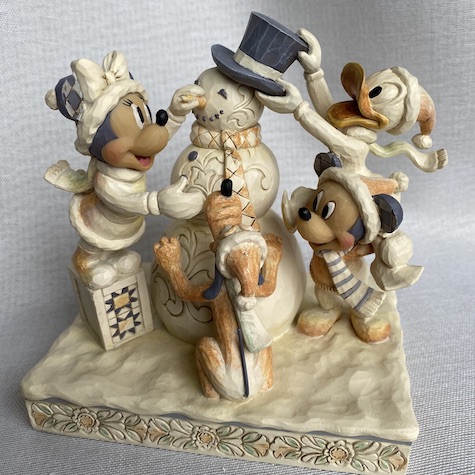 The 'Enchanting Disney Alphabet Letters' are also a popular Disney range. Featuring all twenty-six letters of the alphabet, and characters from Disney's classic animated films like Jungle Book, Peter Pan, Bambi and Alice in Wonderland. The pale cream shade of the letter helps to create the illusion that the character is jumping right out of the classic film. Each character appears at the base of the resin figurine and is hand painted bringing each character to life. A beautiful gift for a new born baby you can create your own name, what a special gift and a cute addition to nursery room decor.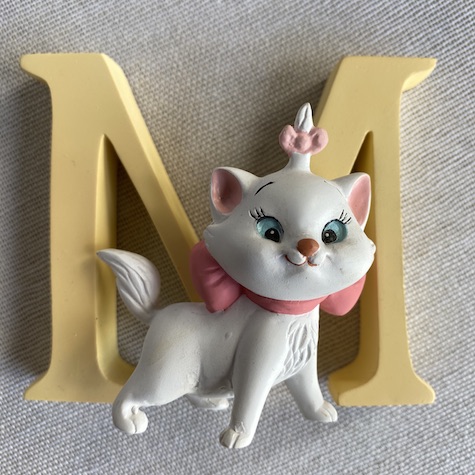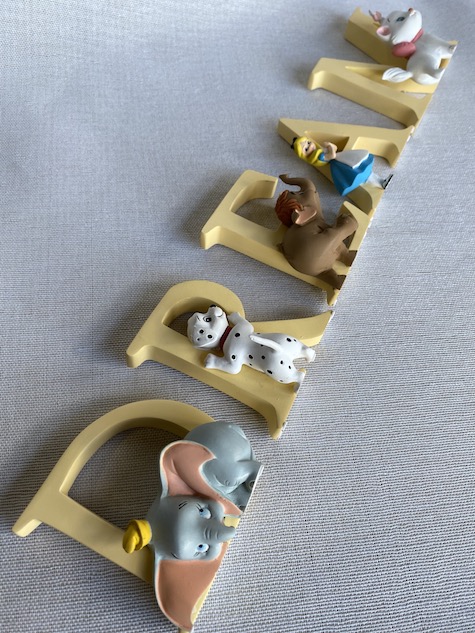 Department 56 is well known for holiday collectibles, ornaments and giftware including a colourful range of Mickey and Minnie figurines. Mickey and Minnie wrapping presents with a beautiful scarlet ribbon and wearing fur trimmed Christmas hats is a favourite. A wonderful figurine for your Christmas mantlepiece and one the whole family will adore.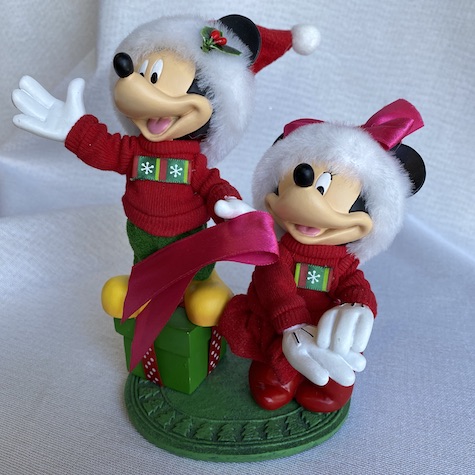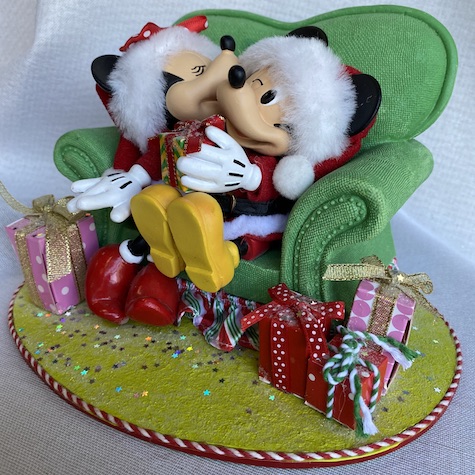 This is a favourite piece at Christmas Elves and a best seller. "Mickey Mouse and Minnie Mouse Christmas Kiss" they cuddle up on the sofa to watch a Disney movie surrounded by presents! Bright, colourful and funny this piece is the perfect Christmas gift for a Disney collector.
With Halloween not too far away Jim Shore also combines the spooky magic of Disney's "Nightmare Before Christmas" the Tim Burton holiday classic with the motifs of hand crafted folk art.
Jack Skellington and Sally are painted with intricate detail in a "Fated Romance" and Sally Bloom welcomes guests to Halloween town in another stone resin figurine.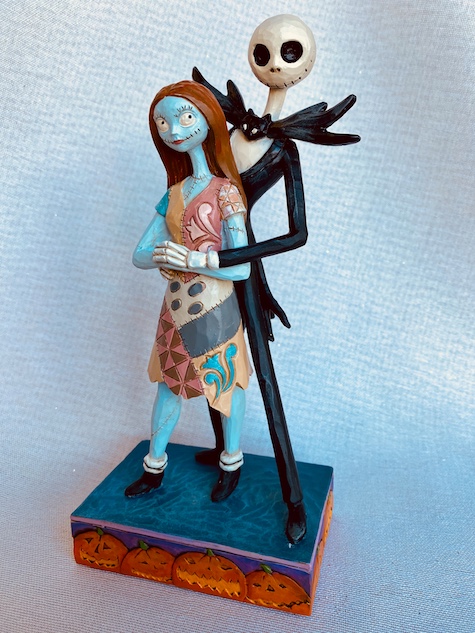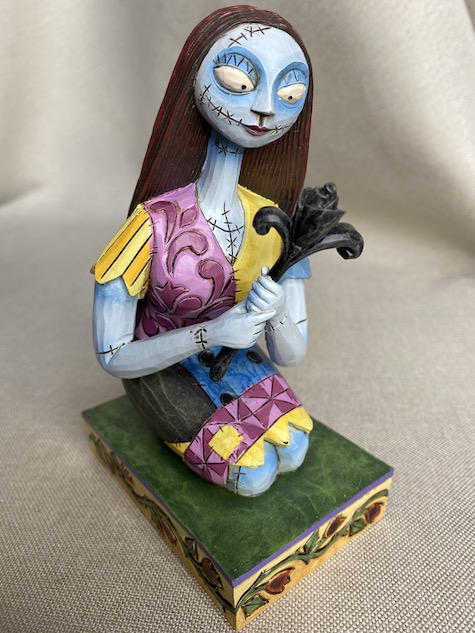 Funko Pop!Vinyl figures are hugely popular. Made for both adults and children they've produced many of the Disney characters from Mickey and Minnie Mouse to Jack Skellington and Olaf from Frozen. They're great fun to collect and would make an excellent stocking filler come Christmas.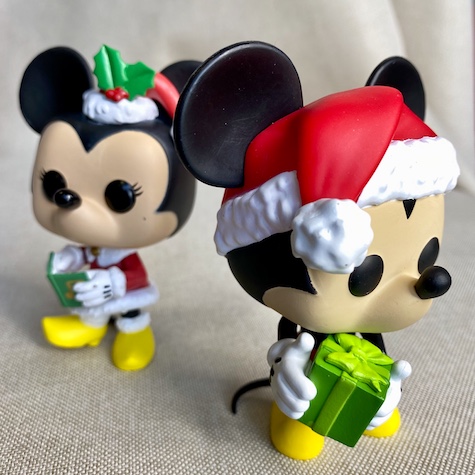 We even have the "Disney Storybook Advent Calendar" a hardcover book that you can read with the family in the lead up to Christmas. Also the "Disney 5-minute Christmas Storybook Collection" which features 18 tales from films like Frozen, Wreck-It Ralph, and Tangled.
Whichever Disney character you've fallen in love with Christmas Elves have a Disney gift that will commemorate that special event be it a wedding, birthday or christening.