The current fashion for floristry in Christmas decorating has never been more popular, and it's not all about the poinsettia! Christmas decorators now use artificial floristry throughout the home. Imagine, a traditional front door wreath covered in bright red poinsettia, quite a welcome. Inside, a hall table with a display of reindeer and snowmen complete with sprigs of holly and mistletoe. Finally a Christmas Tree with a glorious topper of floral sprays.
Christmas decorating closely follows the international design trends where artificial flowers and plants are in fashion. These days faux flowers and plants can look incredibly lifelike. The use of artificial house plants has grown in popularity with the current trend for green spaces and botanical themes.
Initially popular with corporate clients the fiddle leaf fig could be found in every office space and the fake orchid on every reception desk. But these days artificial plants have a new sophistication and sometimes it's hard to tell the difference.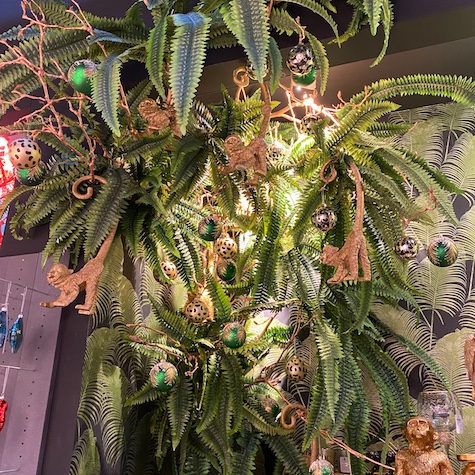 Artificial floristry is widely available and there is a great choice. Holly and mistletoe are Christmas staples but not easily found in Australia so it makes perfect sense to use the artificial variety. Many Christmas flowers like the rose, poinsettia and magnolia are familiar flowers that work well with a traditional Christmas theme. Try branching out with sprigs of dogwood and more exotic blooms like orchids they go well alongside a fantasy Christmas theme.
In keeping with Christmas decorating, flowers, sprays and garlands are most often sprinkled with glitter and sequins. A standard poinsettia can be elevated with lace inserts, jewels and printing techniques to create a spectacular bloom, the USA pretty much owns this look and extravagant floral decorations can be seen in many houses Stateside. On the flip side European floral decor has a very different aesthetic and natural flowers, grasses and seeds predominate but mix these natural elements with artificial glittered ferns and even feathers for a stunning modern display.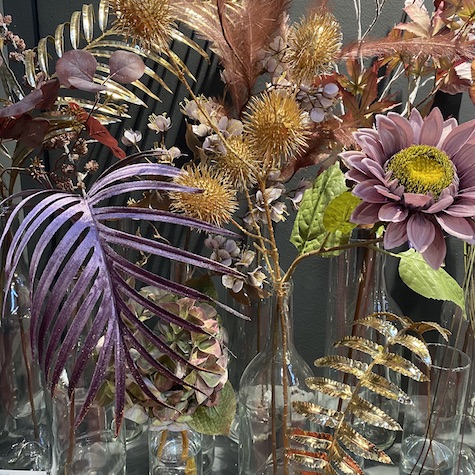 Floral blooms are available in every colour of the rainbow from the most delicate pastel shades through to tropical brights. The choice is extensive so pick wisely and consider your overall colour scheme. A modern interior with a neutral colour scheme works as a great backdrop for an artificial floral display and this display can be all year round. If your display is specifically for Christmas traditional colours like red, green and burgundy are the perfect match with metallics.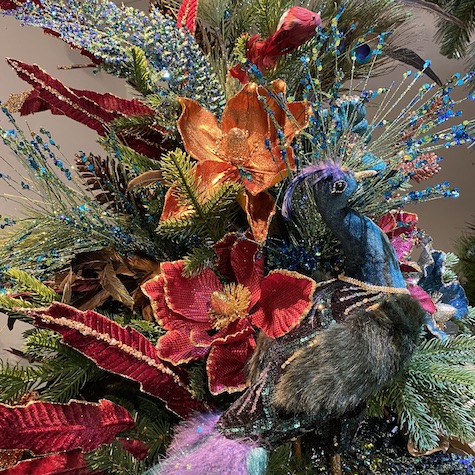 We've put together some helpful hints for first time decorators or even seasoned professionals.
Tips before you buy artificial floristry
Remember to select your flower type according to the project at hand. Scale is important, a 10 Foot Christmas tree looks amazing covered with large poinsettia flowers but a smaller tree can easily be overwhelmed.
Larger blooms can span up to 25cm which means they're a great space filler especially if you're decorating a large tree.
Harmony is essential, florals in three colours should be plenty to decorate a tree. It's always a temptation to use a bit of everything but a stylish look is best achieved if you stick to this guide.
Blending flowers with sprigs of greenery, Christmas baubles and ribbon adds to the overall cohesion and gives balance. Display flowers with a mixture of artificial foliage.
Many artificial flowers are on long stems don't cut the stem off as they can be embedded into the tree. After Christmas they can be used elsewhere. Look for clip on flowers these are great for Christmas trees and easy to use and position.
Flowers and sprays also make a great tree topper. Use floristry wire to secure the stems for added stability. Consider making your topper first and then secure with a cable tie to the pole at the top of your Christmas tree. Add extra flowers by hand to balance the topper.
Christmas decorating materials such as artificial grasses, moss, ferns and twigs make the perfect addition to a rustic look. Incorporate natural eucalypts and Australian foliage to a wreath or centrepiece they will bring a great scent and freshness to your display.