Here at Christmas Elves, our enthusiasm for the huge variety of artificial Christmas trees knows no bounds. (Just have a look at our range, and you'll see what we mean.) However, if you're reading this post, you most likely enjoy live Christmas trees.
As your faithful Christmas Elves, we want to do whatever we can to help you create the Christmas of your dreams, and that includes tips on keeping your live tree lush. There's no denying that a live tree needs quite a bit more upkeep than any of the artificial Christmas trees available in the Christmas Elves Tree Forest. Live trees need attention and genuine TLC in the form of regular –sometimes daily– water checks and top-ups to keep them looking lush all the way to Christmas Day and into January. After setup, they might even need other rounds of adjustments to make sure they don't topple over when no one's looking.
While we don't sell live trees and don't have any tips for selecting one, we do stock live tree stands and have found a real winner this year. The right tree stand should help keep a live tree looking the hero for longer. It should also give you peace of mind that it will anchor the tree soundly so you'll find it standing tall every time you return home.
If you've been using a vintage metal tree stand, the time has come to upgrade to a Cinco 'Neverfail' tree stand.
The Cinco 'Neverfail' Difference
Featuring larger, wider reservoirs to keep your tree's thirst quenched, Cinco live tree stands will help your tree stand strong, proud, and well-hydrated. Every Cinco 'Neverfail' live tree stand style has a heavy wall and rib construction of tough, durable polypropylene which resists warping in extreme temperatures.
The brand's distinctive cloverleaf shape accommodates and offers stability to trees with irregular-shaped trunks. Requiring only 12cm of clear trunk to secure the tree, the design prevents the need to trim away lower branches, ensuring your tree retains the full shape that caught your eye when you chose it. If you want even more support for your tree, simply attach a plywood base via reinforced screw holes to create a stronger anchor.
Cinco is gentle on floors, too. The stands hug close to the ground, minimising the risk of rocking, tipping, and spilling. Better still, the elevated reservoirs never touch the floor, reducing unseen condensation.
Christmas Elves stock three of the most popular Cinco stands to suit all sizes and types of live Christmas trees. Let's take a closer look at the Cinco range to discover how they can confidently claim their stands 'never fail' and keep cut evergreen trees like fir, pine, and spruce living for longer.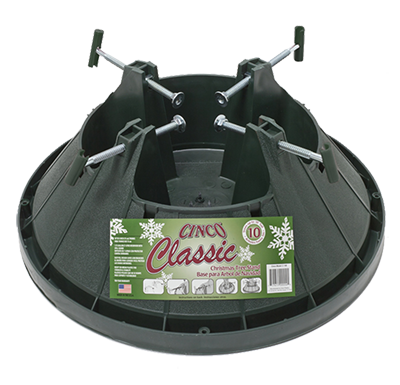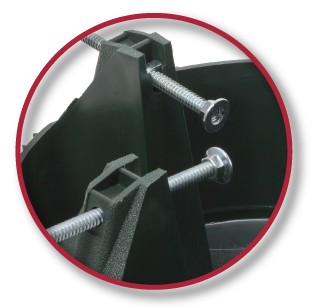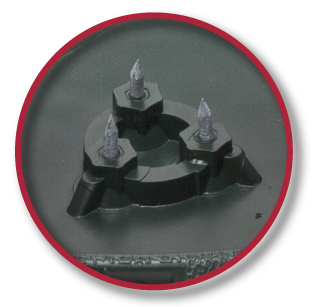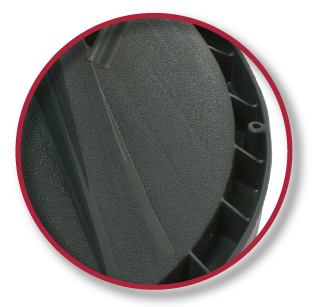 Cinco Classic 10
Live Christmas Trees up to 3m (10ft) in height need the Cinco Classic 10. Combined with three base pins, its straightforward 4-bolt captive nut system makes setup and take-down a snap. The generous 6.62L reservoir gives larger trees the hydration they need. Heavy-duty polypropylene with a textured 'leather cloth' finish and a deep spill guard protects your floor from leaks. If your tree is taller or broader, the reinforced screw holes allow you to attach a plywood base for added support.
For real trees up to 3m (10ft) tall with a trunk diameter of up to 15.24cm.
Dimensions: 51cm x 51cm x 20cm
Water reservoir 6.62L
Three strong, galvanised base pins lock and centre the tree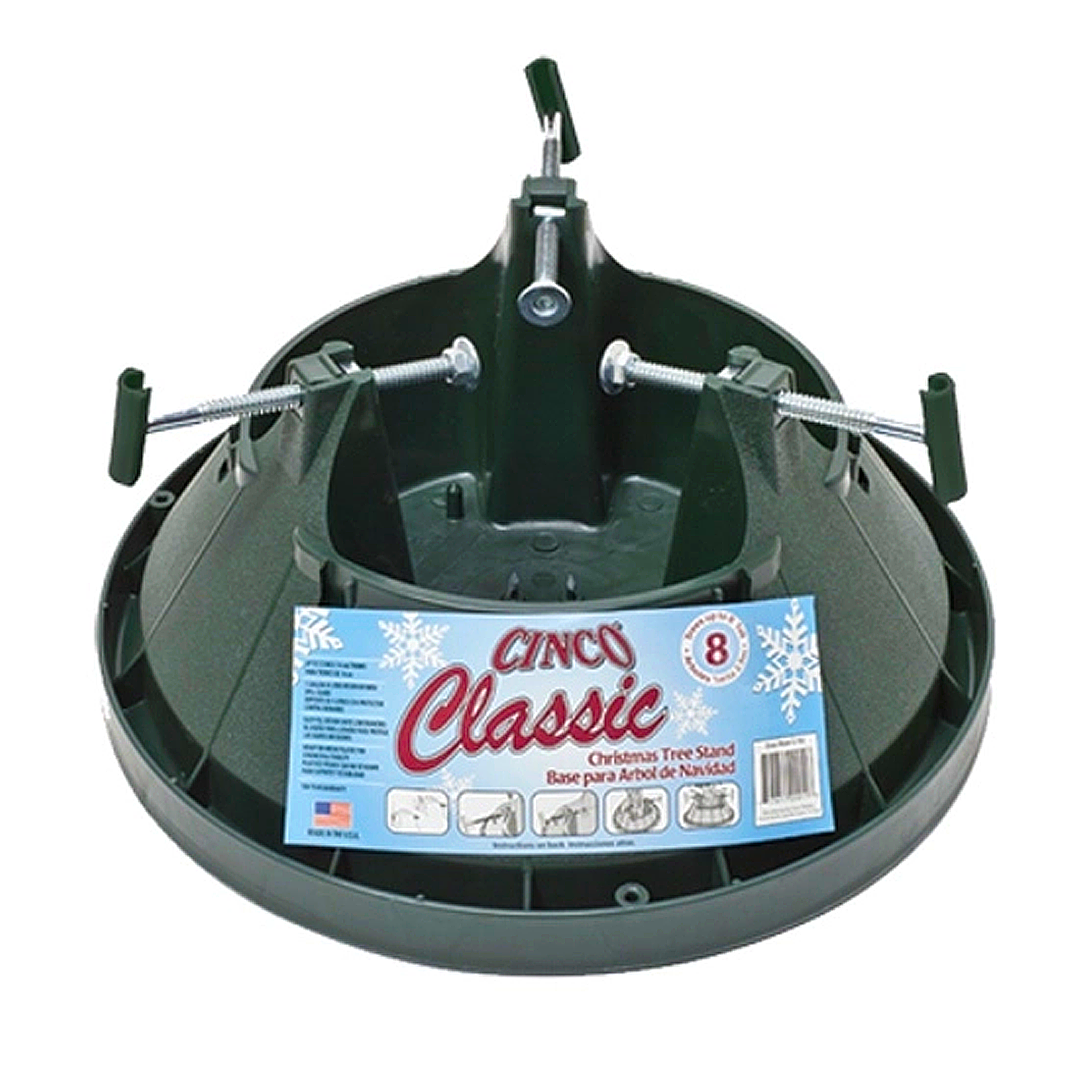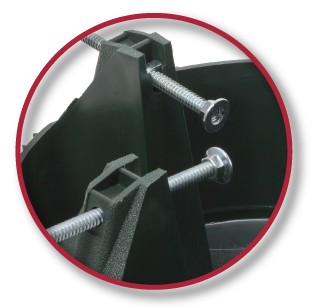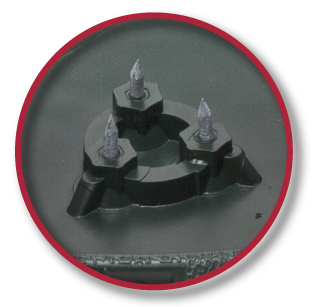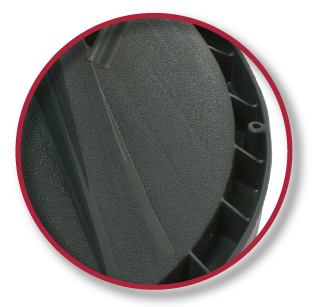 Cinco Classic 8
The most popular of all Cinco's styles, the Classic 8 accommodates trees up to 2.44m (8ft) tall. Its simple captive nut system uses three steel bolts, combined with three base pins, to precisely adjust and secure your tree. The 3.78L reservoir gives trees plenty of water so they stay fresh. The strong polypropylene construction and ample spill guard keeps your tree safe and water where it belongs. Just like the Classic 10, the Classic 8 has a smart 'leather cloth' look to its finish and reinforced screw holes to mount a plywood base, should your tree need extra support.
For real trees up to 2.44m (8ft) with a trunk diameter of 14cm.
Dimensions: 41x41x18cm
Water reservoir 3.78L litres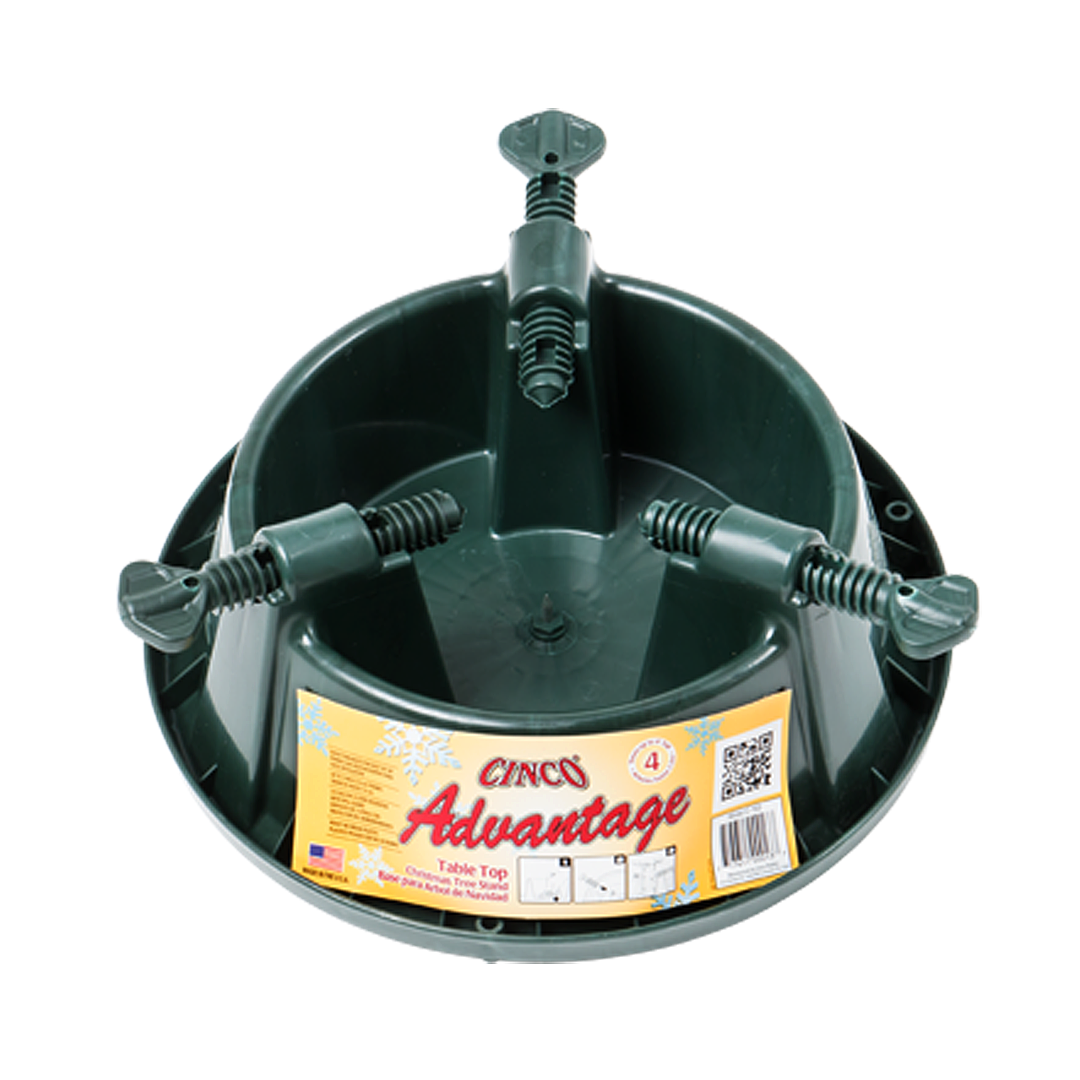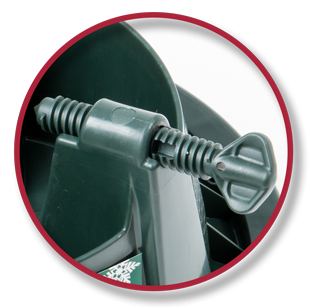 Cinco Advantage 4
Smaller trees need to stand strong, too. Cinco's Advantage offers those of us living in smaller spaces an economical option for more petite pines without compromising on quality. Constructed of the same durable, hardworking polypropylene as the larger models, this mini version has added Christmas spirit. The sides are decorated with a festive, embossed Christmas tree frieze. The single base pin and sturdy plastic bolts make setting up your tree a breeze. Like its siblings, the Advantage share a size-appropriate spill guard and screw holes for mounting, if needed.
For real trees up to 1.2m (4ft) tall with a trunk diameter of 7.62cm.
Dimensions: 31cm x 31cm x 13cm
Water reservoir 2.84 litres.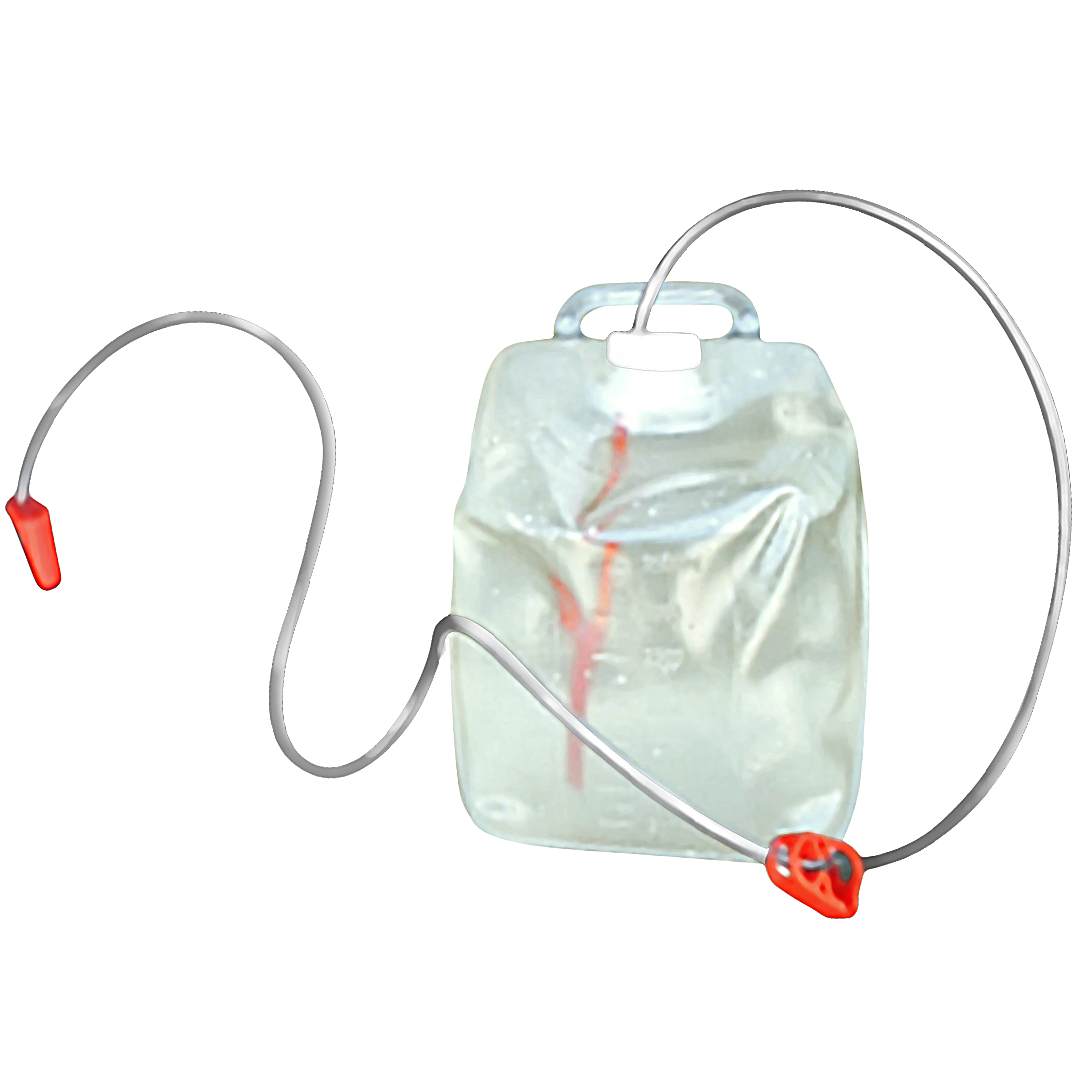 Christmas Tree Auto-Waterer
Cinco washes away the competition with its auto-waterer. With it, your tree will never go thirsty. This could be Cinco's most genius invention yet.
Just like any plant in your home, Christmas trees need water. Insufficient watering leads to a lacklustre look and the premature loss of needles. —The good news is that, unlike houseplants, you can't overwater a Christmas tree.
According to Dr Gary Chastagner, Plant Pathologist and Extension Specialist at Washington State University USA, a tree with a 10cm (4 inch) diameter trunk may need close to 4 litres of water per day once it has first set up in the home.
After the initial boost of hydration, the tree will use less water per day. Still, it's a good idea to allow for 1 litre of water per day for every 2.5cm of trunk diameter. Dr Chastagner also recommends setting up your tree as quickly as possible once you've cut it in the field to prolong its new life as a holiday centrepiece.
If you fear you'll forget to water your tree then worry no more, dear reader. Cinco's auto-waterer operates using a special siphon that solves all those problems, and more. It saves you time and effort by increasing any Cinco live tree stand's reservoir by 3.8L. Your tree will never feel parched. When the stand's reservoir is low, you'll know because the level of water in the auto-waterer's transparent jug will also be low. When you need to take down your tree, simply reverse the siphon's flow to empty the stand with nary a drop of water spilt.
Compatible with all Cinco stands.
Dimensions: 17x6x20cm
Capacity: 3.8L
Sold separately
Get the best out of Cinco with three essential tips
We have all the insider tips on how to set up your Cinco stand quickly and easily right here. Bookmark this blog post now, and you'll 'never fail' to find all this information whenever you need it.

A Cut Above

Whether you buy your tree directly from a Christmas tree farm where you witness it being cut or purchase it already cut from a retailer, you'll need to re-cut it yourself before setting it up. This is because the tree will seal the initial cut to protect itself. However, that same self-protection prevents the tree from taking in the water it needs when you display it. To make sure that your tree doesn't sabotage itself, saw off an extra centimetre from the base of the trunk. For best results, perform a straight cut, perpendicular to the trunk. This allows the tree's outer growth rings to absorb the water whilst keeping as much surface area in the centre of the trunk in constant contact with the water in the stand.

Next, the moment you've been waiting for. It's time to put the tree up! There are two super simple ways you can go about it.
Mallet Method
Place the tree on its side. (This is when you could saw off that extra centimetre of trunk, too.)
Align the base pins with the cut trunk.
Hit the centre of the stand's base with a mallet to fasten the pins into the trunk.
Stand the tree upright.
Affix bolts to fully secure the tree.
Don't forget to add water! Now would be the perfect time to attach your auto-waterer, too.
Drop Method
Saw off the extra centimetre of trunk.
Place your tree stand atop a large book or equivalent – anything that won't crush. (If necessary, place a blanket or tarp on the floor under the book to protect the floor from the impact of the drop.)
Align the cut trunk with the base pins.
Drop the tree onto the pins and push the tree down firmly.
Add water to the fill line, then fill and attach your auto-waterer, too, if you're using it.
Prefer a video tutorial? Watch Cinco's owner and inventor demonstrate how easy it is to use a Cinco stand.
If the thought of maintaining a live tree seems daunting, choosing the right stand will give you much-needed help and do some of the work for you. Designed for maximum hydration and support, you can trust Cinco live tree stands. They 'never fail'. —You'll see.
PS Although we don't sell live trees, we can most definitely help you make both artificial trees and live trees smell super Christmassy with amazing Scentsicles to hang on their branches. Coming in 6 seasonal fragrance combinations, Scentsicles spread aromatic holiday cheer for up to 30 days. You'll also need our range of scented candles for every room of your home. Wrapping yourself in the sights, smells, and sensations of Christmas is easy with help from your Christmas Elves!
*Christmas Elves are social elves! Post photos of your displays to Instagram and tag us: @christmas_elves_ or #christmas_elves_ Happy decorating!