Make winter merry and bright when you celebrate Christmas in July with the Christmas Elves. Our Winter Decorating Essentials Guide will help you plan the perfect 'winter wonderland' party for your loved ones.
To give you a foolproof way to prepare for an unbelievable winter celebration, we've grouped all our winter wonderland favourites into 9 categories:
Santa Claus & Elves
Snowmen
Snow
Winter White Floristry
Snowy Trees
Shining White Lights
Snowbirds
Christmas Table
Christmas Costumes & Clothing
Choose a few from each and let the magic of Christmas in July take over. You can find even more winter-inspired decorations and shop our entire Winter Wonderland collection right here.
Santa Claus & Elves
Santa Claus and his elves love Christmas in July, too! Dressed in winter white and seasonal silver, each of these poseable figurines brave the cold in style. The big guy himself wears a faux fur coat and hat trimmed in soft white fleece covered with windswept whorls of silver sequins over a silver lamé shirt. To complete the look, he carries a silver bag full to bursting with lustrous baubles and snowflakes over this shoulder.
Santa's elves follow the same colour palette and trend, with the quirky addition of silver bells, smooth satin, cable knits, and ribbons. The Winter White Elf is Santa's right-hand elf. Truth be told, he loves Christmas in July so much because he gets to kick back and join in the festivities. Raz Imports' Winter Snow Elf twins can barely contain their excitement. Both wear similar outfits. But if you look closely, you'll see that where one's outfit is corduroy, the other's is cable knit, and vice versa. Just check out their adorable caps. These two will be the life of the party – if only they finish their work in time.
Snowmen
No Christmas in July winter wonderland can exist without snowmen. Cheerful and cuddly, these frosty fellas will charm your woollen socks off. Frostlike glitter covers this traditional snowman with rustic twig arms and holiday jingle bells. We love his holly and mistletoe cravat. These other two look as though they're off to visit some friends. The little guy wearing an adorable fur trapper Santa hat, red mittens, festive bow tie, and peppermint buttons has his hat pulled down snug to ward off the chill. We hope he can see where he's going! His mate carrying gifts has donned a jumper, a matching cap, mittens, and even a cosy scarf. Sometimes it's so cold even snowmen need to rug up!
When you lack the snow to build a snowman, turn to Floof's Mr & Mrs Snowman set. It has everything you need to create 'snowpeople' of all kinds in soft, reusable, non-toxic floof putty. If building snowmen figurines tickles your fancy, add your own foam spheres to this Snowman Spray (41cm) and, presto: 'Frosty's your uncle'! Or, stand it within a vase full of floristry, foam, or baubles for a unique display.
Snow
Naturally, every winter wonderland needs heaps of snow. We suggest using a variety of snowy decorations with different textures to create a 'bright' winter feel.
Winter White Floristry
Our floristry stays vibrant and lush all year long, so it's perfect for winter 'flowers and ice' displays. Start with a clear glass or white ceramic vase. Add several white velvet poinsettias and white flower stems. Next, position some icy blue and white glitter curls. Include a single snowball spray and arrange a few clip-on poinsettias along its length. For a final wintery flourish, station a few glittery white mushrooms next to the vase, or on a decorative plate partially covered with a piece of our snow blanket.
Snowy Trees
A winter Christmas calls for a flocked tree, don't you agree? Imagine sipping mulled wine, hot toddies, or hot chocolate as you share laughs with family and friends after a Christmas in July meal in front of one of these trees. Nothing looks more majestic than the snow-dusted branches of our 8ft/245cm Snowy Siberian Christmas Tree laden with light and ornaments.
Should you prefer a little less snowy flocking, our Juniper Snow Christmas Tree comes in 7ft/210cm, 6ft/180cm, 5ft/155cm sizes to suit homes large, small, and in between. There's a flocked tree for every sort of Christmas in July celebration.
Shining White Lights
After you've put up your tree, next come the lights. We adore our flocked trees strung with white lights. From our 'connectable ready' LED range, we recommend starting with white pinecone lights. They complement both the evergreen branches and make the frosty flocking glimmer and glow. Looking for a softer shine? – Try white cherry ball or our original white LED lights. When you're finished with the tree, hand a few strands of multicolour snowflake lights along windowsills and bookshelves. You can never have too many twinkling lights to brighten dark winter nights.
Snowbirds
Your Christmas tree, bookshelves, end tables, sturdy houseplants, and floristry displays provide just the right roost for shiny snowbirds.
Perch a pair of White Glitter Owls up on high where little fingers won't disturb them.
Clip White Birds onto tree branches in creative flock formations.
Spread feelings of peace and tranquillity when you include White Doves in floristry displays and floral arrangements.
Larger birds need sturdier perches. Inquisitive owls such as the Mint Green Owl and the White Sequin Wing Owl relish being the centre of attention in table displays or standing strong on mantlepieces. The most regal avian of all, the White Velvet Swan, deserves to be placed prominently on a sideboard where everyone can appreciate her grandeur.
Christmas Table
Once you've sorted out your decorations, it's time to set the stage for the main event: the Christmas in July meal. Whether you're planning a barbecue lunch for your nearest and dearest or a more formal dinner with several courses, the Christmas Elves have just what you need.
Christmas Costumes & Clothing
Have fun getting into the festive frivolity of Christmas in July by wearing costumes and special holiday accessories.
The Latest from Jim Shore & Katherine's Collection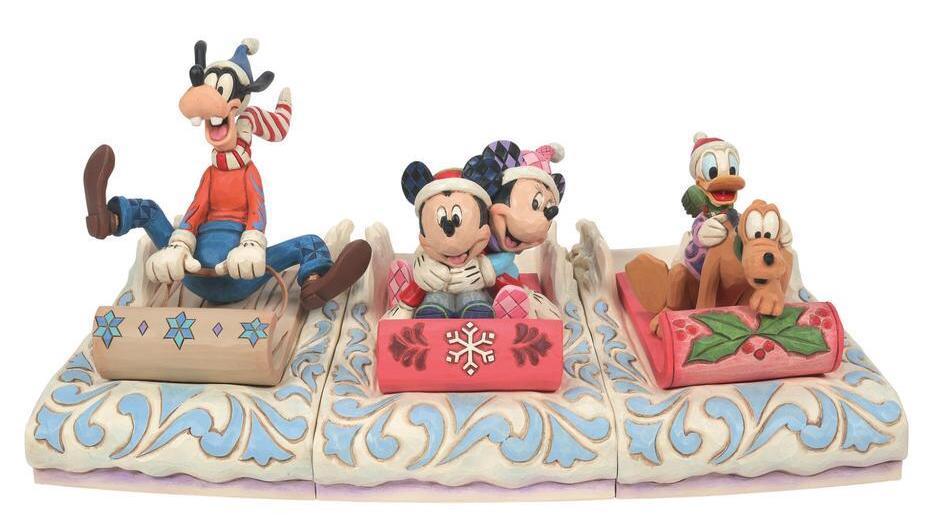 You caught us out! – This is technically a bonus tenth section. However, we couldn't let you go without sharing these latest pieces from Jim Shore's collaboration with Disney and the 'Frost and Tenderness' series from Katherine's Collection.
Mickey Mouse and mates head out sledding all day long on snowy days. Jim Shore has done it again. His distinctive patterns add both depth and a sense of movement to these carefully sculpted stone resin pieces.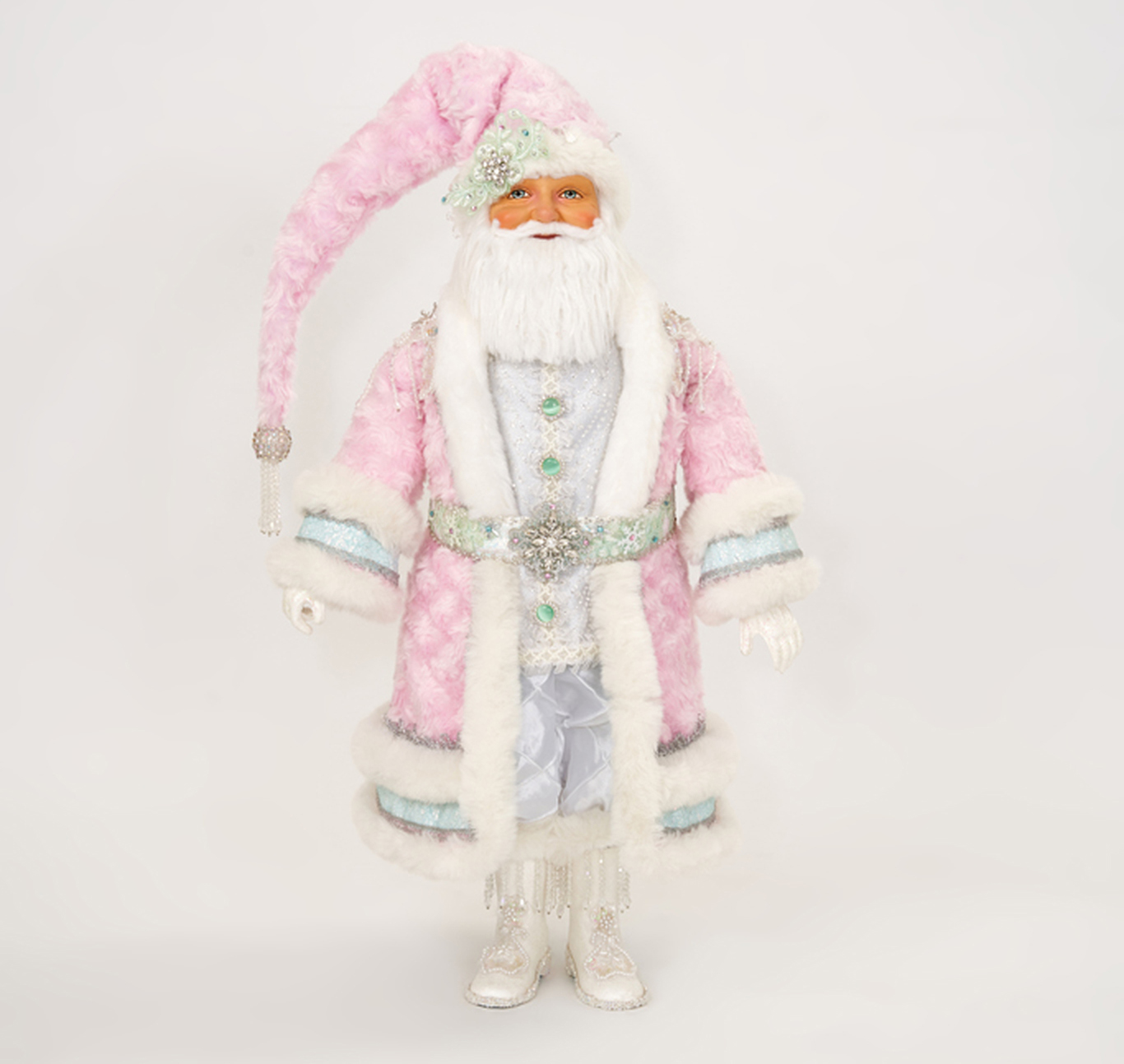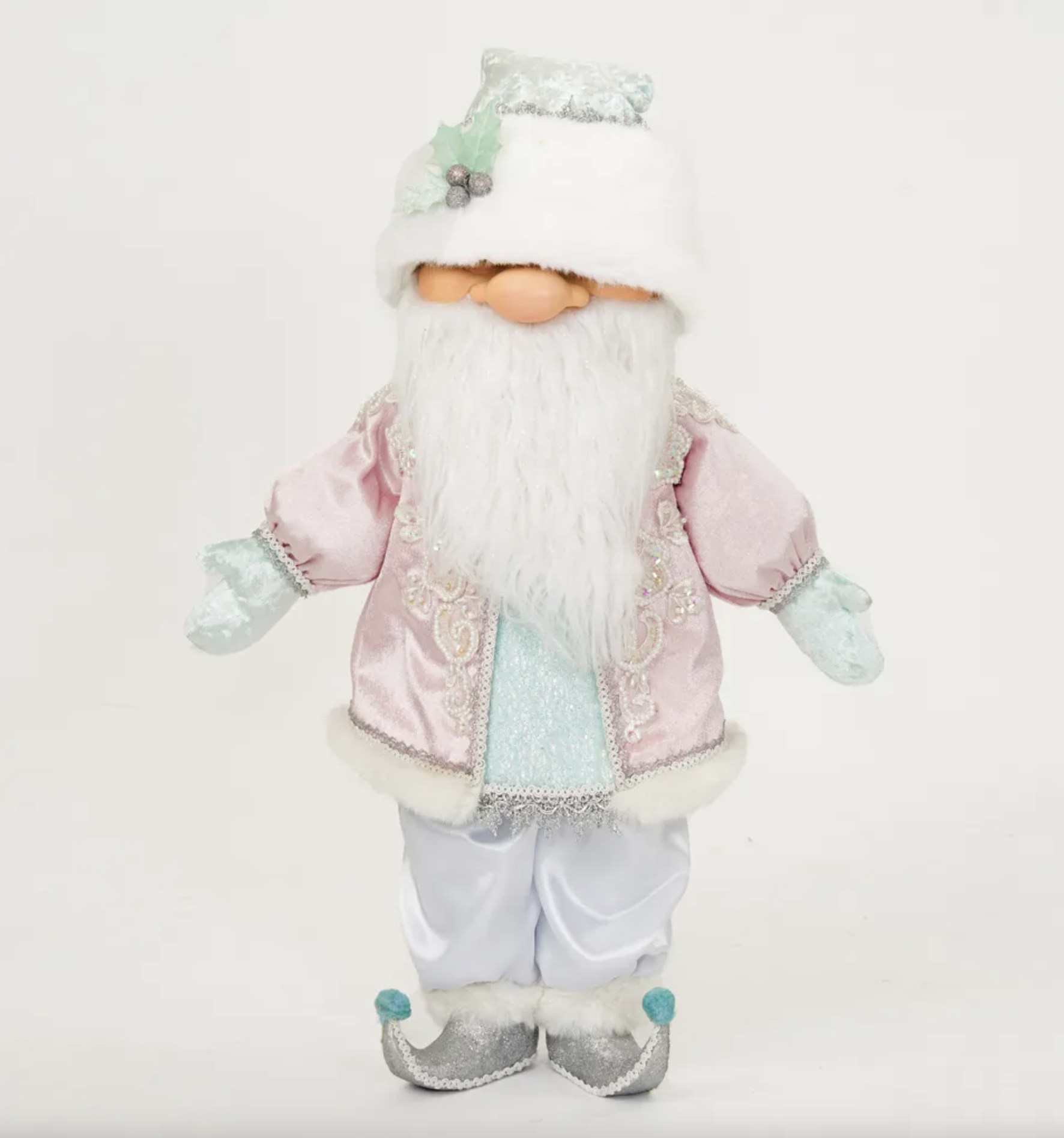 We are utterly enthralled by the magical 'Frost and Tenderness' characters. The most unique take on Santa Claus we've ever seen, Sir Nicholas Frost will astound you. The intricate detail, variety of textures, and blissful pastel colours will mesmerise collectors. The Frost Gnome Doll has captured our hearts. Could he be any cuter? We want to leave him on display all year long. There's more from this collection at our stores now, so be sure to come by and check it all out for yourself. Photos cannot do these pieces justice.
Starting a new Christmas in July tradition can seem daunting at first, but we're confident that you'll have a
(snow)ball celebrating this unofficial holiday your own special way, with a little help from us and our Winter Wonderland Collection. Bookmark this Winter Decorating Essentials Guide, and it'll be like having your very own personal Christmas Elves in your pocket.
Let's get social. Post photos of your Christmas in July celebrations on Instagram and tag us: @christmas_elves_ #christmas_elves_