Jim Shore is one of our favourite artists here at Christmas Elves. Holiday enthusiasts and collectors everywhere seek out his pieces for their quality craftsmanship, exquisite detail, and uniquely whimsical feel.
Hailing from rural South Carolina in the United States, Jim Shore's family instilled in him
love of their local folk-art traditions and handicraft techniques. His grandmother, a master quilter herself, taught him the skills he would need to create elaborate designs with rustic charm.
Carefully cultivated over a decades-long career, Jim Shore's distinctive style blends American and European folk-art traditions. Rosemaling floral scrollwork features prominently in his figurines, ornaments, and tabletop pieces. Originally a Scandinavian art form used to decorate wooden objects of all kinds, rosemaling designs made their way onto pottery, leather, and even clothing through embroidery techniques. The flowing patterns incorporate both botanical and geometric elements to create a sense of graceful movement that leads the eye across the objects they adorn.
Collectability comes naturally to the Jim Shore Heartwood Creek range. The remarkable level of detail and superior construction means that your family can enjoy them for generations. All figurines and ornaments across Jim Shore's collection have a carved look to them thanks to the expert moulding of durable stone resin. Caring for them couldn't be easier. A simple dusting with a dry cloth is all they need.
Christmas is what Jim Shore does best. His Santas Around the World series shows Santa celebrating like a local in countries across the globe, from Sweden to Australia. Each stone resin ornament and tabletop figurine comes alive with vibrant colour and meticulous detail in costuming, accessories, and expression.
We know we're a bit biased, but among the Santas Around the World collection, the 'Aussie Outback' Australian Santa figurine is a staff favourite. Standing 18cm tall, he's ready for a Christmas barbecue, dressed in his Akubra and colourful Christmas coat with distinctive geometric detailing. His hand painted costume displays an Outback scene where a lone kangaroo hops through the bush with the Southern Cross soaring overhead in a boundless blue sky. Santa's definitely calling Australia home this holiday season! He's even brought a cuddly koala mate along to the festivities.
Give your Christmas even more of a 'dinkum Aussie' feel when you pair the Australian Santa figurine with the 12.5cm hanging ornament version for your Christmas tree. Collect all the Santas Around the World and sweeten the season with images of Christmas traditions from all over the globe.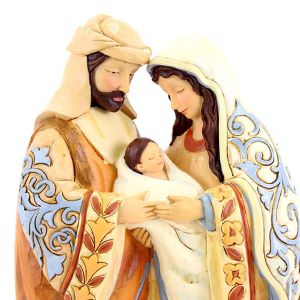 For many, the birth of Jesus is the reason for the season and their decorations involve Nativity above all else. Jim Shore's tender depiction of the Holy Family lends an air of reverence to your holiday décor, however you may choose to include a nativity scene. Mary and Joseph look on with pride as baby Jesus sleeps soundly.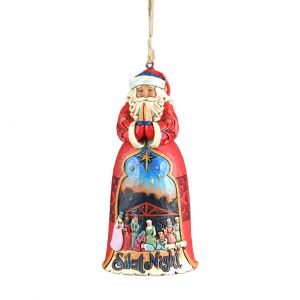 Combining both Santa Claus and the Nativity, a complete nativity scene adorns the 12cm Silent Night Santa Hanging Ornament. Sheltered in the stable, Magi present their gifts as shepherds look on and the Holy Family give thanks to God for His protection and the gift of His Son.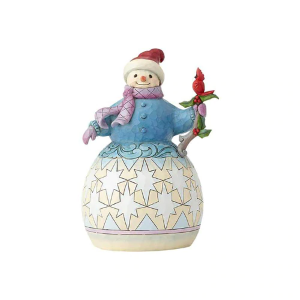 Jim Shore's whimsical touch makes Christmas classics like nutcrackers and snowmen even more magical.
Sometimes, even snowmen need to bundle up at Christmastime! The proportions of the Snowman with Cardinal draw the eye to its bauble-shaped lower body decorated in shining stars reminiscent of the Star of Bethlehem. The cool colours that dominate the figurine are spectacularly offset by ruby-red holly berries, a jaunty red cap, and of course a curious cardinal.
With their toothy grins, nutcrackers traditionally symbolise good luck. According to German folklore, they bravely keep watch over the home and frighten away mischievous spirits.
Today, we use nutcrackers as part of our Christmas decorating to evoke old-world charm. The nutcrackers across Jim Shore's collection transport us to cosy winter scenes of roasting chestnuts, mulled wine, and cocoa by the fireside. From head to toe, the scrupulous detail in each nutcracker will mesmerise and delight.
The figurines in the Nutcrackers Around the World collection proudly pay tribute to their home countries, each wearing a colourful and elaborate costume and standing tall at 25cm.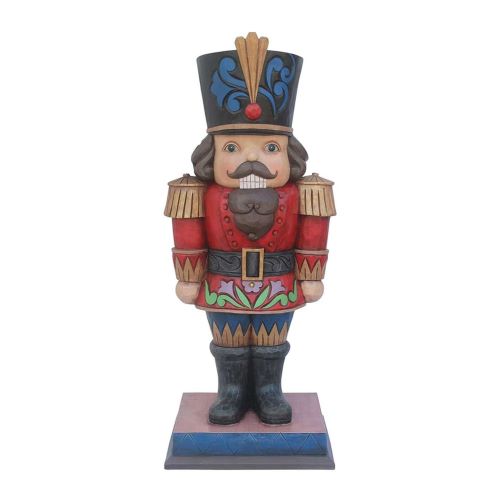 All of Jim Shore's nutcracker figurines capture Christmas in their own unique way. However, the show stopping 1.5 metre Giant Nutcracker Statue reigns over them all. Hand painted and crafted from the same durable stone resin as the smaller figurines, this life-size magnificent statue quite literally brings Christmas merriment to life. Christmas Elves is proud to be one of the few retailers in Australia to stock this rare work of holiday art.
Major brands entrust Jim Shore with their most iconic characters. Collectors adore Disney and Peanuts figurines, ornaments, and tabletop pieces with Jim Shore's signature designs because the blending of the brands results in something uniquely special.
It's full steam ahead to Christmas for the Peanuts gang! They're on an express train to holiday festivities. With Snoopy as the conductor, what could go wrong? After all, Woodstock in his flying reindeer get-up will keep them on track all the way to Christmas morning. The Peanuts Christmas Train Set has so many fine details. Whenever you look at it, you're sure to see something you missed before, from intricate designs on the gifts to the tiny ornaments on the trees. The four pieces in this set feature Snoopy, Charlie Brown, Sally, and Lucy, too. They even have room for other cars in the collection. Don't leave Linus behind…
Mickey and Minnie celebrate the season by building a cheery snowman, dressing in their holiday best, and snuggling up in a Christmas quilt. Their chequered ears alone single them out as distinctively Jim Shore, while their faces and poses are pure Disney magic.
The residents of Halloweentown in 'The Nightmare Before Christmas' want to join in the holiday fun, but they don't get it quite right most of the time. Still, that never stopped them from trying! Tim Burton's characters come alive in these delightfully spooky tabletop pieces, layered with details from the original film alongside Jim Shore's distinctive touches.
On their way to celebrate another successful Halloween, Jack Skellington hitches a ride with the mayor. Afterward, Jack and Sally have a tender moment. But Sally knows that all is not well. Sally Season in Bloom captures the moment when she has a premonition that Jack's foray into Christmas will not turn out as planned. Luckily, everything comes out right in the end, just like Zero knew it would in the Nightmare Before Christmas Storybook.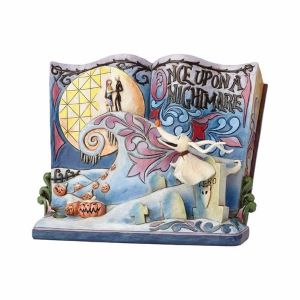 Disney and Peanuts characters love celebrating Easter, too. Mickey and Minnie are off to Easter lunch. Maybe they'll meet Thumper and Blossom on the way. Meanwhile, Snoopy has scored the best Easter egg ever with a Woodstock surprise.
It's no surprise that every festive holiday is a Jim Shore holiday. Such a prolific portfolio means that Jim Shore's work both complements and adds exceptional warmth and charm to homes all year round. Browse Christmas Elves' entire Jim Shore Collection and you'll discover collectible treasures, great gift-giving ideas, and enchanting pieces to add special joy and 'Jim Shore whimsy' to your holiday decorating.