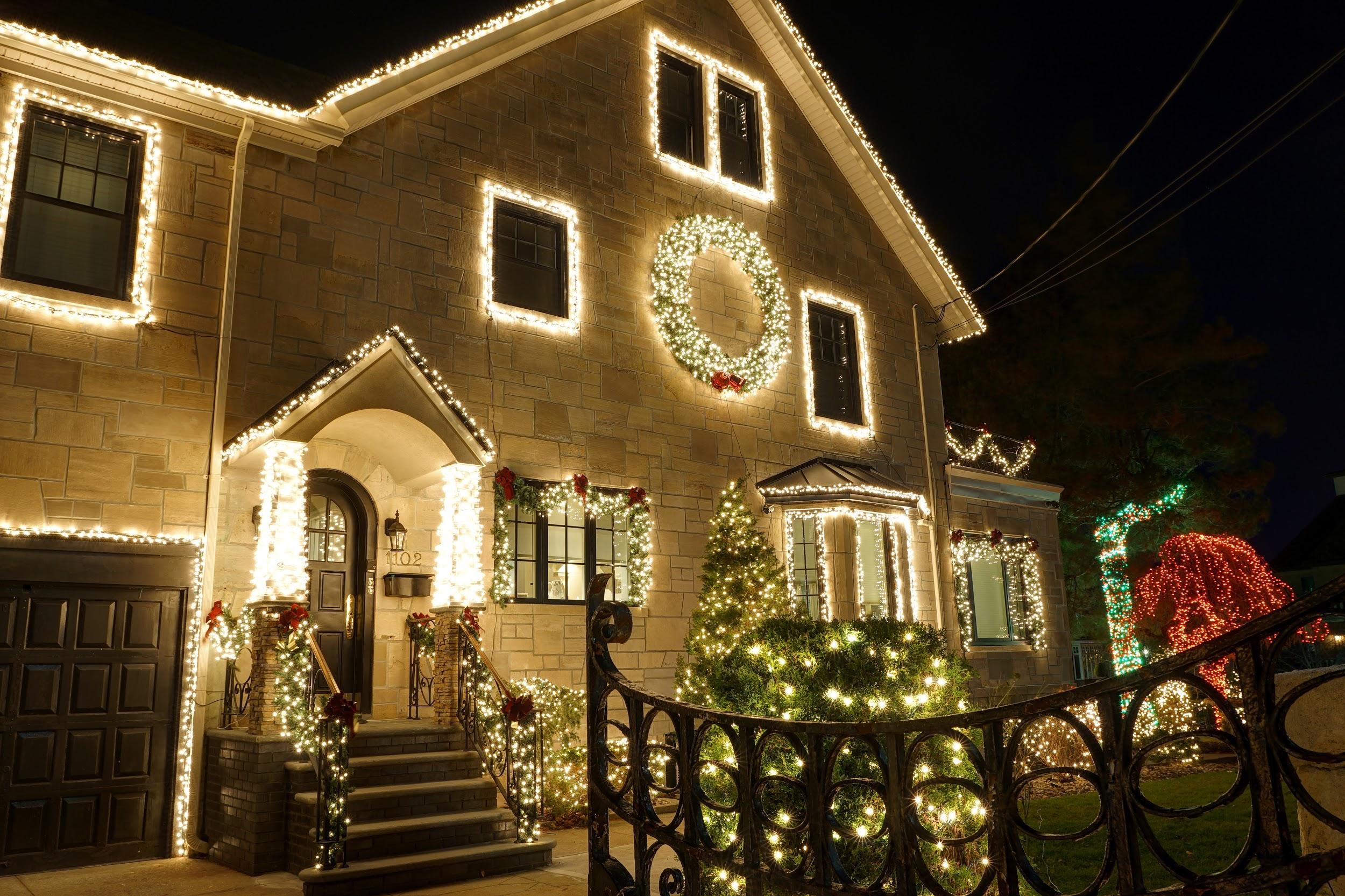 Nothing beats the breath-taking, Home Alone-esque magic of outdoor fairy lights at Christmastime! When the night sky is dotted with twinkling lights, that's when we can truly feel like Christmas has descended.
Add some LED lights, rope lights, icicle lights and any other kind of Christmas fairy lights that take your fancy - but be safe while you do it. Follow these 7 tips so you can install fairy lights outside without causing damage to you or anything around you. Trust us - you'll be rewarded with a home Santa would be proud of!
1. Avoid Using Old Lights
If your decorations have been lighting up your exterior for a few years now, it's time to consider buying new Christmas fairy lights. They will meet updated safety standards and cause less of a hazard, whereas old lights may have exposed wires and damaged leads. Christmas lights sold in Australia before 2006 were not required to have insulated pins and don't meet the necessary safety standards.
2. Test Before Plugging In
Before the big reveal, visually inspect the lights for obvious signs of damage. Look for wiring that looks worn or defective, and bulbs that may be broken or missing. If you notice any damaged wires, replace the string completely or you could be dealing with a serious fire hazard. Replace any bulbs that are missing or broken.
When extracting broken bulbs, don't forget to wear gloves and use long-nose pliers. Never replace any bulbs while your lights are plugged in and always check for blown fuses following manufacturer's instructions! If a fuse blows after it's been replaced, you'll need to swap the entire string.
3. Set Up a Ladder Safely
Feel like getting creative by weaving fairy lights around tree tops and home roofs? Don't just rush to the top of a ladder; take time to set it up safely and protect yourself in the process. If an extension ladder is necessary, the angle in which it's set against the wall is crucial. Aim for the distance between the wall and the ladder's base to be around one quarter of the ladder's length.
Rest it on a firm surface and balance your weight as you carefully climb. Remember - the top two rungs are not made to be stood on!
4. Keep Away From the Kids
Christmas is a time for families, but fairy lights are not a toy. Try and keep young children away from all electricals that could present a fire, choking or tripping hazard. Your little ones can enjoy the visionary excitement fairy lights offer, but they should take a step back when you're setting them up.
5. Only Use Outdoor-Specific Fixtures
Certain lights are meant to be used outdoors and others are not. That's because your lights will be exposed to natural elements and, just because it's summer in Australia, doesn't guarantee we won't experience some rain.
Check the fine print on your bulbs and extension cords to make sure they are suitable for outdoor use.
6. Use LED or Solar-powered Lights Where You Can
While it's easy to get carried away with the festivities, aim for moderation when it comes to lights to avoid an electrical disaster. LED and solar-powered lights are a good option because they use less electricity, and don't give off as much heat as other types. Otherwise, opt for newer lights that don't burn as hot as the traditional larger bulbs.
7. Don't Neglect the Lights
Fire safety is more important than giving your neighbours something nice to look at. When you leave the house or go to bed for the night, make sure you switch off all indoor and outdoor Christmas fairy lights.